Dedication Of Third Largest Solar Plant In The World This Friday In Nevada.
----------- Sponsored Links -----------
----------- Sponsored Links -----------

ACCIONA will dedicate Nevada Solar One, a 400-acre, 64 MW plant, which is providing clean energy to more than 14,000 homes in Nevada, this Friday February 22, 2008. The plant employs more than 184,000 enormous mirrors that track the sun's rays and convert that heat into clean energy. The result is a "sea of mirrors" spread across the desert.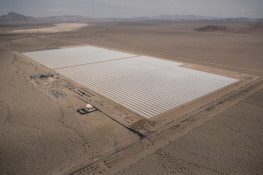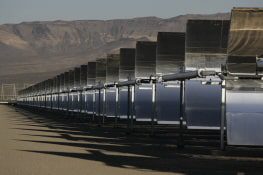 Its use promotes economic growth, ecological balance and social progress. ConCentrating Solar Power (CSP) teChnology Innovation continues to reduce the cost of concentrating solar power. The parabolic trough technology used in Acciona's Nevada Solar One plant represents a major renewable energy success story of the past two decades and has the potential to compete directly with conventional fossil fuel powered technologies. The plant employs 760 parabolic concentrators with more than 182,000 mirrors that concentrate the sun's rays onto more than 18,240 receiver tubes located on their focal line. Fluid that heats up to 735°F flows through these tubes and is used to produce steam that drives a conventional turbine, which is connected to a generator that produces electricity. The plant produces enough energy to power more than 14,000 households annually. That is pretty cool stuff…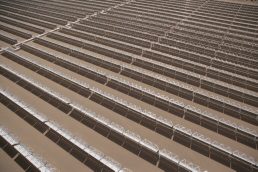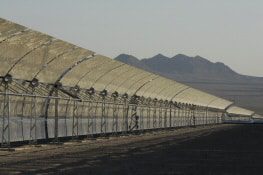 Building on its corporate mission to demonstrate the technical and economic viability of sustainable energy, Acciona launched its landmark Nevada Solar One plant in Boulder City, Nevada, in June 2007. Acciona's Nevada Solar One project is the first CSP plant to be built in the last 17 years, and the third largest plant of its kind in the world. Designed, built and operated by Acciona Solar Power, the
plant demonstrates that concentrated solar power production is possible on a commercial scale.
Features
Produces power during peak demand with near zero CO2 emissions
The first concentrating solar power (CSP) plant built in the United States in more than 17 years
The third largest CSP plant in the world
Has a nominal production capacity of 64 MW with a maximum capacity of 75 MW
Produces enough energy to power more than 14,000 households annually
All of the plant's electricity production is being sold to Nevada Power Company and Sierra Pacific Power Company under long-term
power purchase agreements (PPAs)
Imagine if we just covered a tiny part of the desert with plants like these – I imagine we could power at least Los Angeles!
----------- Sponsored Links -----------
----------- Sponsored Links -----------