Thomas And Friends Wooden Train Toys Recalled Due To Lead Paint.
----------- Sponsored Links -----------
----------- Sponsored Links -----------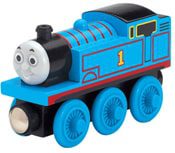 If your children or other children you know have been playing with Thomas and Friends Wooden Train Toys lately, you might want to take them away from them. Seems that over 1.5 million of these toys have been recalled due to the fact that the paint used on the toys has been shown to have lead in it…not too good for kids (or adults either). The recall affects 4% of the toys the company has sold in the U.S. so there is an OK chance that your toys are fine, but personally I would not take the chance. Some signs that your child might have been exposed to lead in his or her toys:
Lead poisoning can affect almost every organ system of the body, including:
* brain and central nervous system, causing:
o lower IQs
o headaches
o memory problems
o reduced coordination
o learning disabilities
o irritability
o hyperactivity
o increased sleeping
o decreased activity and fatigue
o hearing loss
o vomiting
o slow reflexes
o muscle weakness, affecting mainly the upper extremities
o seizures, coma, hypertension in high levels
* gastrointestinal system, causing:
o constipation
o diarrhea
o abdominal pain
o vomiting
o poor appetite
o weight loss
* blood system, causing anemia or low blood counts
* kidney problems
* reproductive system, causing:
o miscarriages
o premature birth
o low birth weight
Be sure to check your toybox to see if you have any of these toys that match this description issued in the recall:
The recall involves wooden vehicles, buildings and other train
set components for young children listed in the chart below. The front of
the packaging has the logo "Thomas & Friends Wooden Railway" on the upper
left-hand corner. A manufacturing code may be located on the bottom of the
product or inside the battery cover. Toys marked with codes containing "WJ"
or "AZ" are not included in this recall.
And if you find anything that you think matches, you can contact the company:
For additional information, contact RC2 Corp. toll-free at
(866) 725-4407 between 8 a.m. and 5 p.m. CT Monday through Thursday and
between 8 a.m. and 11 a.m. CT Friday, or visit the firm's Web site at
recalls.rc2.com
If I were you though, I would just take them all away, even if they don't match the exact numbers…why take the chance?
----------- Sponsored Links -----------
----------- Sponsored Links -----------