Travelogue With Photos: Riding Across The Country On An Amtrak Train.
----------- Sponsored Links -----------
----------- Sponsored Links -----------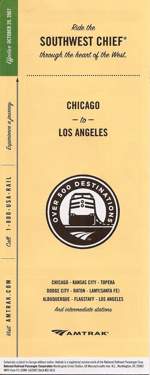 I got quite a few emails and comments from readers about our cross-country trip on Amtrak last month, so I figured I would write up a quick report. The image to the left is one of the pamphlets that are left throughout the train, and it is the timetable for all the stops between Los Angeles and Chicago. I love the design of it – it looks like it is straight out of the old days, so it is quite fitting for the train. When I told a friend we were taking the train to Chicago, he said "You know, they make these flying machines now, it's not 1889 anymore"…and although he was half joking, he was also half serious. You get a lot of these type of responses when you tell someone you are taking the train over 2,000 miles! The trip to Chicago took 39 hours and the trip back to Los Angeles took 41 hours. It was supposed to take 42 hours, but Amtrak got in an hour early, which I guess they never do. When was the last time a flight got in an hour early?
Overall, I have to say that the entire experience was way better than any I have had at the airport. We walked right up to the ticket counter, gave the lady our bags, got our tickets, and then were sent over to another booth to make dinner reservations. Dinner reservations? Yep – we got 3 meals a day with reserved seating, and the food was excellent. It was included in our ticket price because we paid for our own bedroom, but people in coach can pay for the meals. We had vegetable lasagna, salads, steaks, turkey dinners, omelettes …there were a lot of choices. There was also free coffee and bottled water available 24/7 in our car, which was nice because on the first night neither of us could sleep. It was a little rocky through Arizona as I think the tracks are older, so the train was very loud. But after that first night we both slept pretty well. The room had bunk beds, and I slept on the top bunk – which was a little claustrophobic because the ceiling was rather close to my face. But once I fell asleep it was OK, and again after the first night you kind of get used to it. Here is a picture of our room, with my legs up on my bunk: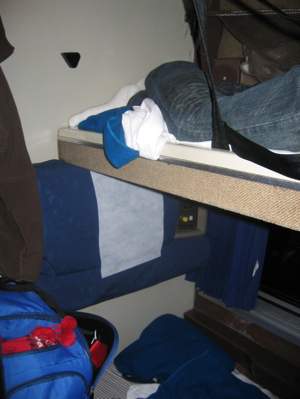 Next up, here is the hallway outside our door: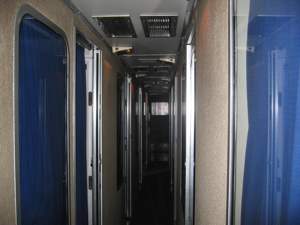 We had 4 bathrooms in our car, along with a shower. On the way to Chicago, we had a new car so the shower was a very nice, space-agey fiberglass enclosure and I took 2 showers. On the way back to LA, we had an older train and the shower was not as nice and had a kind of gross shower curtain. But I still took 1 shower, as I think me not showered would have been grosser than the shower curtain.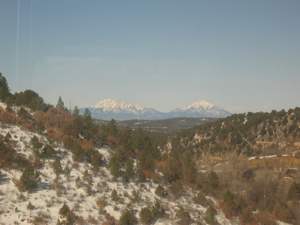 Some mountains in Colorado as viewed through our window.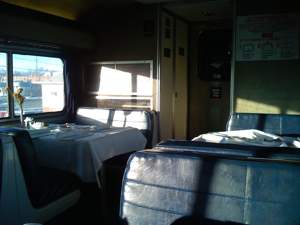 Above is the dining car, which had some great windows to watch the scenery through. The interesting thing about dining on the train is that they seat you with other people at every meal, so you get to meet some very interesting folks. We met a few teachers, an accountant, 2 immigration lawyers, a retired couple, a guy on his way to Tampa, FL by train, and assorted other people. Out of all of them, we were the only ones who had not taken the train before. And surprisingly, the trains were full going each direction – there were 3 coach cars, a lounge, a dining car, 3 sleepers and a baggage car. I guess more people are taking the train nowadays!
Yep, yours truly. (Pretend you don't see the coffee cup – I didn't have my reusable one with me 🙁 We all fall sometimes…)For the first time ever after almost 2 years of blogging, I have decided to post a picture of myself. It's a strange feeling, putting this out there for the world to see. I wonder if anyone who reads this site also knows me – but doesn't know I write it. Should be interesting to find out.
Overall, I feel great about taking the train, and my wife had a great time as well. It was not that much more money than flying, but it was way more fun, way more environmentally friendly, and a lot more interesting. We had thought we were going to be bored so we brought the laptop, magazines, multiple books…only to see each of us finish only 1 book each. We did not even turn on the computer. It was actually quite fantastic not being able to do anything other than sit back and relax, it made me slow way down, which was good. Now that we have taken our first trip, we are eager to do it again sometime soon. Gotta start planning our next route!
----------- Sponsored Links -----------
----------- Sponsored Links -----------