Trying To Save Gas Makes People Very Angry.
----------- Sponsored Links -----------
----------- Sponsored Links -----------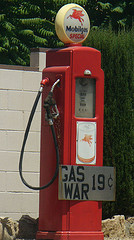 Since the Friday before this long weekend, I did my best to drive as slow as possible. Every time I accelerated from a light, it took forever to get up to the speed limit. Every time I saw a light turn yellow, I immediately took my foot off the gas and started coasting. On the freeway down to Laguna Beach, I drove a solid 65; no more, no less. And what did I get back for it? A lot of honks and a special middle-fingered tribute. Guess not many other people were out trying to make a tank of gas last as long as possible!
Gas here in SoCal is over $4.00 per gallon; in fact, I paid $4.29 on Saturday – spending $42.90 to put 10 gallons of gas in our Subaru. And since our 10 gallons only lasted my wife about 249 miles, good for 24.9 MPG, I wanted to see if the car could do better if we really concentrated on trying to conserve the gas instead of driving like we normally do. I have a heavy foot, I will be the first one to admit it, so this was a very difficult task for me. Barely stepping on the gas when a light turns green? That's pretty hard to do! It's such an automatic reaction to try to get someplace as soon as possible at any expense, so this was quite an experiment. Add on the lesson in human nature of being yelled and honked at by people who are in such a hurry, and it made for quite a weekend. One question I kept asking myself is not one I have normally ever presented to myself:
Where in the world are all you people going that you have to drive so fast and so aggressively?
In addition to the gas and the wallet savings, it's amazing what happens when you take the time to slow down – your heart rate stays level, you don't get angry at other drivers, you don't worry about which lane you are in and if it is the right one. You just get on the road, drive sanely, and you still get wherever you are going. And usually, unless it is a trip to the emergency room or to your wedding, a few extra minutes is not going to make a difference at all, except for in your gasoline bill.
So how did we do this weekend by driving the speed limit, avoiding jackrabbit starts, and coasting to red lights and down hills? I am estimating our number to be around 29 MPG – an increase in 4.1 more miles per gallon, or 40-50 miles per 10 gallons of gas. And with gas at $4.29 a gallon, that can save me $8+ each time I fill up. So while other people may get angry at me for being a little more conscious of my driving habits, I will be celebrating keeping a chunk of change in my pocket each month. With gas prices only heading higher, I can only hope more people can try out our experiment. After all, not only will using less gas save you money right away, but it also might start to bring the price of gas back down because of supply and demand.
Have you changed your driving habits to try to squeeze more mileage out of a tank of gas? Have you found that people "salute" you because of it? Maybe it's just because I live in Los Angeles, but that's not a very nice way to thank us for trying to conserve gas! 😉
Photo by Terwilliger911
----------- Sponsored Links -----------
----------- Sponsored Links -----------