Two New Additions To My Green Arsenal.
----------- Sponsored Links -----------
----------- Sponsored Links -----------
Over the last month I have added 2 new additions to my quest to lead a more eco-friendly, sustainable existence. Even when you think you have done everything you possibly can, you can always find more to do! First up, and by reader request, is my 15 year old cat's new outdoor litter box: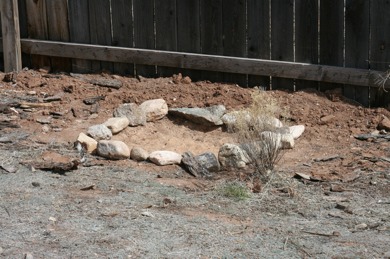 This new addition not only reduces the amount of litter I throw away every month, but it also has significantly reduced the amount of plastic liners we go through as well.
I used to toss 4 plastic liners a month into the trash (
for reasons I won't get into here about the cat's behavior
), but in this first month of
hauling my own trash
I only had to dispose of one bag and the litter within. Because my cat has always been an indoor cat, this has been pretty exciting for him to get to both go to the bathroom outside and run around chasing birds and butterflies. To make the outdoor box, I dug a hole in the ground, filled it with playground sand, and lined the walls with big rocks so it would not cave in within itself. After showing him where it was a few times, he heads right for it every single time we go outside. It must be something innate within cats that they know where to go, and of course the sand he can dig in certainly helps.
The second addition to my arsenal is a "new to me" reel push lawn mower that I bought from a new friend here in Taos for $25. Take a look: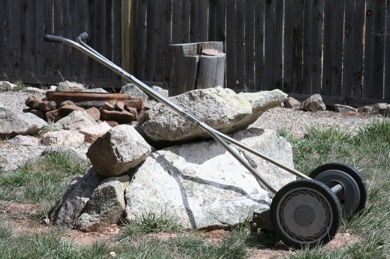 As you can see, it's one of those lawnmowers that just have a blade that spins as you push it around; no gasoline or oil needed! Granted, if I had a gigantic lawn full of lush grass I would probably have bought an electric mower (a traditional gas powered lawn mower produces as much air pollution as 43 new cars each being driven 12,000 miles) to do the hard work, but with a lawn that looks like this:
I don't really need more than my new push mower, now do I? Overall, I am pretty happy with my two purchases. I think both of them combined cost a total of $45, and believe they are definitely worth the money for their return in eco-friendliness. On to find the next thing I can do! What do you think?
----------- Sponsored Links -----------
----------- Sponsored Links -----------