Two Non-Hybrid 50+MPG Cars We Cannot Buy In America.
----------- Sponsored Links -----------
----------- Sponsored Links -----------
The most fuel efficient cars in America available for sale to most of us are the Toyota Prius and the Honda Civic Hybrid. Sure, there is the Tesla electric car and the Aptera, but neither of those are available (or affordable) to everyone. The Toyota Prius gets 48 MPG city and 45 MPG highway, while the Honda Civic Hybrid gets 40 MPG city and 45 MPG highway. (According to FuelEconomy.gov) Both of these cars are hybrids, meaning that they have have both a regular gasoline engine and an electric engine, and they use a combination of both to get such great mileage. The next most fuel efficient car on the list is the smart fortwo coupe, which gets 33 MPG city and 41 MPG highway. The smart fortwo is a "regular" car, with no hybrid technology. All three of these cars get great gas mileage, no doubt about it, and I would be happy to own any of the three. However, what if I told you that there were mass-market cars sold in other parts of the world that get even better gas mileage? And what if you knew that one of them was a full-size station wagon, and neither of them are hybrids?
Makes you curious, doesn't it?
It made me curious enough to go looking for information about these cars after seeing them both featured on one of my favorite TV shows, Top Gear. In the show, the guys were participating in a race where they had to get from point A to point B on a single tank of gasoline, so they were allowed to pick any mass-market car they wanted for the challenge. To my surprise, one of them picked a Subaru Legacy station wagon and another picked a Volkswagon Polo BlueMotion (kind of like our Rabbit here in the States). Both cars have diesel engines, and both of them get better than 50 MPG on the highway…better than even the Prius. And because they have new diesel technology, they are purported to be even cleaner!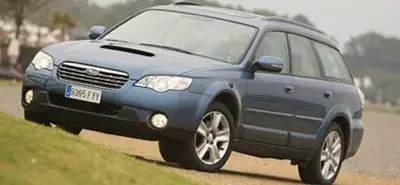 Let's take a look at that Subaru Legacy Diesel first. This car, sold in regular fuel version here in the States, is only sold in Europe right now. Our version gets 20/26 MPG, but their version gets over 50 MPG on the highway. Absolutely amazing for an AWD station wagon! Our Subaru Forester gets about 33 MPG on the highway, which I was happy about – until I read about this Legacy Diesel. I have read that the car will be sold here in the U.S. within a few years, but it could not come fast enough if you ask me. Station wagon body, AWD, Subaru reliability, decent price, and 50 MPG. I cannot wait to see this here. Talk about a Prius fighter…
Next, let's take a quick look at the VW Polo BlueMotion. This little hatchback is a diesel as well, and in combined testing in Europe, it averaged 61.8 MPG. Yes, I said 61.8 MPG. That is heads above the Prius or Civic, and it costs about the same (if not less). Sure, it's a little smaller, but for 61.8 MPG, I would gladly trade size for fuel economy. The smart fortwo is half the size of the Polo, yet it only gets half the gas mileage. Unfortunately, there are no plans to bring the Polo to the U.S., which is pretty sad.
So while Toyota and Honda are definitely making strides on fuel economy on their cars for delivery here in America, there are a few other models available elsewhere that get much better mileage without hybrid technology. Hopefully cars like this will encourage Toyota and Honda to work even harder on their most fuel-efficient models, as gas prices will rise again and the demand will increase for the most fuel efficient cars out there. If I were in the market for a car that meets all my needs, I would definitely be waiting for that Legacy Diesel!
----------- Sponsored Links -----------
----------- Sponsored Links -----------