Water-Saving Earth Massage Showerhead Giveaway
----------- Sponsored Links -----------
----------- Sponsored Links -----------
The fine folks over at Eartheasy.com have offered up an Earth Massage Showerhead to giveaway to a lucky reader. This 1.5 gallon-per-minute low-flow showerhead can save the average household 10,000 gallons of water annually over a standard showerhead, which will also save a lot on a family's water bill. With a 9-jet adjustable turbo massage, pressure-enhancing power, and a 10-year warranty, the Earth Massage showerhead will be a welcome addition to your bathroom. I always install water-saving showerheads wherever I live and never notice a difference in water pressure; I highly recommend you do as well! And don't forget — here is a proven, nontoxic way to clean a showerhead at home to increase water flow and increase it's lifespan.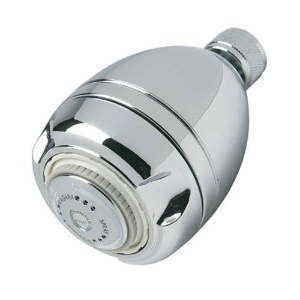 So what's this about the giveaway, you ask? All you have to do to enter to win is to follow the rules below carefully:
– The giveaway starts now and will be open until Friday, August 5, 2011 at 7am MST. No entries will be accepted after that.
– To enter, please leave a comment (with a valid email address, so I can contact you) here on this post with with your favorite item/product from the Eartheasy.com online catalog.
– Emailed entries will not be counted — entry by comment on this post only.
– Only one entry per person. Period. Please don't try to use different email addresses, etc, as the IP numbers will be checked.
– Entries must be from residents of the US lower 48 states
– One winner will be chosen at random from all eligible entries received and notified via email after the giveaway ends
Good luck to everyone, and a big thank you to Eartheasy for sponsoring this giveaway!
----------- Sponsored Links -----------
----------- Sponsored Links -----------