We Bought Organic Cotton Sheets From Target.
----------- Sponsored Links -----------
----------- Sponsored Links -----------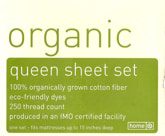 OK I will admit it…we bit the bullet and bought organic cotton sheets from Target. We stopped in there to pick up new PUR water filters and I came across them on the end of an aisle. We had needed new sheets for a while now and although I was trying to wait as long as possible, the opportunity to buy these sheets presented itself to me and I took it. Am I happy about it? Yes and no…I am happy that my new sheets are pesticide free and made from 100% organic cotton, but I am not happy about the fact that I don't know who made them. I had looked at organic cotton sheets at various online stores and found them to be A. overly expensive and B. not fair trade either, so I don't even know if such a sheet set exists. But there…I admit it, I am not perfect. 🙂 For those of you who write to me asking how I buy everything "the right way"…it just goes to show you that even green bloggers sometimes cannot find what they want in the form that they want it! (Or be able to afford it!)
The great thing about these sheets is that they came with NO plastic wrapping. Most sheet sets come wrapped heavily in plastic bags and ties, but these sheets came in a cotton bag with a drawstring at the top and the labeling was just a cardboard sleeve made of 100% recycled paper with vegetable-based inks. The organic cotton is certified by the IMO, the "Institute for Marketecology" which is a specialist in quality assurance of eco-friendly products, organic agriculture and management systems. Sounds important and fancy, no? So for almost every aspect of these sheets, I feel good. I just wish I knew who made them – but there is no info on the packaging. They were made in India, I know that much, but other than that, nothing. Hmmm…but still, better than buying pesticide-laced sheets that both put the workers at risk picking the cotton and my environment (and myself) by laying in them. They are very comfortable and soft and at $49, not a bad deal either.
----------- Sponsored Links -----------
----------- Sponsored Links -----------