What Does LEED Stand For?
----------- Sponsored Links -----------
----------- Sponsored Links -----------
LEED stands for "Leadership in Energy and Environmental Design", and it is an internationally-recognized green building standard and certification. I am asked this question quite often so I figured it would make sense to assemble some research for those looking for an easier-to-understand definition than can be found on some other sites. LEED was created by the U.S. Green Building Council in 1998 and it provides a verification for both builders and building owners that their projects meet certain levels of sustainability standards decided on by LEED committees.
LEED points are used to grade a structure's green performance based on items such as how sustainable a site is, water efficiency, energy efficiency, use of renewable and clean sources of energy, materials and resource choices such as sustainably harvested woods, the reuse and recycling of materials when possible, indoor air quality, and access to mass transit. These points are awarded on a 100 point scale, and the total amount of awarded points determines which of the four different levels of certification a building can achieve:
LEED Certified – The lowest possible LEED score
LEED Silver
LEED Gold
LEED Platinum – The highest possible LEED score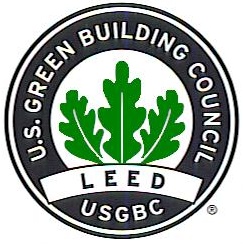 Different kinds of structures do fall under different building categories, and each category has it's own grading standards and point system. Here are the various rating systems that USGBC and LEED use to award points, depending on building type:
New Construction
Existing Buildings
Commercial Interiors
Core & Shell
Schools
Retail
Healthcare
Homes
Neighborhood Development
LEED is the agreed-upon standard for green design by builders, sustainability experts, and investors alike, and for a project to achieve LEED certification is a pretty major achievement. Building green to LEED standards means that more steps have to be taken to insure building sustainability, but they can also mean possibly larger cash investments, formal education and certification, and higher construction costs. When buildings earn LEED certifications, both the residents and the environment benefit in the short and long term.
Leadership in Energy and Environmental Design awards are not anything to ignore, as more construction is meeting those goals each and every year, and we should all hope to live or work in such a building some day. With tax incentives for LEED construction on the rise, we will be seeing more green projects going up.
If you are looking for more information, some green LEED examples include these green apartment buildings and a living building.
----------- Sponsored Links -----------
----------- Sponsored Links -----------