Donate Your Shoes To Soles4Souls.
----------- Sponsored Links -----------
----------- Sponsored Links -----------
In preparation of my upcoming move, I am cleaning out my closet – literally. I am donating all sorts of "cold weather" clothes that I have collected over the past 2 years of living in snow country, and only keeping the few things I need to be comfortable when I go back east to visit family. It doesn't get too cold in Los Angeles! And while I usually just bring any donations over to the Goodwill store where they are then sold off, I recently came across the organization Soles4Souls, which collects shoes from individuals and shoe warehouses and donates them to people in need. Since 2005 they have given away over 10 million pairs of new and gently worn shoes in over 125 countries. That's a lot of newly covered feet! Since I have a few pairs of shoes I no longer wear which are still wearable, I decided to donate them to Soles4Souls so that someone less fortunate than myself can have a decent pair of shoes.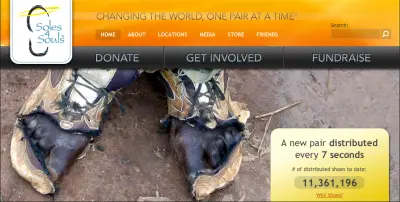 First thing I did was find out how I could donate them, and they make it pretty easy – you just enter your zip code and a list of collection locations pops up. Near my address, there are drop boxes inside local shoe stores and a gym, so I will be heading over to one of them this week to drop off 3 pairs of shoes. I imagine there are collection points in most communities, since there are so many around me.
They accept most kinds of shoes – athletic, running, dress, sandals, pumps, heels, work boots, cleats, dance, and flip flops – just as long as they are new or gently worn. They also accept half pairs, as they hope to maybe match up that lonely shoe with a donation from someone else! I really like the idea of the shoes going directly to those who need them, as opposed to organizations being sent money from Goodwill and the like. Not that there is anything wrong with that; it's just nice to see a tangible item go directly to someone in need.
So if you are about to donate some shoes, I recommend you check out Soles4Souls. Your shoes go directly to a person who isn't as fortunate as yourself, and you can still get the charity tax donation write-off if you so desire. A few pairs of shoes can go a long way to changing someone's life.
----------- Sponsored Links -----------
----------- Sponsored Links -----------