Where To Recycle Household E-Waste
----------- Sponsored Links -----------
----------- Sponsored Links -----------
We all end up with it in our house – old radios, televisions, computers, CFL's, portable CD players, tape decks – but do you know what to do with it when you are ready to dispose of it? Many communities have made it illegal to dispose of e-waste in your regular trash because of the dangerous chemicals that can be found inside electronics, which include toxins like lead, cadmium, beryllium oxide, lithium, mercury, sulphur, and polychlorinated biphenyls (PCBs). These items need to recycled carefully and safely, and luckily there are different options to look into to make sure it gets done that way:
The US Postal Service will recycle, for free, inkjet cartridges, PDAs, Blackberries, digital cameras, iPods and MP3 players without having to pay for postage. They have envelopes in the post office for sending these items.
Staples will recycle computers, office technology products, ink and toner cartridges, cell phones and other personal electronics, and rechargeable batteries.
Best Buy recycles e-waste from any manufacturer, and takes just about anything electronic, including TVs, DVD players, computer monitors, audio and video cables, cell phones, and more. Most things are recycled absolutely free, with a few restrictions.
IKEA stores will recycle burnt out CFL lightbulbs
Apple Computer will recycle your old computer and monitor for free – with the purchase of any qualifying Apple computer or monitor. However, they will also recycle your cell phone or iPod free of charge with no purchase necessary.
Waste Management, the huge trash services company, will recycle fluorescent light bulbs, batteries, electronics, and other universal wastes with their recycling kits.
Office Depot takes back recycling, but charges you for the small, medium or large box that you can fill to the brim with your stuff.
Dell Computers recycles through a partnership with Staples. They also work hard to keep e-waste out of developing nations.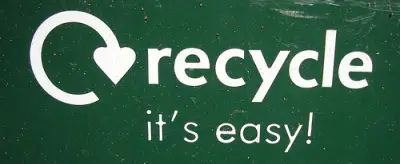 With all the different companies willing to recycle your e-waste free of charge, there really is no need to pay for recycling. If you don't have access to any of the resources listed above and need to find an e-waste recycler in your area, check out websites like E-Cycling Central, Earth 911, the National Recycling Coalition, or Call 2 Recycle. Whatever you do, please don't just throw e-waste in the trash – it ends up either being burned and the toxic gasses are released into the atmosphere, or it ends up sitting in a landfill where the toxins to slowly leach into our groundwater. Do the right thing and find an e-waste recycler!
Photo by chrissatchwell
----------- Sponsored Links -----------
----------- Sponsored Links -----------