Why Can't The U.S. Ban The Plastic Bag?
----------- Sponsored Links -----------
----------- Sponsored Links -----------
Why can't the United States of America ban the obsolete and unnecessary plastic bag? Many communities around the country have tried and a few have even succeeded thus far, with San Francisco, Maui, San Jose, Long Beach, Portland OR, and the unincorporated areas of Los Angeles immediately coming to mind. But while our cities and towns are trying to cobble together some sort of local ban or taxation scheme instead of our Federal government stepping in, there are entire countries passing plastic bag bans. China, Ireland, Italy, Rwanda, and India are just a few places that have succeeded in banning plastic bags in the majority of their states, cities, towns and provinces. The fact that China, even with its 1.3 billion residents and well-known pollution issues, has managed to ban the bag is quite impressive and shows that the U.S. is lacking any political will to do the right thing. The plastic bag lobby has an incredibly loud voice inside the halls of Congress and City Council offices, and has been very successful in thwarting many plastic bag bans that communities have been trying to pass for years.
An estimated 60,000 plastic bags are used in the US every five seconds alone, and upwards of 93% (2007 study) are never recycled, ending up in the Pacific Garbage Patch where they decompose for 100 years while leeching toxic chemicals into our water and strangling wildlife.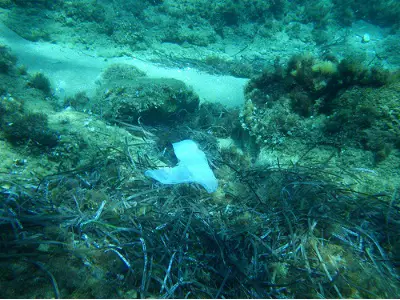 Is this the legacy we want to leave behind for future generations? I don't think so.
So what can we do about it? First of all, we all need to educate ourselves to the facts about just how much damage plastic bags can do to our world and its inhabitants. We can reduce our plastic consumption and encourage others to do the same. We can work with our towns to start a plastic recycling program if they don't have one in place already. We can bring our own reusable bags to the grocery store (or any other store), and if we forget them we can choose paper over plastic as paper biodegrades in a few weeks and can even go into compost piles. If enough of us start acting like the plastic bag is on its way out, maybe it will get the attention of our leaders and give them the strength to stand up to the plastic bag lobby and get these bans passed.
After all, if China can do it, the United States should be able to as well.
Photo by kouk
----------- Sponsored Links -----------
----------- Sponsored Links -----------