Win A Green Vacation To Washington D.C. From Co-op America.
----------- Sponsored Links -----------
----------- Sponsored Links -----------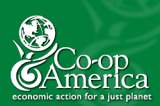 Just a quick blurb for anyone interested – Co-op America is running a contest that can win you a trip to Washington D.C. to attend the Green Festival. To enter, you just have to nominate a "green" business that you think would be a good fit for their business network and it can be from any sector – solar and wind energy, Fair Trade, organics, recycled products, green building, eco-travel, sweatshop-free products, etc.
Anyway, if you are interested in checking out the contest, go to Co-op America's contest page. And to learn more about the green festivals around the country, visit greenfestivals.org. I know I am planning on attending the one in SF…which one will you go to?
----------- Sponsored Links -----------
----------- Sponsored Links -----------