Would You Buy A Smart ForTwo For $11,590?
----------- Sponsored Links -----------
----------- Sponsored Links -----------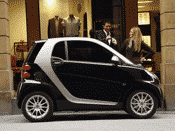 With all the other small cars on the market for few more thousand dollars (Honda Fit, Toyota Yaris), would you be interested in buying a Smart Car for almost $12,000? As much as I was excited when I learned these were coming to the States, now that I have found out the price, I am not so thrilled. Is it cool? Yes. Does it get good gas mileage? Yes. Does it fit more than 2 people? No.
Honestly, I think they should have gone for a lower price on this one. I would have loved to have bought one as an in-town ride for cheap, but at $12,000, they kinda lost me. What do you think?
----------- Sponsored Links -----------
----------- Sponsored Links -----------