Yellow Pages Sues Seattle For Phone Book Opt-Out Ordinance
----------- Sponsored Links -----------
----------- Sponsored Links -----------
This has all the makings of a story straight out of The Onion but sadly it's for real. Seattle, Washington recently passed an ordinance that allowed residents to "opt-out" of receiving the Yellow Pages at their homes, something I wish would happen in every city and state in the country. Dex Media West, SuperMedia LLC and the Yellow Pages Association say that the ruling violates their First Amendment rights to free speech and it will hurt them where it counts – their wallet. The ordinance went into affect in October, but with this lawsuit pending it looks like it's going to be a while before it can be enforced.
I have written about how much I dislike getting phone books before, including discussions of just how much waste these unwanted phone books generate. Each year, phone books require the destruction of about 19 million trees a year, 7.2 million barrels of oil, 3.2 billion kilowatt hours of electricity and the generation of 268,000 cubic yards of solid waste that ends up in landfills — not including the waste of the unwanted books themselves. There is absolutely no reason that paper phone books should be automatically delivered to every household in America when I would venture that the majority of us just walk them straight back to the recycling bin. It should be an opt-in system only, period. You want a phone book? You have to ask for it. Done and done.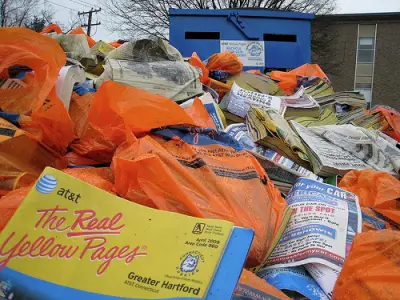 In Seattle, the city spends $350,000 of tax revenue just to recycle the unwanted books. That seems like an incredible waste of resources for something that most people don't even want anymore.
Photo by Flickr user monkeyatlarge
----------- Sponsored Links -----------
----------- Sponsored Links -----------