Youth Leadership Camp Helps Teens Bring About Social Change
----------- Sponsored Links -----------
----------- Sponsored Links -----------
This summer, young people who care about the environment, human rights, animals, and other issues have an amazing opportunity to become more effective advocates and to be surrounded by peers and adults who also care about contributing to a better world. Youth Empowered Action (YEA) Camp is a unique and fun week-long summer camp for 12 – 17 year-olds who want to make a difference in the world, and seeks to get young people active on issues they care about.
YEA is for any teen who cares about making the world a more sustainable place, or who might not feel comfortable speaking up, or isn't sure how to apply their passions to bring about a more sustainable, compassionate and peaceful world. The curriculum is designed to launch young people onto a lifetime path of activism and change-making on issues they care about – whether it's deforestation or factory farming, climate change or homophobia, racism or homelessness. Campers learn how to apply art and creativity to social change, to communicate more effectively, to run an effective school club, to plan a campaign, and more.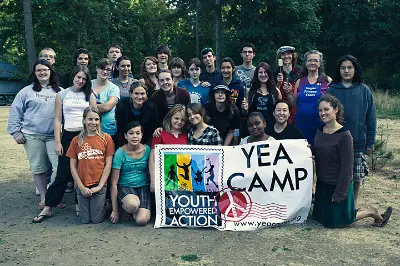 Campers choose an organization they want to work with that is focused on the issues they care about so that after camp they can apply their new skills and confidence to the great work that non-profits are doing and know what amazing resources are available for them. The positive community cultivated at YEA provides ongoing help and support in youth taking action and staying involved long after camp has ended.
Since last summer's YEA Camp 2010, campers have worked on projects to green their schools, participated in climate change rallies, organized a call-in to congress about The Dream Act, organized beach cleanups, gotten vegan meals in their cafeteria, raised money for the local humane society, planned a benefit concert and dinner for the YEA Camp scholarship fund, and more! Working in their schools and communities, these youth have become role models for their peers who care about the earth and encourage their friends and families to take action to protect the planet and all of us on it.
YEA runs week-long sleep-away camps in Portland, OR, and the Bay Area, CA, where most campers are from, but campers travel in from all over the country to attend. To find out more about YEA Camp or to apply, please visit www.yeacamp.org.
Laura Carver is the Portland Director of YEA Camp. She can be reached at laura@yeacamp.org
----------- Sponsored Links -----------
----------- Sponsored Links -----------