For first-time parents, non-toxic play mats are baby essentials that you shouldn't skip on.
A play mat can help encourage your child's development through tummy time and crawling. Plus, it can promote visual and cognitive stimulation.
However, even though play is very important for your child's development, you should put your kid's safety as your utmost priority.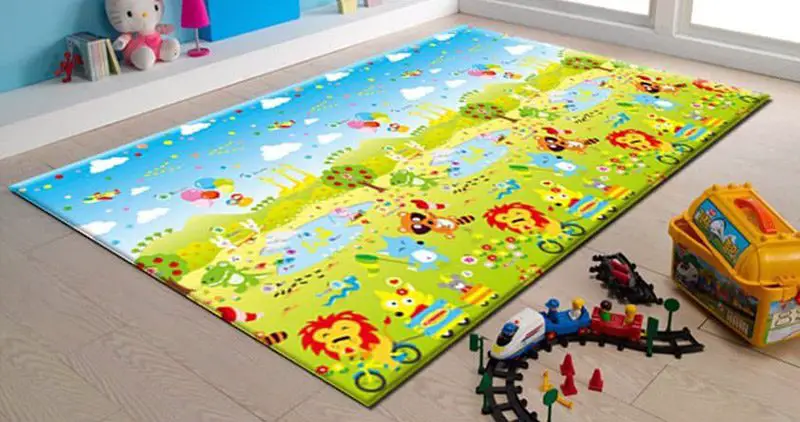 The 10 Best Non-Toxic Play Mats for the Kids
While it's true that you may not be able to protect them from all the hazards in your home, you still have the power to control certain situations inside your household.
With this in mind, choosing the best and safest, non-toxic play mat is a must.
This article lists the top ten best non-toxic play mats as well as a buying guide for your reference.
1. Organic Play Mat by Organic Designs
The Organic Play Mat by Organic Designs is handmade in the USA and is filled with organic filling.
This non-toxic play mat is backed with organic flannel to provide warmth to your baby during winter nights.
It can give the best sleep as well as the healthiest and safe play space for your baby.
This organic cotton play mat can easily be folded. It weighs 4.2 pounds and can easily be thrown into your washing machine.
When you order this play mat, it is not pre-washed to preserve its organic state. If you need to wash it, I recommend washing it in cold water. Consider a shrinkage rate of 3-5%.
Product Description
Material: It is made from high-quality organic materials and is made of 100% certified organic cotton fabric.
Size: 54" x 40"
Thickness: 1.5"
Non-toxic Feature: There are no harmful chemicals such as flame retardants, harmful dyes, or toxic chemicals present.
Pros
Suitable for newborn until toddler stage
It stays in place (doesn't slide)
Doesn't bunch up when placed on hardwood floor
Manufacturer accepts returns for unwashed or unused products within 14 days
Cons
It is more of a comforter than a play mat
Expect size shrinkage when washed
For return items, the customer will shoulder the shipping cost and will not get a refund.
2. Lillefolk Stylish Foam Play Mat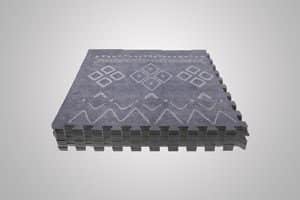 Lillefolk Stylish Foam Play Mat is perfect for stylish parents. This Scandinavian-designed non-toxic baby play mat is inspired by Swedish minimalism.
It comes in neutral colors and designs to easily blend into your home and playroom decorations. It is double padded and 100% waterproof.
This is safe to be used as nursery flooring for babies. It is soft and cozy for your baby and perfect for tummy time, crawling, and sitting exercises.
This is the only foam puzzle mat that is very safe for your baby for there are no loose edges that can easily peel off.
This can easily be assembled and disassembled into 2ft x 2ft squares. Plus, I really like that this non-toxic play mat is easy to clean. Dirt can easily be removed with a damp cloth which means less laundry!
Product Description
Material: It is made of ½ inch thick premium quality foam.
Size: 72" x 48"
Thickness: 0.48"
Non-toxic Feature: It is BPA-free, phthalate-free, heavy metal-free, PVC and latex-free, and lead-free. It exceeds US Toy Safety standards. It is hypoallergenic and odor-free.
Pros
It comes in gender-neutral colors
Easy to assemble and store
Scratches caused by pets are hardly noticeable.
Cons
Minor dents on some of the puzzle edges
The puzzles should fit perfectly together consisting of 4 "middle pieces" and not "corner pieces"
Slippery surface
3. Ofie Mat by LITTLE Bot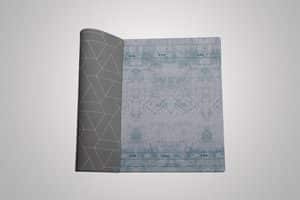 If you are looking for a play mat that can complement your busy lifestyle and at the same time provide a safe and comfortable space for your little one, then the Ofie Mat by LITTLE Bot is for you!
This is the go-to mat of many parents for it is inspired by Scandinavian artworks that focus on simplicity, functionality, and minimalism.
This non-toxic play mat is a large, single foam mat that has reversible sides. It is vacuum safe and that's what I really like about it. However, it can stain and scratch easily. Milk and urine marks can be visible on the mat. You may need to frequently wash it.
Rigorous tests have been made to ensure the safety of the Ofie mat, it is made of the highest standards in Europe and USA.
Product Description
Material: It is made of TPU (Thermoplastic Polyurethane) which is a non-toxic material and is 100% food safe.
Size: 78.74" x 55.12"
Thickness: 0.59"
Non-toxic Feature: It is free from harmful chemicals, heavy metals, lead, BPA, formaldehyde, and phthalate or fire retardants. PVC and EVA are not present.
Pros
Stylish, soft, and foamy
Easy to store inside a canvas bag
Rounded edges are sealed 
It is a lightweight play mat.
Cons
It may have curled edges
In a closer view, it looks like plastic
Slightly slippery
Stains are visible on whites despite being washed.
4. Easy Baby Non-Toxic Foam Play Mat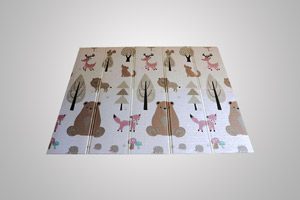 The Easy Baby Non-Toxic Foam Play Mat is a multi-purpose, extra-thick, and functional baby care play mat.
This play mat is soft with a memory foam feel to it keeping your child safe.
It doesn't only serve as your child's play mat; it can also become a wonderful floor piece when flipped over.
It is very convenient to use for it is foldable and can be stored right away. It is also waterproof – cleaning with a damp rug or wipes will do the trick.
There are three beautiful designs you can choose from – dinosaurs, balloons, or animals designs.
Product Description
Material: It is made of non-toxic XPE foam and plastic materials.
Size: 78" x 61.2"
Item Weight::2.35 pounds
Non-toxic Feature: It is free from BPA, lead, PVC, and phthalates. It is a non-toxic foam, hypoallergenic and odor-resistant.
Pros
Print doesn't fade
Thick and cushioned
Not slippery
Lightweight, foldable and portable
Cons
Rips easily
Can be a choking hazard
Not durable
5. YOOVEE Baby Play Mat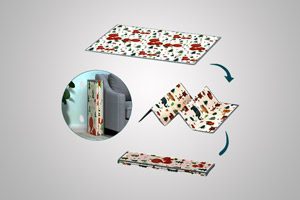 The YOOVEE Baby Play Mat has an anti-slip design that provides infants with a better grip to help them learn to walk and crawl.
It has a double-sided (reversible) pattern or design to ease visual fatigue in infants and toddlers.
I found this foldable mat easy to store and hand carry during family trips.
Unlike other play mats that need to be assembled, the YOOVEE play mat is a durable single-piece foldable mat. This is also a multi-functional, non-toxic mat that can also be used by moms as a yoga mat or as an outdoor picnic blanket.
It is 100% water-resistant. Spilled liquid and food can easily be wiped using a damp cloth making a mother's life easier. This comes in a high-quality storage bag making this a wonderful birthday or baby shower gift.
Product Description
Material: It is made of safe, non-toxic, and tasteless XPE foam material and the designs are printed with vegetable oil ink.
Size: 76" x 57"
Thickness: 0.4"
Non-toxic Feature: It is odor-free, BPA-free, no-fading, and doesn't contain formaldehyde, lead, and mercury.
Pros
Lightweight and portable
Easy to clean
Large play area
Comes in a zipped bag
Cons
Can easily peel off
Prints fade
Choking hazard
6. Mergren Portable Extra Large Foldable Play Mat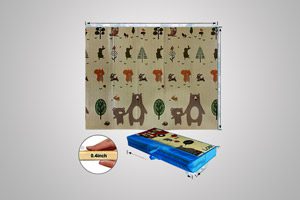 The Mergren Portable Play Mat aims to provide a safe play space for infants to crawl and play in.
This play mat comes in a double-sided pattern design that can spark your infant's imagination and encourage their visual development.
It has an anti-slip feature with a double "L" texture that can help your child with crawling and walking without worrying about them slipping.
The great thing about the Mergren Play Mat is its anti-shock feature that can protect your child from getting hurt when they fall down. This mat is mom-friendly for it is waterproof and easy to clean.
The PE film of this play mat prevents the baby's urine or spilled milk from seeping in. Though, you may need to clean the mat as soon as you see any liquid for improper care can damage the play mat.
This is a portable and foldable play mat that is perfect for your baby or as a gift for an expectant mother.
Product Description
Material: It is made of soft high density XPE foam.
Size: 77" x 70"
Weight: 4.29 pounds
Available Design/Patterns: Giraffe & squirrel, Bear trip, Cute dinosaurs, Alphabet train, Animals & City, Panda & truck
Non-toxic Feature: No harsh ingredients were used. This non-toxic play mat is BPA-free and odor-free. The ink design is printed using food-grade ink which is 100% safe for infants.
Pros
Easy to fold and store
Large and spacious
Reversible with two prints
Cons
Dirt may stick on the textured squares
Can easily be punctured
Prints fade
7. Puritex Biobased Eco Purimat Play Mat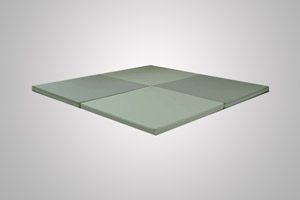 The Puritex Biobased Eco Play Mat is made from innovative bio-PU fabric.
The fabric is eco-friendly and hypoallergenic which is best for a baby's delicate skin.
The amazing thing about the Puritex Biobased Eco play mat is that it comes in a 4-piece mat tileset.
The mat tiles have Velcro on all edges for ease of assembly. The tiles can easily be configured into different shapes and positions.
The Puritex Biobased Eco play mat is made from world-class, eco-friendly materials and has acquired the United States Department of Agriculture (USDA) certified biobased product label.
This waterproof tileset comes in gender-neutral colors of cream and modern grey.
Product Description
Material: It is made of bio-PU fabric with extracts from a plant origin of corn and castor oil. This 10-layer high-density foam is made of hypoallergenic fabric that is great for a baby's delicate and sensitive skin.
Size: 27.6" x 27.6" (individual tile size) | 55.5" x 55.1" (4-tile set)
Thickness: 1.6"
Non-toxic Feature: BPA-free and doesn't contain PVC, EVA, formaldehyde, formamide, phthalates, and other toxins. No chemical glue was used in making the play mat.
Pros
Comes in gender-neutral colors
Can easily be assembled into different shapes
Thick
Cons
The velcros can be a scratching hazard
Velcros can be less "sticky" over time
Can be slippery
8. Bammax Play Mat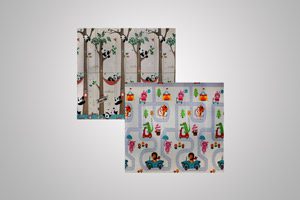 The Bammax Play Mat is an oversized mat that is ultra-cushioned as well as a noise and shock absorbing mat. It is waterproof and easy to clean.
It is a multi-purpose activity mat that can be folded, easily stored, and is reversible with two interesting patterns.
Bammax Play Mat is a large play mat that can be used both indoors and outdoors. This is a good investment for babies who grow up fast.
Product Description
Material: It is made of XPE foam that is free from harmful materials. XPE foam is a safer alternative than EVA and PVC play mats.
Size: 70" x 77.5"
Thickness: 0.6"
Non-toxic Feature: It doesn't contain phthalates, BPA, latex, and formaldehyde. It is also odorless. Bammax play mats are approved by CPC, ASTM in America.
Pros
The print texture is raised instead of dent down
Easy to clean
Attractive colors and designs 
Cons
Rips easily
Can easily be punctured
Choking hazard
9. Skip Hop Baby Play Mat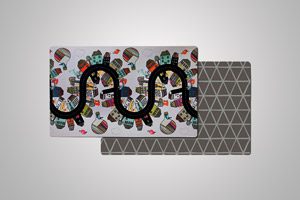 The amazing thing about the Skip Hop Baby Play Mat is that it is stylish, baby-safe, and functional.
This mat can be used by babies as early as 0m+. It is waterproof and can be wiped clean.
The play mat is reversible that you get two great designs in one product – a kid-focused design and a modern décor print as a home piece.
Another great thing about Skip Hop Baby Play Mat is the idea that it can be rolled up for easy storage and transport convenience. Plus, it's waterproof and easy to clean.
Product Description
Material: This play mat is made from PU foam and TPU.
Size: 86" x 52"
Thickness: 0.5"
Non-toxic Feature: Completely PVC-free and phthalate-free
Pros
Large and spacious
Non-slip
Scratches are hardly noticeable
Cons
Molds may grow under the mat
Prone to cracks and could fall apart
Can easily be punctured
10. Wee Gallery Forest Play Mat for Babies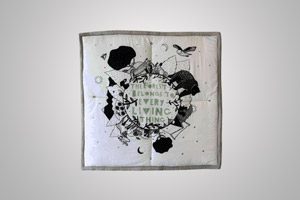 Wee Gallery Forest Play Mat features a hand-illustrated and high-contrast animal print on one side while the reverse side features a calming and neutral pattern.
The high contract designs can keep your baby interested and visually stimulated.
This mat is made of fabric, making it comfortable for tummy time and for cushioned play.
This play mat comes with a drawstring bag that protects it from dust or harmful particles. This packaging is great for storage as well as a gender-neutral gift for baby showers.
This mat is not waterproof but it can be thrown into the washing machine with warm water and tumble dry on low heat.
Product Description
Material: This play mat is made in India from organic cotton muslin and Oeko-tex polyester padding. The outer layer is made up of a double layer of organic voile for soft cushioning.
Size: 19" x 7.6" (square) and 40" diameter (circle)
Weight: 1.5 pounds
Non-toxic Feature: PVC-free and EVA-free
Pros
Prints are great for baby's visual stimulation
Soft, thick, and fluffy
Holds its shape even after several washes
Cons
Suitable only for infant size
Can easily stain 
Prone to tearing (fabric)
What to Look For in a Non-Toxic Play Mat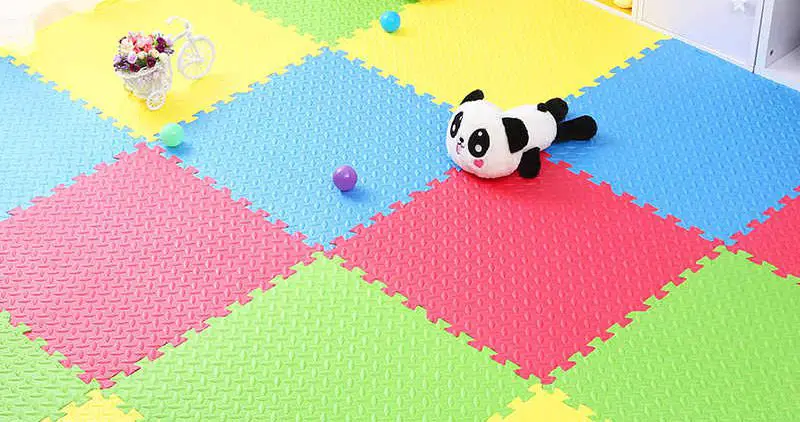 As a parent, the growth and development of your kids are always the priority. Aside from this, you should also put prime value on safety and security.
There are so many play mats in the market claiming to be safe or non-toxic. There are so many options that you are left feeling confused and overwhelmed.
So, before heading to the mall or checking out a play mat online, you first need to do your own research. Here are some buying tips on what to consider when buying a non-toxic play mat for your child:
Certified, Non-toxic, and Eco-Friendly
The ideal play mat for your kids is unquestionably non-toxic. It should be eco-friendly and organically manufactured. Opting for a certified, non-toxic, and eco-friendly is an excellent way to ensure that your little one is exposed to fewer chemicals and dirt.
When considering non-toxic materials, this means that the materials used in manufacturing the play mats don't contain EVA or PVC. The play mats need to be free from BPA, lead, phthalates, and other hazardous chemicals. It should also be odor-free.
Recommended Materials
Cotton
Play mats that are made from 100% natural cotton are toxic chemical-free. Natural cotton did not undergo any chemical processing or bleaching making it completely raw material.
Natural and organic cotton is soft and gentle to a baby's sensitive skin. Using cotton for play mats lessens the risk of your baby developing skin problems like eczema, dermatitis, and skin allergies.
Memory Foam
Memory foams are naturally hypoallergenic and don't cause allergies. Memory foams are great for all types of sleeping positions. However, memory foams are best for older children.
Baby play mats made from memory foam may not be advisable for they are characterized by a natural and slow recovery feature.
This means that the foam allows the body to sink onto the material while sleeping. Young children need firm play mats to easily maneuver their bodies.
Polyurethane Foam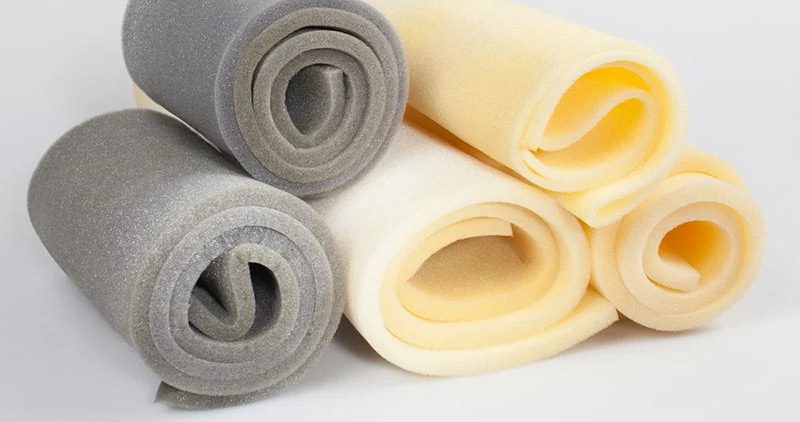 Play mats made of polyurethane are weather-resistant and can easily be cleaned. They are strong, long-lasting, and greatly absorb shock when babies fall down.
PU is regarded as one of the least dangerous materials used in most baby products. You may purchase play mats made of PU but make sure that it is not treated with flame retardants for it becomes flammable.
Thus, making play mats made of polyurethane toxic and harmful.
Size
The play mat should grow with the child. It should be large enough for the infant or toddler to use and actually play on. A play mat is an investment, thus, it should be usable until the child is around 4-5 years old or when they no longer need it.
Protection Against Bumps and Falls
Babies are very dependent that they cannot manage to maneuver their bodies in a safe way. The role of a play mat, aside from encouraging the child's development, is to also protect them from physical hurt.
The ideal play mat should provide the child with adequate physical cushion or protection against bumps and falls.
The mat should be cozy, soft, and firm. If the play mat you are planning to buy doesn't address this concern, then it is like saying to use a thick cotton blanket instead and you can call it a day!
Easy to Clean
In choosing your child's play mat, you need to choose one that is easy to clean by simply using a damp cloth or a sponge soaked in water and soap. If the play mat is made of fabric, it should be washable and can fit inside your washing machine.
Durable and Long-Lasting
When buying a play mat, you know that it is an investment and it should be durable and long-lasting.
Choose a play mat that is highly durable for it can be used by your baby during their early months and well into toddlerhood. You can also reuse the mats when you are planning to have more children.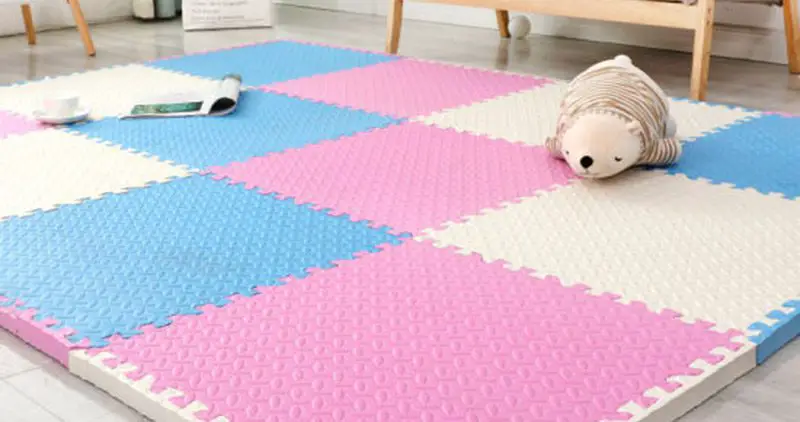 Toxic Chemicals Found in Baby Play Mats (You Should Avoid as Much as Possible)
1. PVC (polyvinyl chloride foam) and dangerous phthalates
PVC and phthalates are toxic substances for they are hormone disruptors that are easily absorbed by the skin, can be inhaled and ingested. PVC mats are dangerous when in contact with your baby's delicate skin.
2. Flame retardants
Flame retardants are polybrominated diphenyl ethers that can negatively affect the health of young children. These substances can cause early puberty or delayed development.
3. BPA (bisphenol A)
BPA is primarily used for the production of plastics and can get inside the human body through ingestion. Young children are the most vulnerable to BPA exposure for they put anything inside their mouths.
4. Formaldehyde
Formaldehyde is a clear and water-like acid, gas, or liquid and is a common ingredient in pesticides. Ingestion of formaldehyde is very dangerous for it may result in loss of consciousness or sudden seizures.
5. Formamide
Formamide is a chemical compound that is a vicious, colorless liquid, and odorless with a slight odor of ammonia. Studies have shown that exposure to formamide can cause severe skin and eye irritation, and can greatly affect reproductive fertility.
6. Latex
Latex is commonly used in workplaces in the form of gloves. Latex is an irritant that can cause allergies, skin problems, or asthma.
7. EVA (Ethylene-vinyl acetate) Foam
Traditional play mats are made from EVA foam or PVC. EVA foam mats are relatively safer than PVC play mats and produce soft and squishy play mats. However, EVA is a carcinogen and releases formamide.
8. VOCs (volatile organic compounds)
VOCs are released by PU foam mattresses. Babies, due to their small frame and weight can easily inhale this toxic substance, ten times as much as what adults can inhale.
9. Lead and other metals
Lead and other heavy metals are commonly used in industrial, domestic, medical, and technological applications. Due to their widespread distribution and use, there is a growing concern over its dangerous effects on humans causing multiple organ failure and can cause cancer.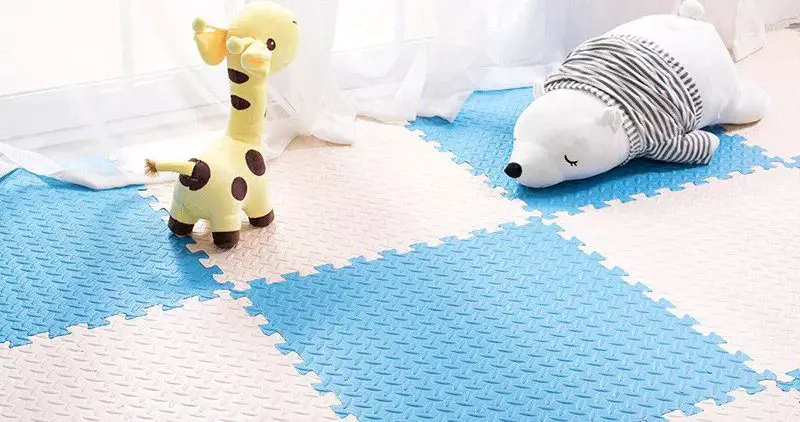 Frequently Asked Questions
Are Play Mats Toxic?
It is a challenge to find a play mat that is 100% toxic-free. Some manufacturing companies may claim that their mats are eco-friendly and non-toxic but the list of materials used in making the mats say otherwise.
You have to be very diligent in checking the materials used in the manufacture of the play mat you are planning to purchase. The list of toxic chemicals to avoid is listed above.
What Is the Best Material for a Baby Play Mat?
Luckily, there are play mats available in the market that are indeed toxic-free. The best play mats are made from either of the following: GOTS certified organic cotton, hemp fabric, linen, or the OEKO-TEX certified fabrics.
Avoid using toxic foam play mats, PVC mats, EVA foam play mats, or petroleum-based polyurethane foam mats.
Are Polyurethane Mats Safe?
Foam mats are often made of PVC, EVA, or polyurethane. Polyurethane mats may be considered non-toxic but are unsafe for it is highly flammable. Because of this, PVC and polyurethane are becoming less popular.
If you have an option to purchase a mat without a polyurethane component, the better.
Do Infants Need Play Mats?
Yes, play mats are absolutely necessary for your infant's development! Infants are sensorial learners and play mats provide the sensory play that they need.
A play mat is likened to an educational toy that physically and mentally stimulates them while keeping them comfortable and safe.
At What Age Do Babies Need Play Mats?
Play mats can be used by babies of any age. Play mats are designed with a growing child in mind. This means that a tiny baby can use it until toddlerhood.
There are many play mat manufacturers that invest heavily in research to come up with the best designs and features. They research on superior and non-toxic materials to produce safe and eco-friendly play mats.
Bottom Line
Play mats are a must-have for babies for it provides them with sensory stimulation, supports their motor and cognitive development, and nurtures their curiosity. Infants are encouraged to spend most of their time on the ground.
Thus, you wouldn't like your child exposed to harmful substances for a long period of time. Not only does it provide your child room for development, it is also a great way to stage your child's monthly milestone pictorials.
All the mats indicated above are still available in the market and are favored by many parents for these are proven to be of excellent quality, completely non-toxic, safe, and durable.
It is best to avoid purchasing toxic play mats because they can harm your immature and still developing baby.
When purchasing your baby's play mat make sure that the materials used in making them are GOTS certified organic cotton, hemp fabric, linen, or the OEKO-TEX certified fabrics.
You may wish that your baby will stay that way forever – cute and adorable. But, the reality is, they are growing way too fast. Always bear in mind that in choosing their play mat that it should grow with them.
Organic play mats should be large enough to make room for their growing bodies, easy to clean, durable, and made from certified, non-toxic, and eco-friendly materials.