When you're taking care of babies, you need to be extra careful about everything. From the materials of their nappies to the quality of their cribs, you have to be extra meticulous for their safety and health. Of course, that includes finding the right dish soap for baby bottles.
Regular dishwashing liquid isn't ideal to use on baby bottles because of the chemicals they contain. They're also usually formulated with fragrances which can disrupt infants' appetite.
To help you pick the best dish soap for baby bottles, below is a handy guide you can use as a guide.
Why Is Regular Dish Soap Not Good for Baby Bottles?
Most dishwashing liquid soaps are formulated with toxic and harsh chemicals, making it one of the most hazardous cleaning items you have at home. Long-term exposure can cause health problems and metabolic diseases.
With their weak immune and respiratory systems, exposure to such chemicals- even in small doses- can affect babies' health. 
Consider SLS or sodium lauryl sulfate. This chemical works by breaking down surfaces so your cleanser can work better and more effectively. 
However, although helpful, it's being linked to nitrosamines. It's considered a strong carcinogen that triggers your body to absorb another carcinogen known as nitrates.
SLES or Sodium Laureth Sulfate is another chemical usually found in dishwashing liquid. Once contaminated with dioxane, it becomes difficult for the liver to metabolize it. As a result, the chemical remains in the body for a longer period.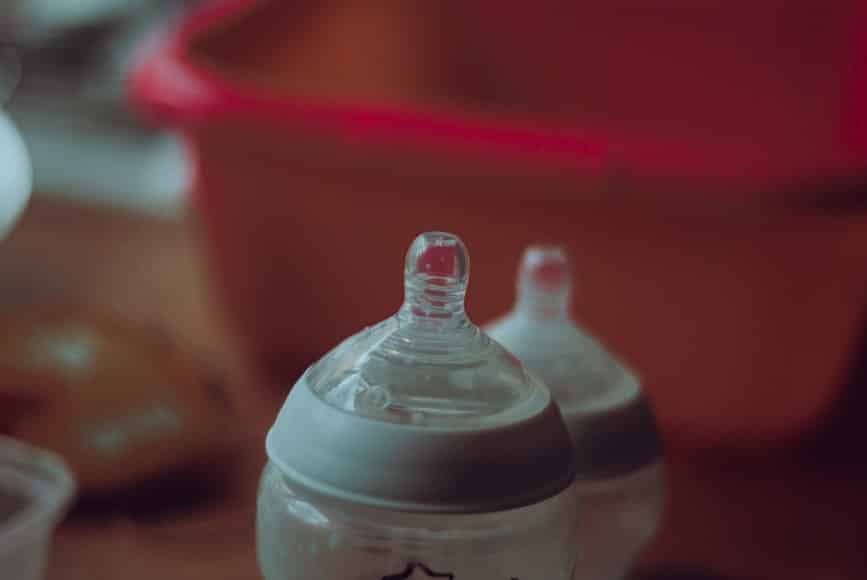 Sounds scary, right?
Then, there's artificial fragrance.
For most people, having fragrance in dishwashing soaps isn't a big deal. In fact, a lot of them prefer to have scented products.
However, when you're talking about babies, it becomes a totally different story.
Fragrances are typically loaded with chemicals. The list includes phthalates which can negatively affect one's hormone levels. They can also cause allergic reactions.
You should avoid products with parabens too. They can cause organ-system toxicity, endocrine disruption and cancer. 
Formaldehyde and chlorine are toxic for babies as well.
How To Choose the Best Baby Bottle Dish Soap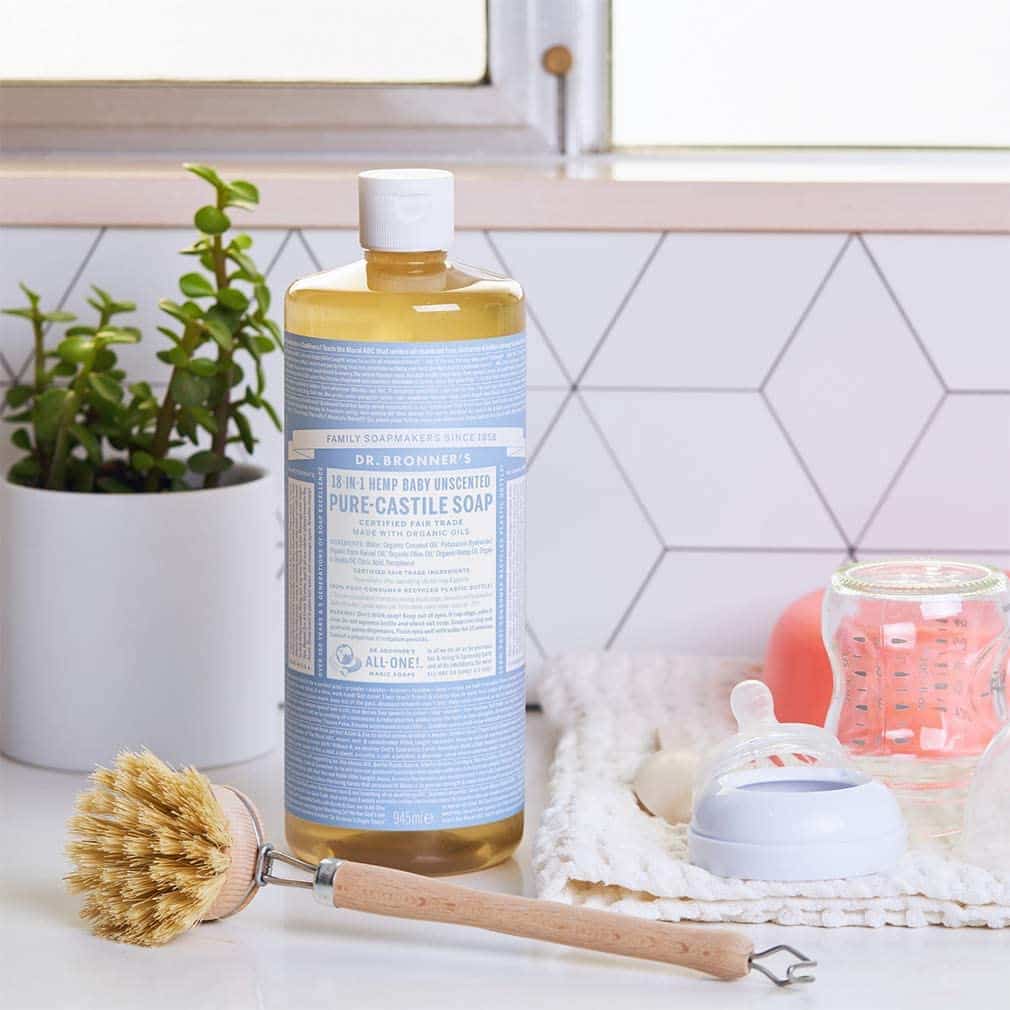 Just scanning the aisles of your local grocery store for the right baby bottle dish soap can leave you feeling overwhelmed and confused. The same is true when you purchase yours online.
With so many options, it's easy to make mistakes and pick the wrong product. And since it's for your baby, you can't afford to make that happen, right? 
So, when choosing an effective but safe dish soap for baby bottles, consider the following:
Ingredients
As mentioned earlier, regular dish soaps won't cut it. For your baby, it's best to stick with products formulated with natural ingredients.
They are better and safer for babies. And if you're in a rush and fail to clean the bottles thoroughly, you won't have to worry about the chemicals leaching onto the bottles and getting ingested by your baby.
Plus, they won't cause problems for the environment once they enter the water supply.
Anti-bacterial claims
Since your baby is young, you'd want to make sure that everything he touches is free of bacteria. However, it may not be a good idea.
These days, most of the ingredients used to kill or remove bacteria are generally harmful. Benzalkonium chloride and triclosan are two great examples. High-level exposure to such chemicals can make one's immune system less effective.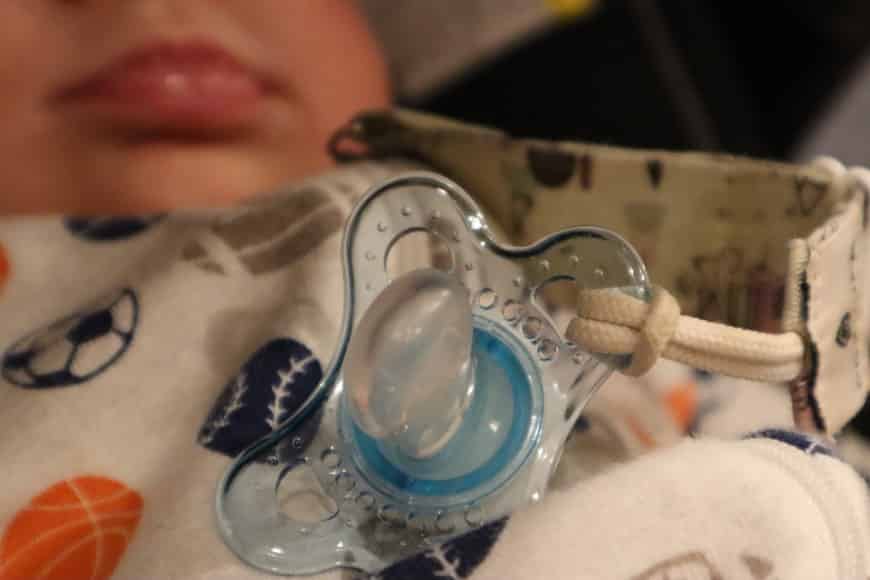 Cleaning milk fats
As much as possible, find products that can reduce milk film and fight milk residue. They won't just help your bottles last longer but they can also help you save money.
Ease of use
As a mom, you don't have a lot of free time. You're always in a rush and that includes washing baby bottles.
Because of that, it's a good idea to look for a dish soap that comes with a dispenser. It'll give you better control even if you're in a hurry. Plus, it'll help avoid excessive usage of the soap when not needed.
The 10 Best Dish Soap for Baby Bottles
Based on the list above, we've narrowed your choices to the top 10 products on the market today.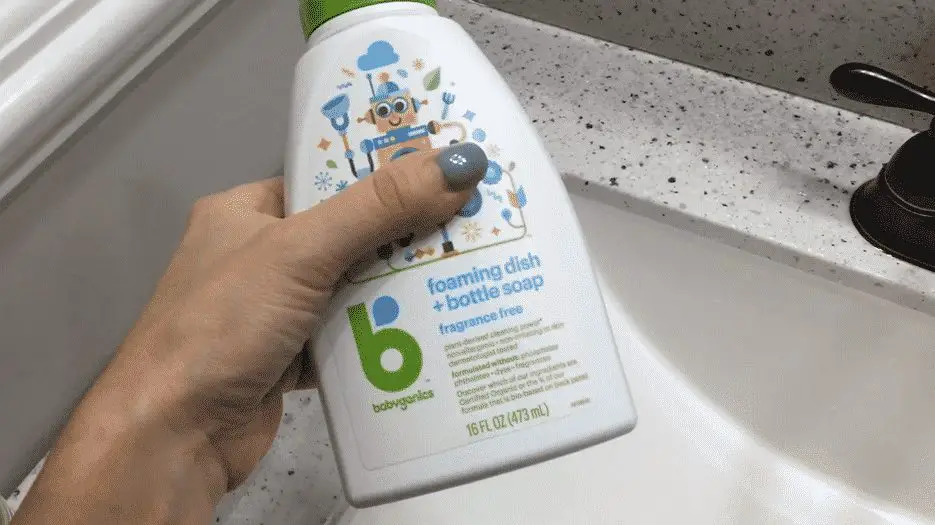 Babyganics Foaming Dish and Bottle Soap made it to the top of this list for its formula and effectiveness.
With plant-derived ingredients, it won't irritate your sensitive skin. And since it's also free of dyes, fragrances, phosphates and phthalates, it won't harm your baby or ruin his baby bottles, sippy cups and pacifiers
Based on my experience, the product works really well in removing dried milk. It's effective in getting rid of residues, grease and other mess.
And even though it's a foaming soap, it has a quick rinse formula. I don't find myself using a lot of it just to wash baby's bottles.
And the best part? It comes with a pump. All you have to do is dispense the product onto a brush or sponge before scrubbing the bottles and rinsing them as normal.
Pros:
Completely plant-based
Fragrance-free
Tested by dermatologists and pediatricians
Leaves no residue
Cons:
Some people dislike its foamy formula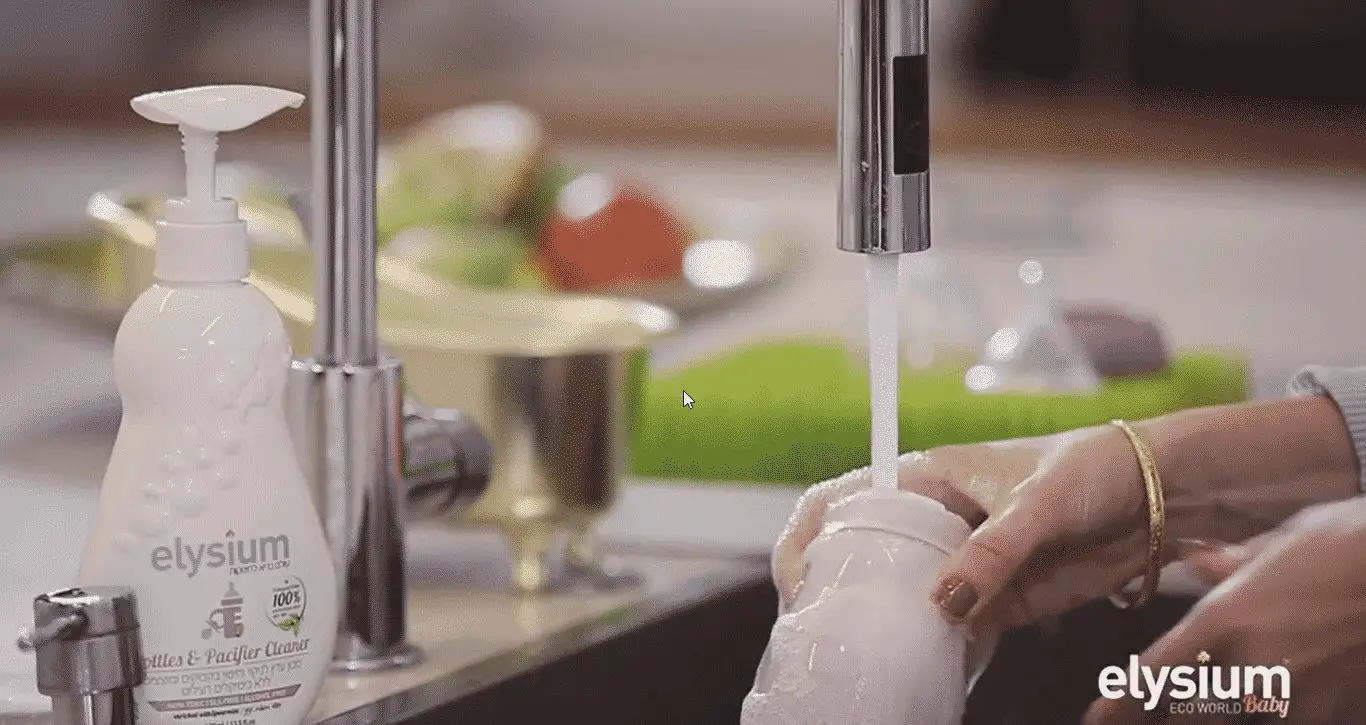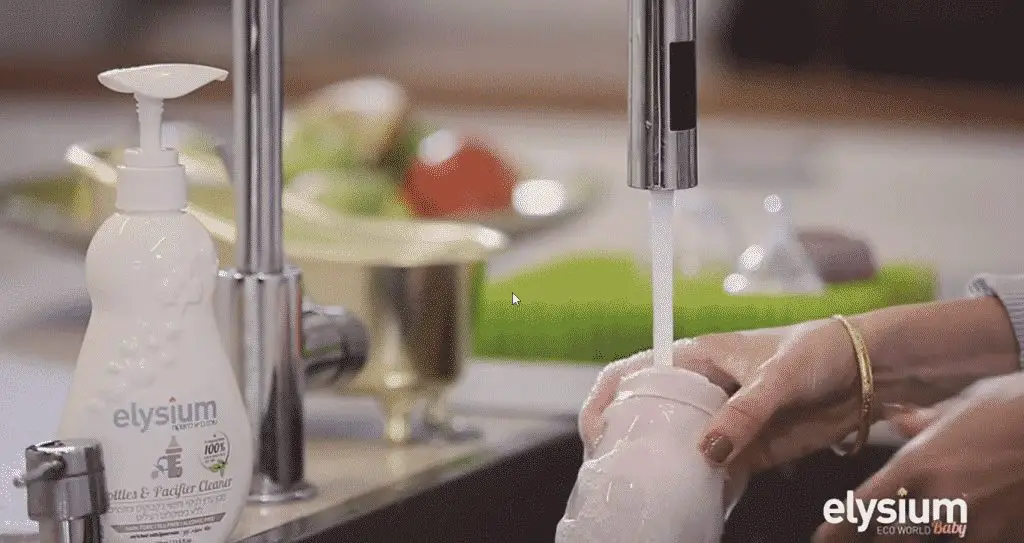 This particular soap for baby bottles is infused with natural herbal extracts. Plus, it's free of phthalates, sulfates, parabens and alcohol.
Additionally, the product is also ecological. With it, you can say goodbye to dirt, milk residue and leftover food without worrying about harmful ingredients.
I find the packaging quite nice too. It gives you two options for use.
If you travel a lot with your baby, you can just use its squeezable bottle and avoid worrying about the soap leaking and ruining everything in your luggage.
Personally, I use it with its pump attachment. It's a convenient choice if you clean a lot of cups and bottles at home.
Pros:
Versatile packaging
Fragrance-free
Has an easy clean formula
Vegan and eco-friendly
Alcohol-free
Cons:
Dreft Bottle & Dish Soap is 90% plant-based. This means that it's less likely to irritate your skin or your baby. It doesn't even have fragrances or dye.
The product isn't just great for baby bottles. You can actually use it on breast pump equipment too. It won't leave any soapy residue behind so you won't need to spend a long time washing.
You also won't need to use a lot of it to get great results. For me, one pump goes a long way.
Pros:
Fragrance-free
Plant-based
Pediatrician-recommended
No dyes 
USDA certified biobased product
Dr. Bronner's is a household name in the country. It's so good that several standard organizations, including the USDA, are endorsing it.
With no antibacterial content, perfumes, dyes or fragrances, this liquid soap is great even for baby bottles. It's made with 70% certified fair trade ingredients and 90% organic ingredients, making it completely vegan and biodegradable.
Instead of harsh chemicals, it's formulated with coconut oil, jojoba oil, hemp seed oil and palm kernel oil. It has no preservatives, thickeners or foaming agents.
The product feels quite concentrated. This means that you won't need to use a lot of it to get great results. 
Another thing that makes the product special is its versatility. I actually use it for washing pets, mopping and laundry.
Pros:
Never tested on animals
Non-GMO
Great for sensitive skin
Highly concentrated
Con:
Tends to roughen the skin
This particular product has been formulated to end moms' problems with breast milk residues and milk film. It has a quick clean formula that makes washing baby's feeding accessories and other baby items easier and faster- there's no need to scrub!
However, some moms don't follow that tip all the time. Because it's still soap, I can still feel a film on the bottle when not rinsed thoroughly.
The product comes with no added fragrance. And since it's completely unscented, it won't affect your little one's appetite or irritate his nose.
Hypoallergenic, it can be safely used for pacifiers and even your breast pump. You can also use it to wash your nursing apparel.
Pros:
Has a quick clean formula
Fragrance-free
Hypoallergenic
Con
Leaves a film on the bottle when not rinsed properly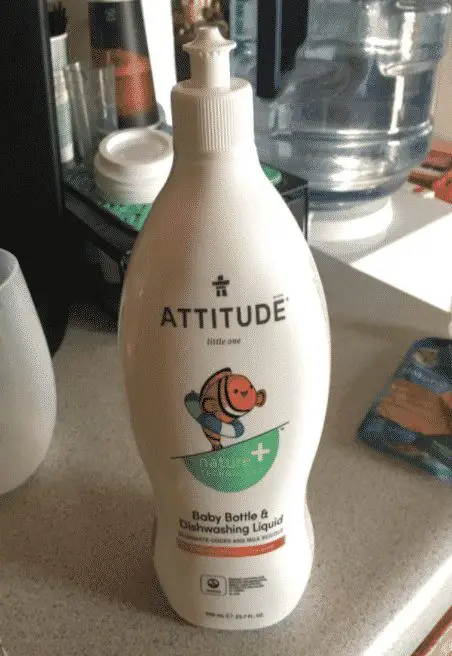 The brand is quite famous for its eco-friendly products, just like this dish soap. With the approval of The United States Environmental Protection Agency, it's a 100% vegan-friendly product. It's not tested on animals as well.
ATTITUDE Baby Dish Soap is made with saponins, a group of plant glycosides. The ingredient works really well in fighting not just milk residue but grease and odors too. 
Its hypoallergenic formula feels nice on the skin as well. It leaves my skin feeling soft and clean after use.
Pros:
Cruelty-free
Eco-friendly
Sulfate-free
Vegan
Con:
May not be effective when used for regular dishwashing
Better Life Unscented Dish Soap is an excellent choice if you want something that's safe for babies and good for your skin. Formulated with aloe and vitamin E, it leaves the skin soft and moisturized.
The dish soap is made from all-natural ingredients, making it non-toxic and biodegradable. And like the other products on this list, it doesn't contain fragrances too.
When I first used it, I was surprised that it didn't lather. If you are used to washing dishes with products that foam a lot, you may feel a bit disappointed with this one. However, even though it doesn't lather, it doesn't mean that it's not effective.
Pros:
Made from all-natural ingredients
Biodegradable
Doesn't leave any unwanted scent on bottles
Cons:
Doesn't lather
May turn yellow if stored for a while
The dish soap is a product a lot of moms are familiar with. It's great for regular dishwashing since it cuts through grease effortlessly.
It's formulated with plant-derived ingredients which makes it gentle enough to be used for your baby's bottles. It also has aloe vera extract, essential oils and glycerin.
I think one downside of the product is its scent. Some variants don't smell strong but if you're sensitive to smell, it's best to stay away from the lemon scent.
Pros:
No parabens
Plant-based
Cruelty-free
No phthalates
Cons: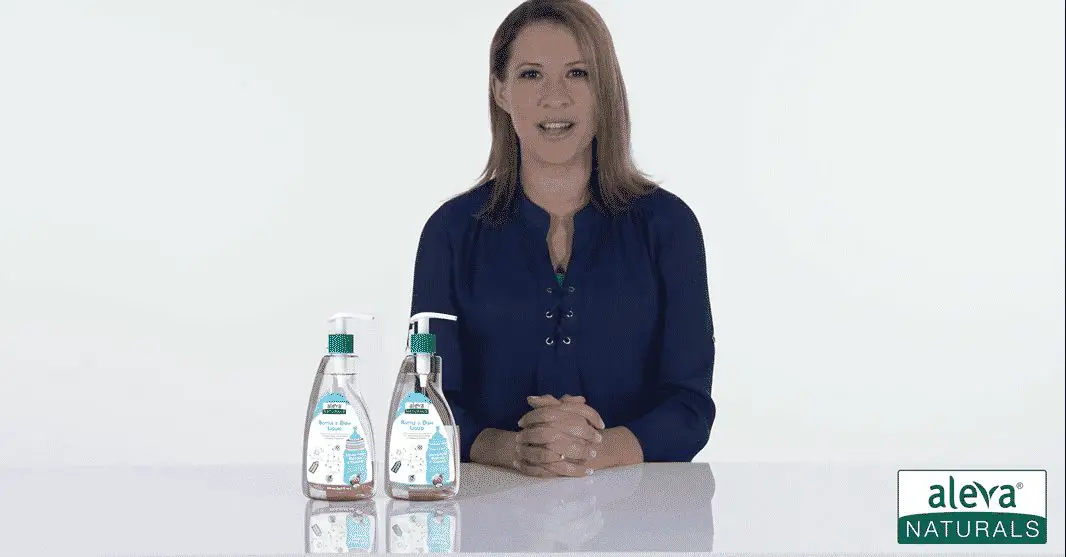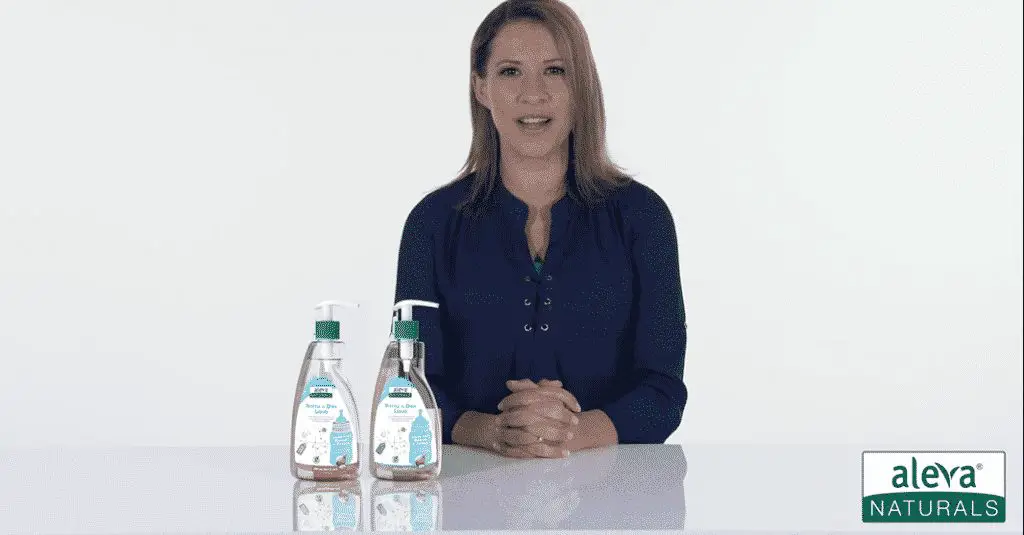 This dish soap isn't just great in cleaning baby's feeding accessories. Made with natural ingredients, it feels gentle on sensitive skin too.
It has organic aloe vera that nourishes the skin. It also has coconut oil which works great in keeping hands feeling soft.
The product is cruelty-free, vegan, and plant-based. And if you find that it fails to live by its claims, it comes with a 100% no questions asked satisfaction guarantee you can turn to. It simply shows how confident the company is with their product.
Pros:
Gentle on skin
Has a satisfaction guarantee
Plant-based
Cons:
Has water lily scent that's pretty light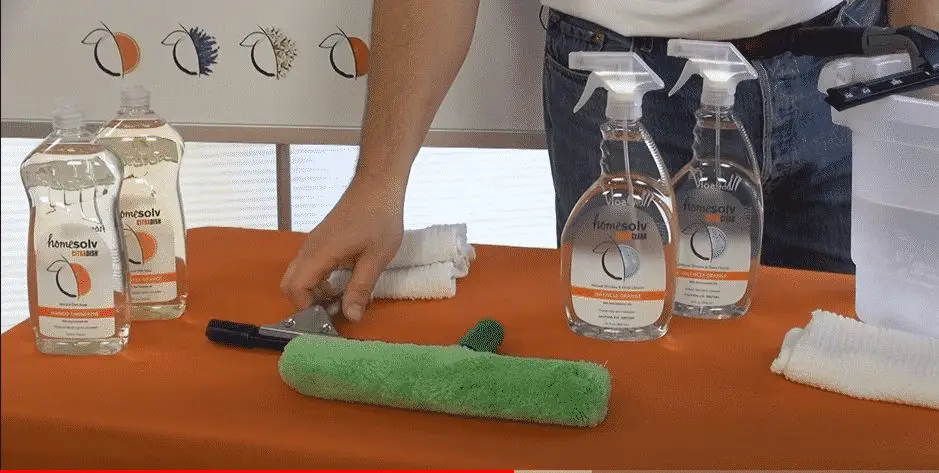 CitraDish is extra tough when it comes to dishes. Since it's made without toxic and harmful ingredients, it works well as a soap for baby bottles too.
This natural dish soap is formulated with real essential oils. This means that it's perfectly safe for septic systems as well.
USDA Certified Biobased product, this soap is Leaping Bunny Certified. It's also vegan-friendly.
Pros:
Safe for septic systems
Made with essential oils
What Is The Best Way to Wash Baby Bottles?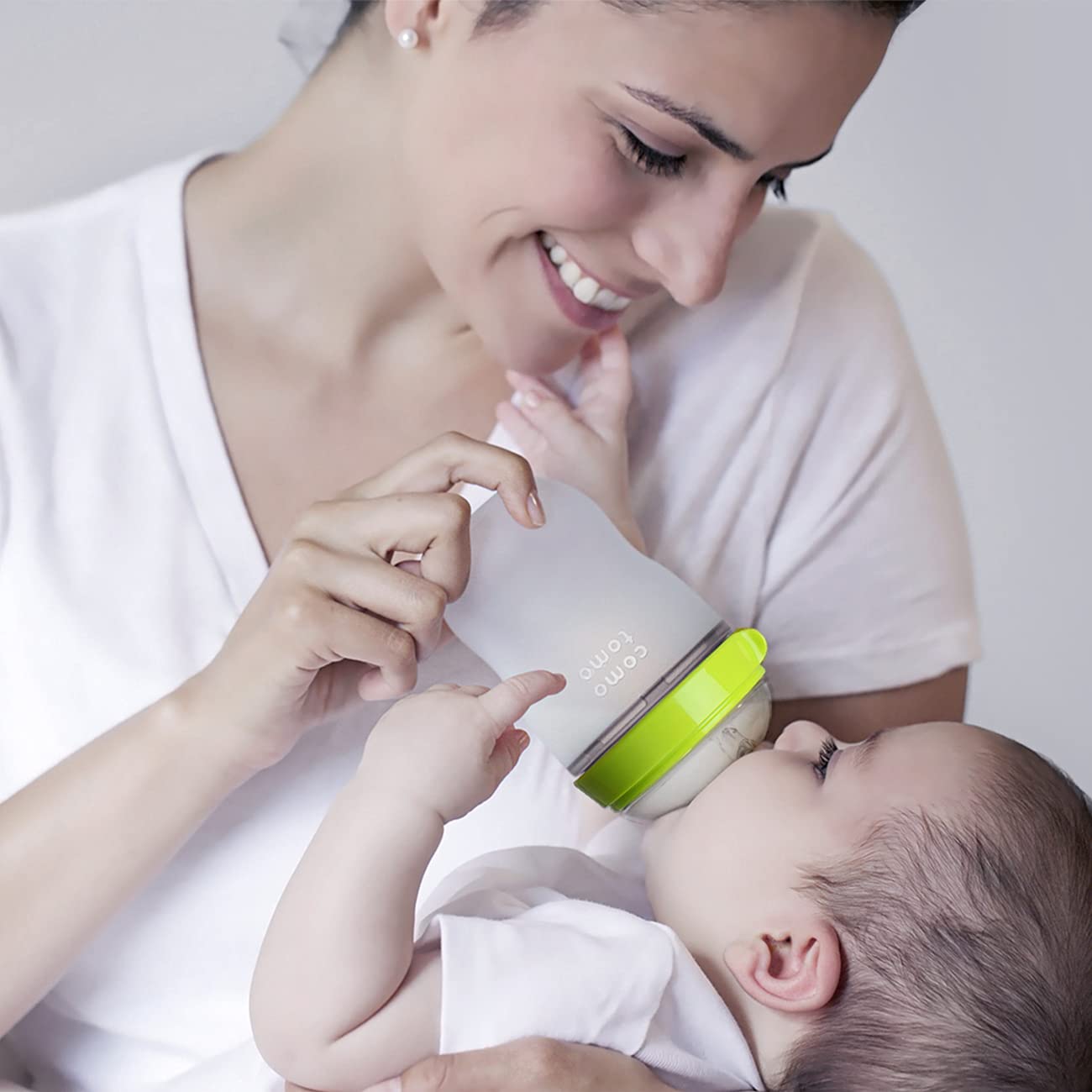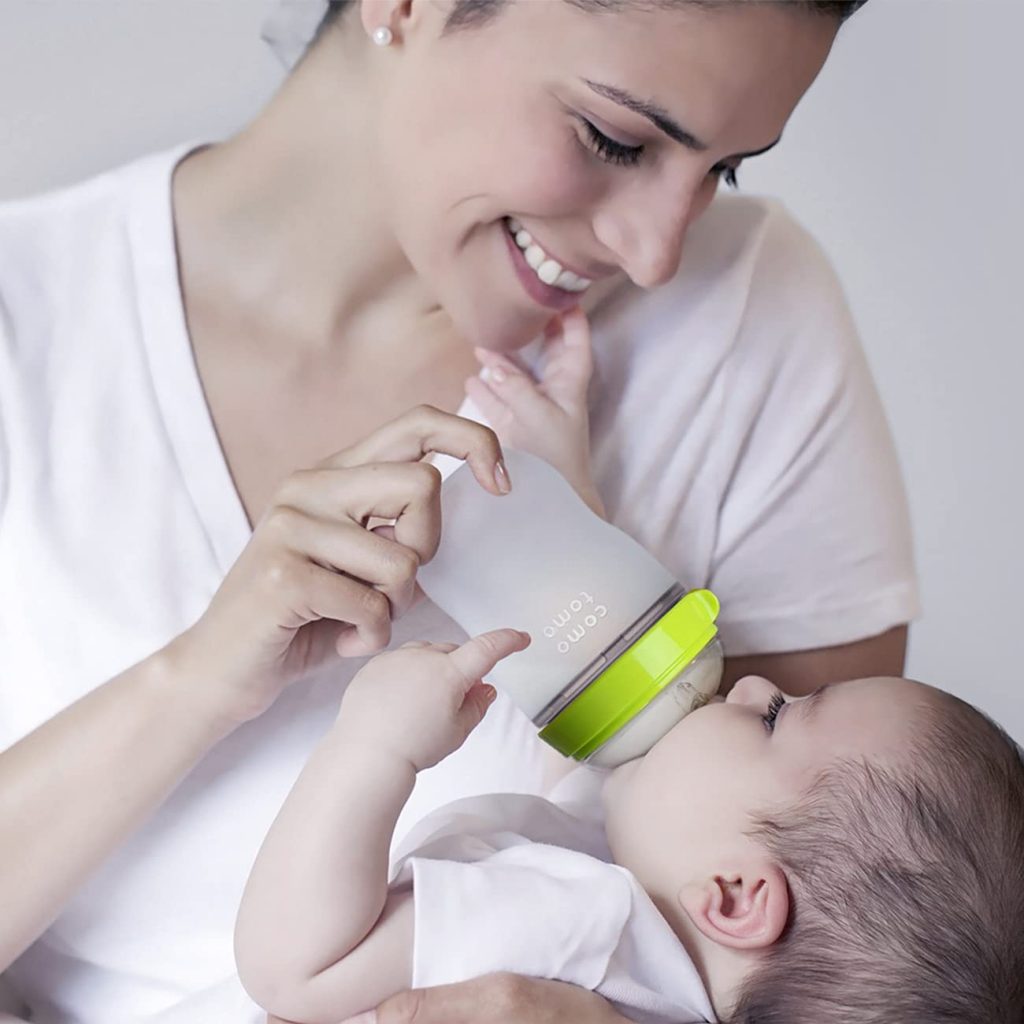 Washing dishes is a simple task. However, if you're washing baby bottles, you have to be extra careful. You wouldn't want your baby to ingest something he's not supposed to, right?
So, how do you clean baby bottles?
Washing Baby Bottles by Hands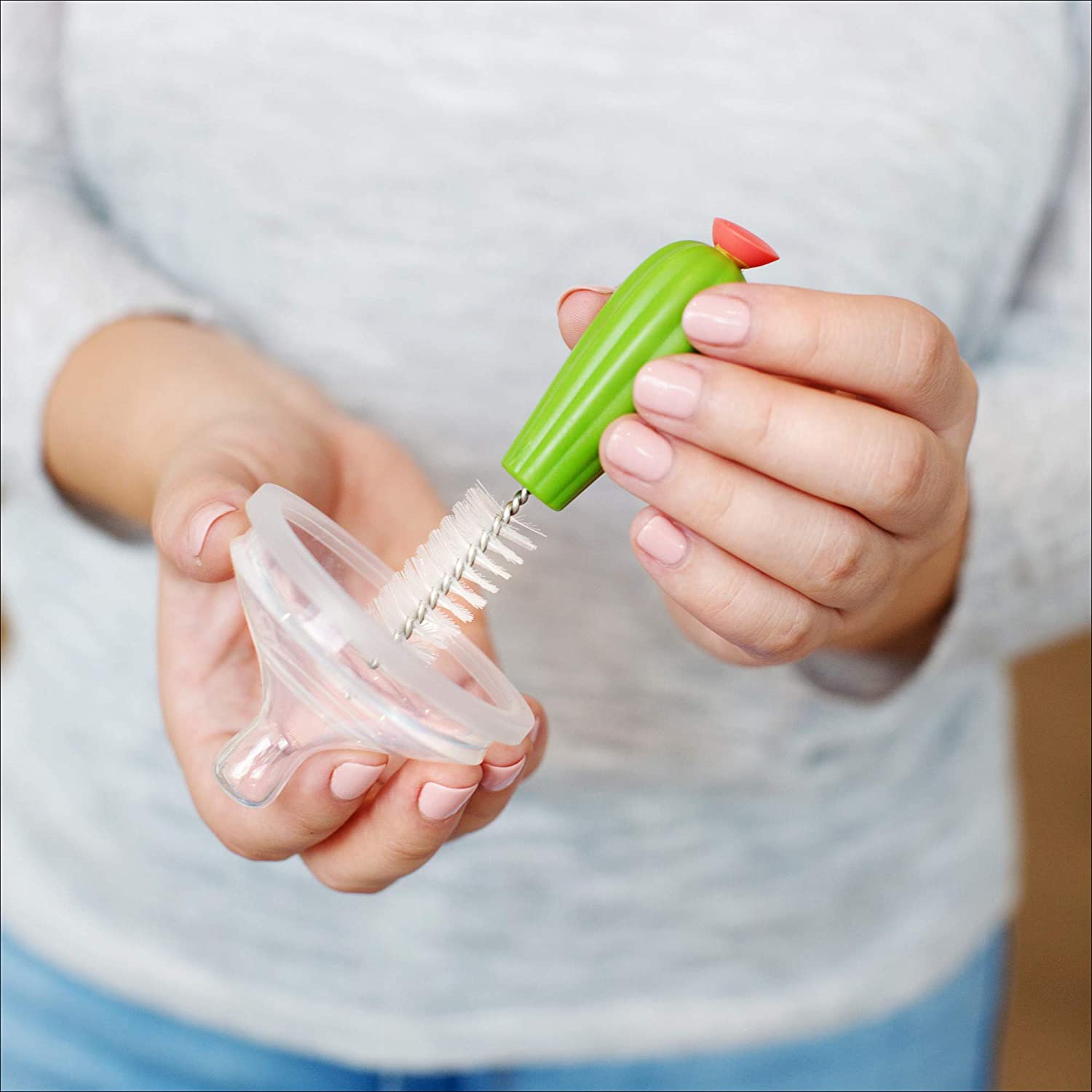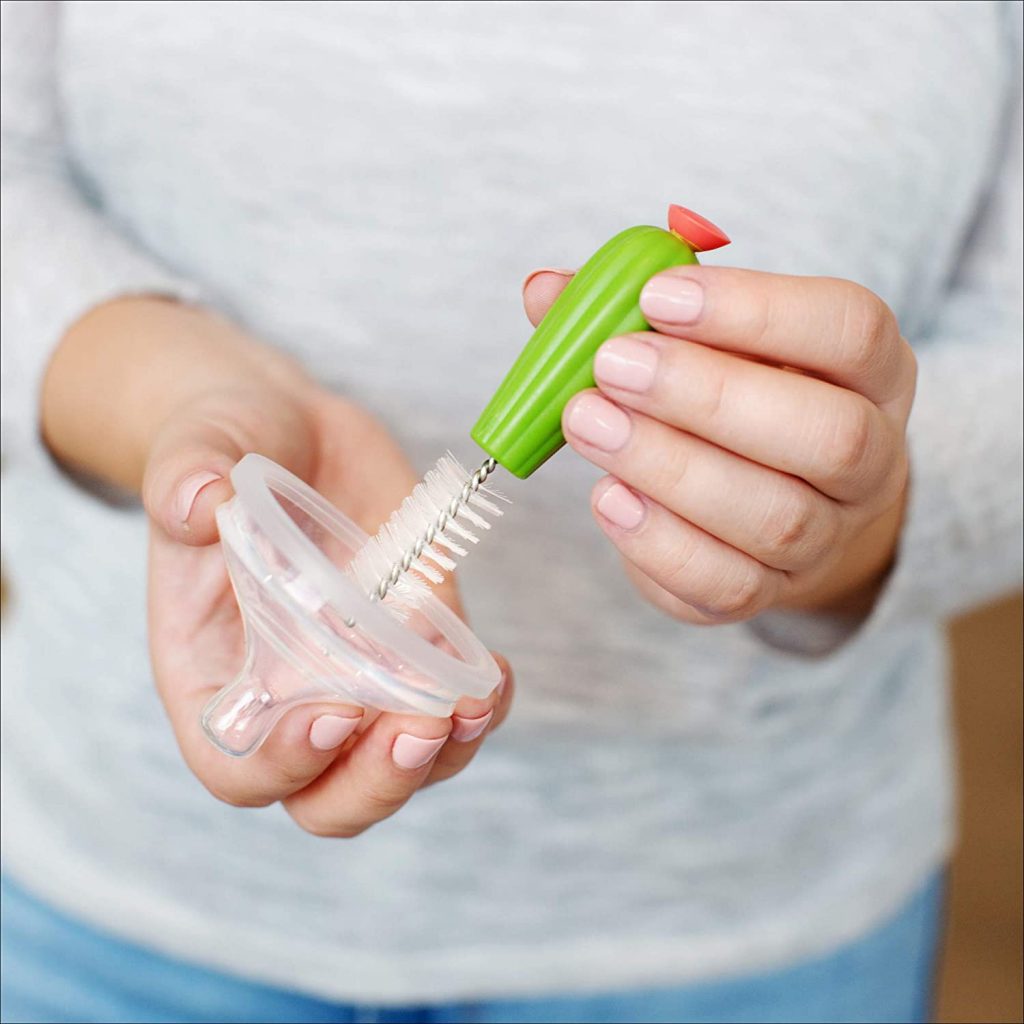 You don't need to have a dishwasher to make sure your baby's bottles are clean. If you have a sponge, bottle brush with nipple brush and the right soap for baby bottles, you can complete the task quickly and easily.
Here are the steps:
1. Right after you're done feeding your baby, give the bottle a quick rinse. 
To get rid of most milk residue, use warm water. You can proceed with washing the bottle right away or you can come back to thoroughly wash it once you have more time.
2. Get a bowl and fill it with hot soapy water.
Apply a squirt of your baby bottle and dish soap to a bowl of hot water. 
3. Separate the bottle parts.
This is something you shouldn't miss. You see, old milk can easily build up between the nipple, bottle and ring. If they aren't cleaned properly with dish soap, the residue can easily attract bacteria.
4. Wash the parts separately.
Place every part into the hot, soapy water. Take your bottle brush and use it to clean the bottle. For the plastic nipples and rings, make sure to use the nipple brush. Remember to squeeze soapy water through the hole of the nipple to flush out trapped milk.
5. Rinse everything.
Rinse the bottle and all of its parts under running water. This helps ensure that you're able to remove any dish soap residue.
6. Dry the bottles and their parts.
Place them upside down in your dish rack and allow them to dry.
Cleaning Baby Bottles Using A Dishwasher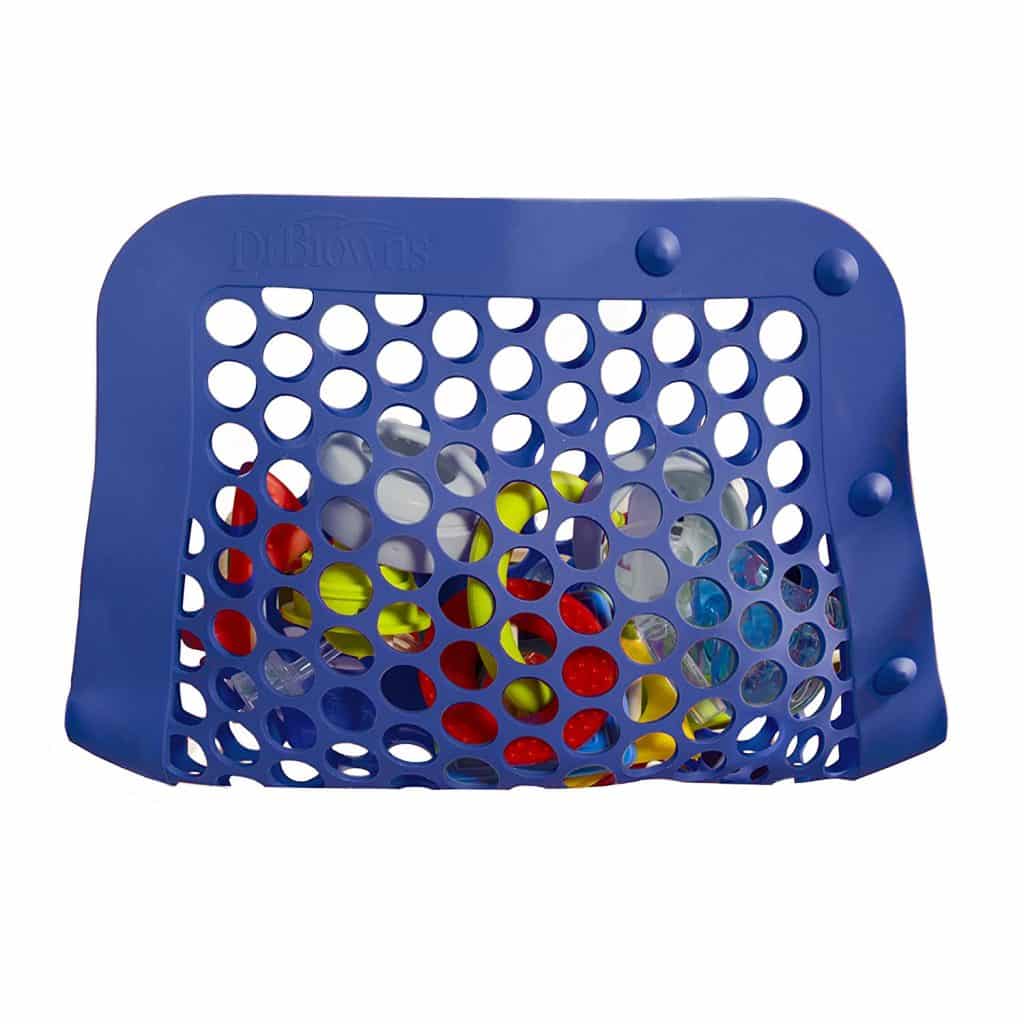 Baby bottles can easily pile up. This is one good reason to wash them after each use or load them in the dishwasher every few days.
Before you follow the steps below, make sure that you're using dishwasher-safe baby bottles.
Here are the steps:
1. Rinse the bottles and all of their attachments in warm water.
2. Soak with warm water and a natural dish soap.
3. Rinse off the bottles and their attachments.
4. Load them into the top rack of your dishwasher and set to a hot water washing cycle.
5. Remove the bottles from the dishwasher and place them on a clean surface to dry.
Conclusion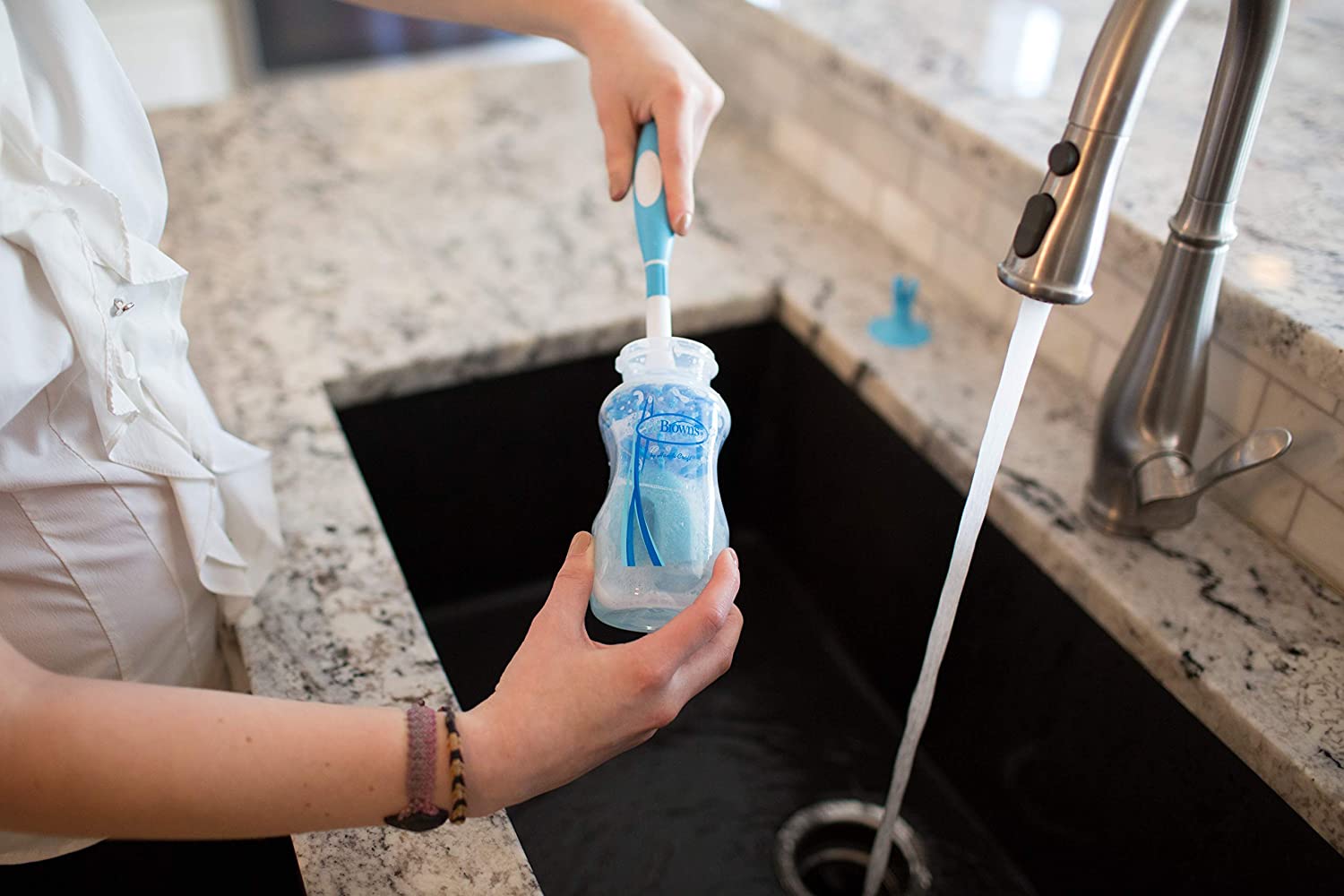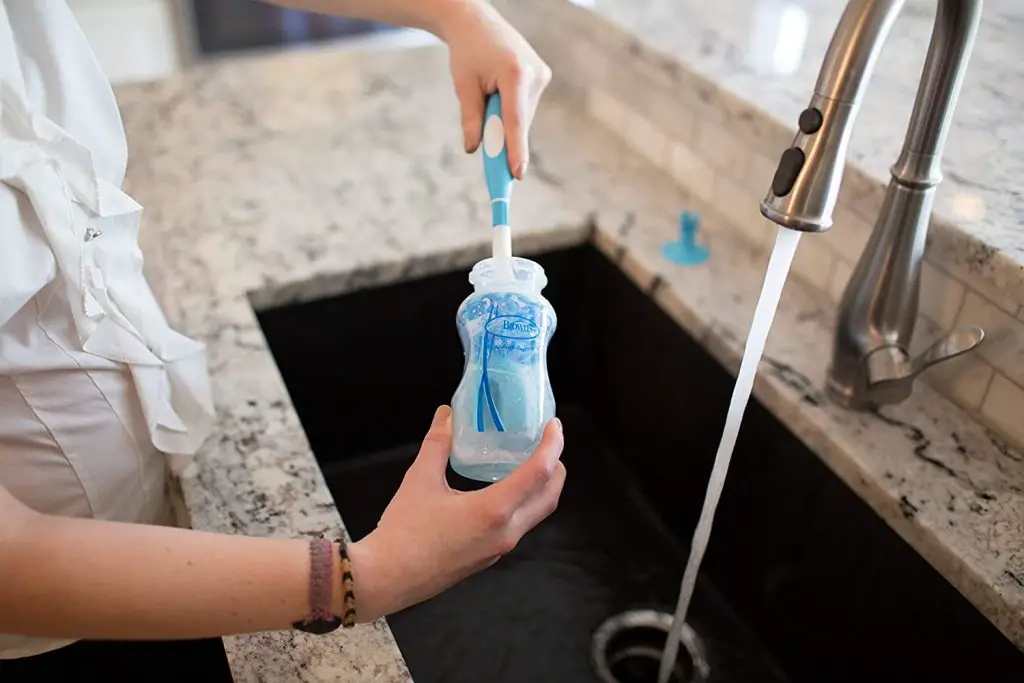 Baby bottles require extra care since babies use them all the time. As a mom, it'll give extra peace of mind if you use something natural and safe to clean your infants' feeding items. 

With the help of this list and the guide included, hopefully, you'll find the process of looking for the best dish soap for baby bottles easier and less stressful.
Frequently Asked Questions
How often should I wash baby bottles?
Based on the American Academy of Pediatrics and the CDC, it's a good idea to wash baby bottles right after each feeding. If you can't do that right away, you can rinse them out to prevent caked-on residue.
For pacifiers, make sure to wash it with baby dish soap and water daily. You can also run them though your dishwasher a couple of times per week. If there are obvious cracks, dispose them right away.
Can you wash baby bottles with soap?
The answer is yes. However, for your baby's safety, it's best to use a product with no harsh chemicals. It's also a good idea to avoid dish soaps with strong scents since they can affect your baby's appetite.
Can I use baby bottle soap on all my dishes?
Yes, you can. However, if you are dealing with grease and caked-on foods, it's best to use a different dish soap brand. You'll need a stronger product when it comes to cleaning your regular dishes.
Do I need to sterilize the bottles after washing them with dish soap?
It's not necessary to sterilize baby bottles after each use, but it's a good idea to do it at least once a week. If you want peace of mind, you can sterilize after every use if you want.
Should I really avoid fragrances in baby bottle dish soaps?
For adults, fragrances may not be a big thing, particularly for those without allergies or sensitive sense of smell. However, since most manufacturers don't list their fragrance ingredients, it's hard to tell if everything in your dish soap is safe for your baby.
Do you need special dish soap for bottles?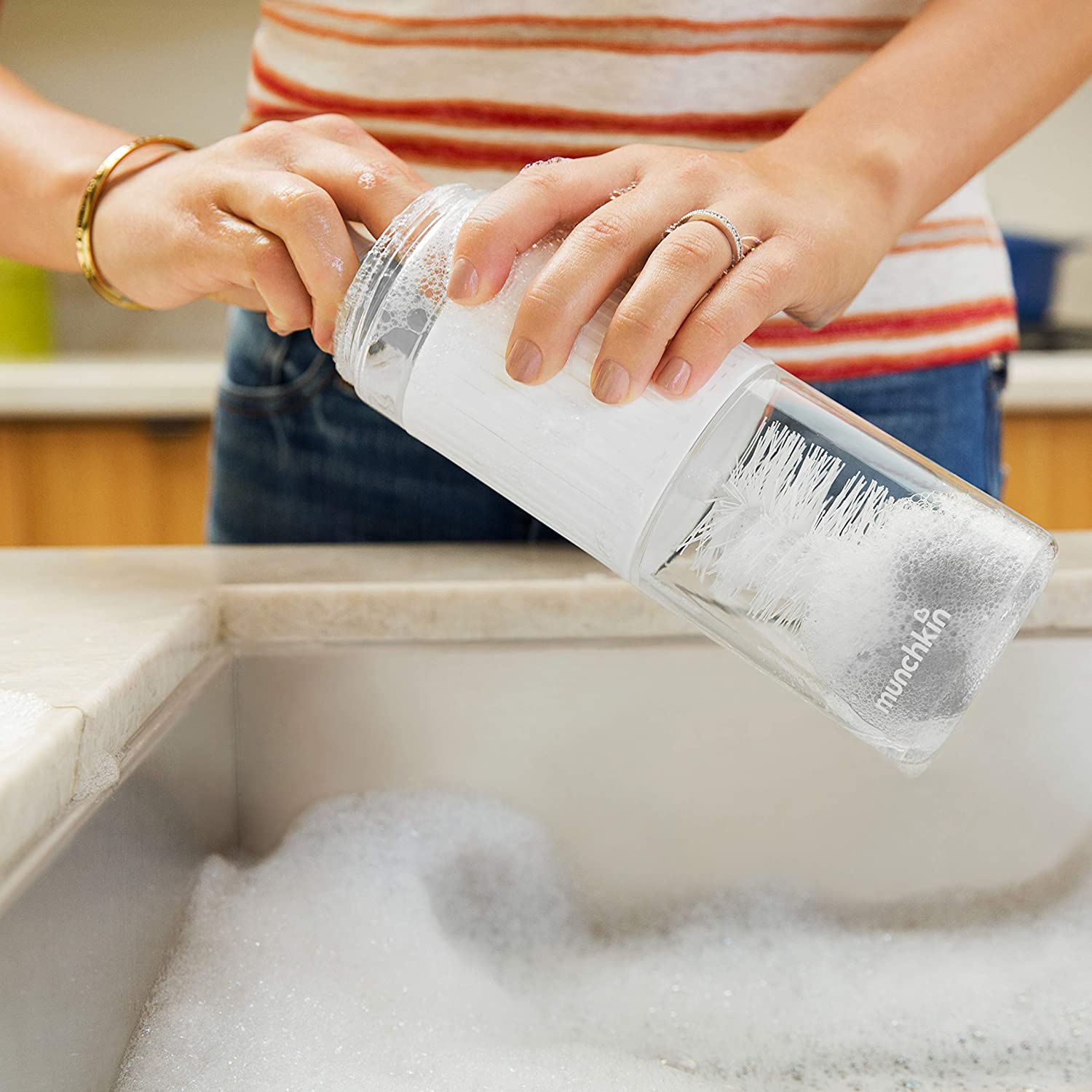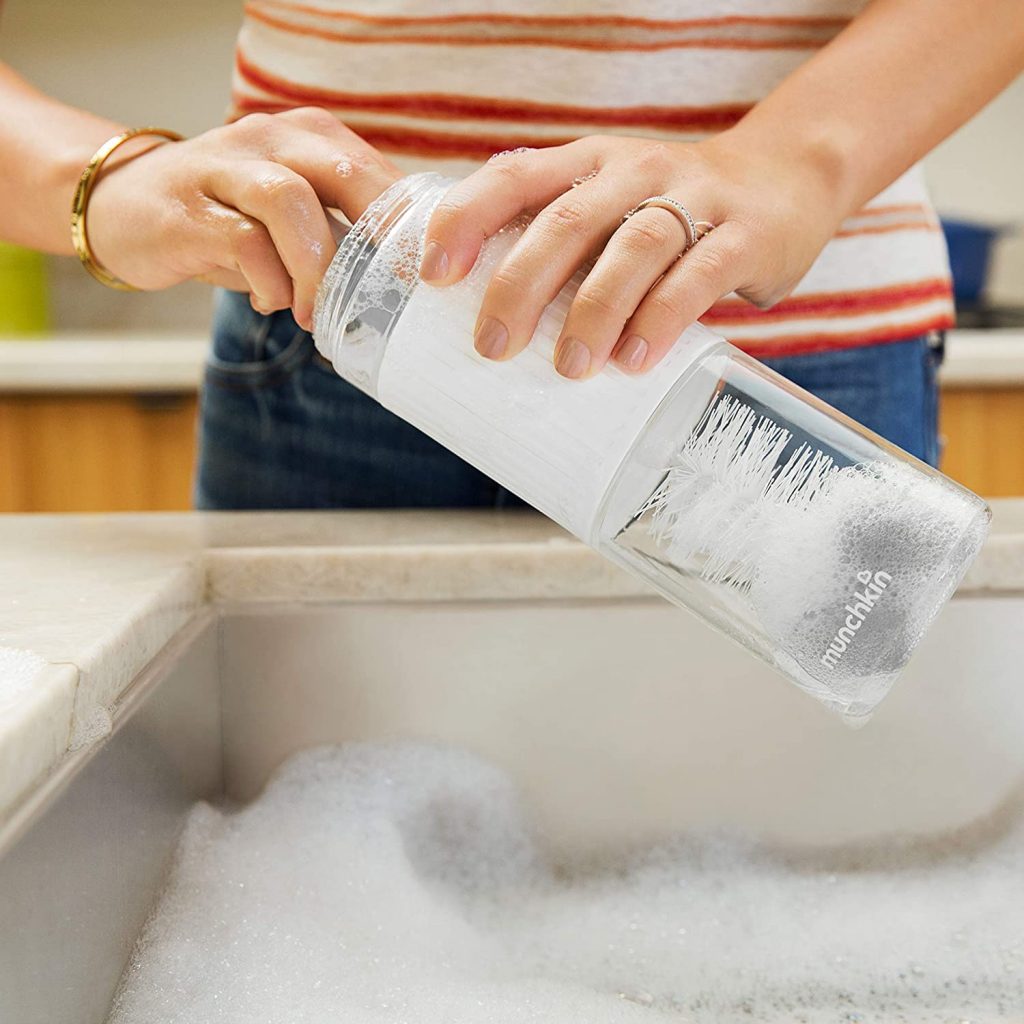 You don't need to buy any special dish soap to clean baby bottles. You just have to make sure you're using one that's formulated without toxic and harsh chemicals.
Can you wash baby bottles in the dishwasher with other dishes?
It's possible to clean baby bottles, nipples, caps and rings in the dishwasher as long as they are dishwasher-safe. Just make sure to separate the bottle parts before placing them in the dishwasher.
Can you sterilize bottles instead of washing them with dish soaps?
Sterilizing isn't a substitute for thorough cleaning. To make sure your baby's bottles are clean and safe to use, they need to be cleaned thoroughly first before they're sterilized.
Is it OK to just rinse baby bottles?
You can just rinse baby bottles after use to make sure no residue or milk film remains. However, don't consider it an alternative to proper washing with dish soaps. Bacteria can quickly grow if formula or breast milk is added to a bottle that's only been rinsed instead of cleaned.