Home wind turbines are a fantastic creation that benefits homeowners and mankind. By utilizing wind power to generate energy, the amount of electricity generated from fossil fuels is mitigated, positively impacting the environment. Besides, using wind turbines can relatively decrease utility bills, allowing you to save your money and allocate it to other more significant things.
Wind turbines are not only an excellent accessory for your home, but it is a wise investment to generate electricity. Solar panel and residential wind turbine kits offer a similar goal to produce green energy and renewable energy.
That said, we have listed some of the best home wind turbine options if you are considering installing one at home.
Top Home Wind Turbines Comparison
| Image | Wind Turbine | Maximum Power | Volts | Wind Speed (mph) | Blades | Check Price |
| --- | --- | --- | --- | --- | --- | --- |
| | Pikasola | 400W | 12V | 13 | 5 | Check Price |
| | Hilitand 800W Windmill | 800W | 12V | 12 | 6 | Check Price |
| | Dyna-Living | 500W | 12V | 29.08 | 5 | Check Price |
| | NINILADY Wind Turbine | 600W | 12V/24V/48V | 15 | 6 | Check Price |
| | Nature Power 70501 500W Wind Turbine Power Generator | 500W | 12V | 110 | 3 | Check Price |
| | MHJYD 600W Home Wind Turbine Generator with Controller | 600W | 12V/24V | 50 | 5 | Check Price |
| | FLTXNY Power Wind Turbine | 3000W | 48V | 40 | 3 | Check Price |
The 7 Best Home Wind Turbines
Ready to buy one? Here are the top home wind turbines you need to check out:
This mini-turbine is a 400-watt generator that is convenient and built for your personal power needs. It is one of the best residential wind turbines and is a nifty investment for homeowners and people who enjoy recreational vehicle camping as it can be effortlessly packed up and carried wherever their next adventure is.
The Pikasola Wind Turbine Generator Kit is also very straightforward for people who have not set up a mini-turbine before. It is a fantastic home wind turbine containing a micro compressor to control the voltage flow, shut off, and keep turbines facing the direction of the wind.
After testing the product, the wind turbine generator is small, lightweight, and compact in shape. It is made of top-grade materials, such as high-quality aluminum and stainless steel fittings. Meanwhile, the blade material is created from durable plastic, containing 30% carbon fiber and anti-UV anti-corrosion material.
Additionally, the wind turbine is corrosion-resistant, water-resistant, and sand-resistant since its surface is coated with a unique process. Personally, I find it helpful as it protects the turbine under harsh conditions and withstands wind speeds.
On the negative side, I noticed that the brushes degrade over time, which can be concerning for some users. I also haD to purchase the mounting hole separately, requiring users to spend extra money before installing.
Although the installation process for this wind turbine kit is straightforward, spending and purchasing a separate mounting pole after paying hundreds of dollars for the kit can be a little inconvenient and costly.
Overall, the Pikasola Wind Turbine Generator Kit is one of the best home wind turbines available in the market. It is small and efficient but can generate enough wind energy to operate a small cabin. With its features and specifications, this wind turbine generator is undoubtedly worth its price.
Features:
The Pikasola Wind Turbine Generator Kit features a starting wind speed of 2.5 meters per second and a working speed of over three meters per second. It also contains a 23.8-inch wind blade that generates more power.
Another bonus this home wind turbine kit offers is an anemometer to keep track of current winds. But, its intelligent micro compressor plays a massive role in the equation. Besides keeping the turbine facing the wind, it also helps the generator avoid overcharging by stopping the present flow to your battery when it is charged up.
Pros
It is small, lightweight, and compact.
I have observed that it is made of high-quality materials.
It can withstand harsh weather.
Cons
The brushes deteriorate after a few uses.
No mounting pole included.
An 800-watt generator, Hilitand 800W Windmill Turbines Generator Kit is a convenient choice of a home wind turbine as it is easy to install, maintain, and repair. It is a small wind generator that can provide a significant amount of wind energy to your household. This residential wind turbine is also widely used for mobile homes, terraces, small cabins, and even charging boats.
With its easy installation, the Hilitand 800W Windmill Turbines Generator Kit is considered one of the best home wind turbines and preferred by people who are first-time home wind turbine users. However, hiring a professional contractor or installer might be the better option, considering that you must arrange lighting protection and grounding equipment before the installation process.
To install this home wind turbine, you must first arrange lightning protection equipment in accordance with the national standards. As mentioned, you can organize this by yourself or hire a professional installer to take things off your plate. If you prefer the former, be aware not to install these home wind generators in rainy or windy weather with three or higher wind levels.
Features:
The product features a permanent magnet rotor alternator, low-vibrating wind turbines, and stable power generation. You can also quickly adjust its voltage and current to improve wind energy utilization. Additionally, its starting wind speed is two meters per second and a rated wind speed of 12 meters per second.
The Hilitand 800W Windmill Turbines Generator Kit comes with one motor, three wind blades that measure 600mm each, one electromagnetic controller system, one blade cover, one spacer, and a fastening tool bag. The blades are made of nylon fiber, so it is guaranteed to be durable and weather-resistant.
Based on my experience, Hilitand 800W is one of the home wind turbines that has a low volume and vibration. Its three-phase AC permanent magnet synchronous generator also effectively minimizes the resistance force of the generator. On top of that, it has a high-temperature-resistant Teflon wire that does not easily overload or burn out when the temperature heats up. I really like that the motor machine comprises high-quality materials, providing strong stability.
I also did not worry about excessively high or low temperatures as the working temperature of the Hilitand 800W is -40°C to 80°C. Because of its complementing components, this wind turbine offers improved reliability of operation.
Pros
It has a minimized volume and vibration.
It works in high and low temperatures.
Cons
Like the Hilitand 800W Windmill Turbines Generator Kit, Dyna-Living Wind Turbine Generator Kit is an 800-watt wind turbine known for producing sufficient power for residences. It is a well-known worldwide brand that offers high wind power utilization. Aside from using this wind turbine generator at home, you can also utilize it to charge batteries for boats, mobile homes, gazebos, cabins, and even for green windmills.
The Dyna-Living Wind Turbine Generator Kit is well-designed and is made of high-quality materials. The coil is made of Teflon wires, providing extra heat resistance and protection when the temperature rises. You can also use this wind turbine for indoor or outdoor power generation. So you can confidently offer power supply for pavilions, homes, or power plants.
In my opinion, what is appealing about this home wind turbine is that it is lightweight and very compact, which means you can conveniently bring, use, and install it wherever you want. Based on experience, it also has low noise, fitting users that have a small house. I also like it because of its human-friendly wind turbine design and straightforward installation process. The user manual also comes helpful for newbies who do not want to spend extra money hiring a professional installer.
The Dyna-Living Wind Turbine Generator Kit might not be the best choice for homeowners who have a massive house. I think given its small turbine, this product can only produce adequate power in smaller homes or cabins. Additionally, a mounting pole is required to install this residential wind turbine. But, you have to purchase the pole separately, which can be extra expensive for some users.
Generally, Dyna-Living Wind Turbine Generator Kit is suitable for household power generation. Installation is straightforward, and it offers high-temperature and strong wind resistance. But if you have extra money to spare, purchasing a larger turbine might be ideal if you want to provide power for a medium or big home.
Features:
The Dyna-Living Wind Turbine Generator Kit comes with one wind turbine generator, five rotor blades, one charge controller, one user manual, and a mounting accessories bag. It has a start-up wind speed of 4.47 meters per second and a rated wind speed of 29.08 meters per second. 
In addition to its excellent power resistance capacity, Dyna-Living also provides superior quality blades that function perfectly in calm or extreme weather, working from -40°C to 80°C. Further, the blade consists of a built-in copper insert to prevent the nylon from getting damaged even when the bolt is tightened. Its hub and blade groove are also designed in a tight-fit manner, looking more compact after the installation.
Pros
It can bring it anywhere because it is lightweight.
Easy installation.
It comes with an easy-to-follow user manual.
Cons
Not fit for big houses.
Purchasing the mounting pole separately is costly.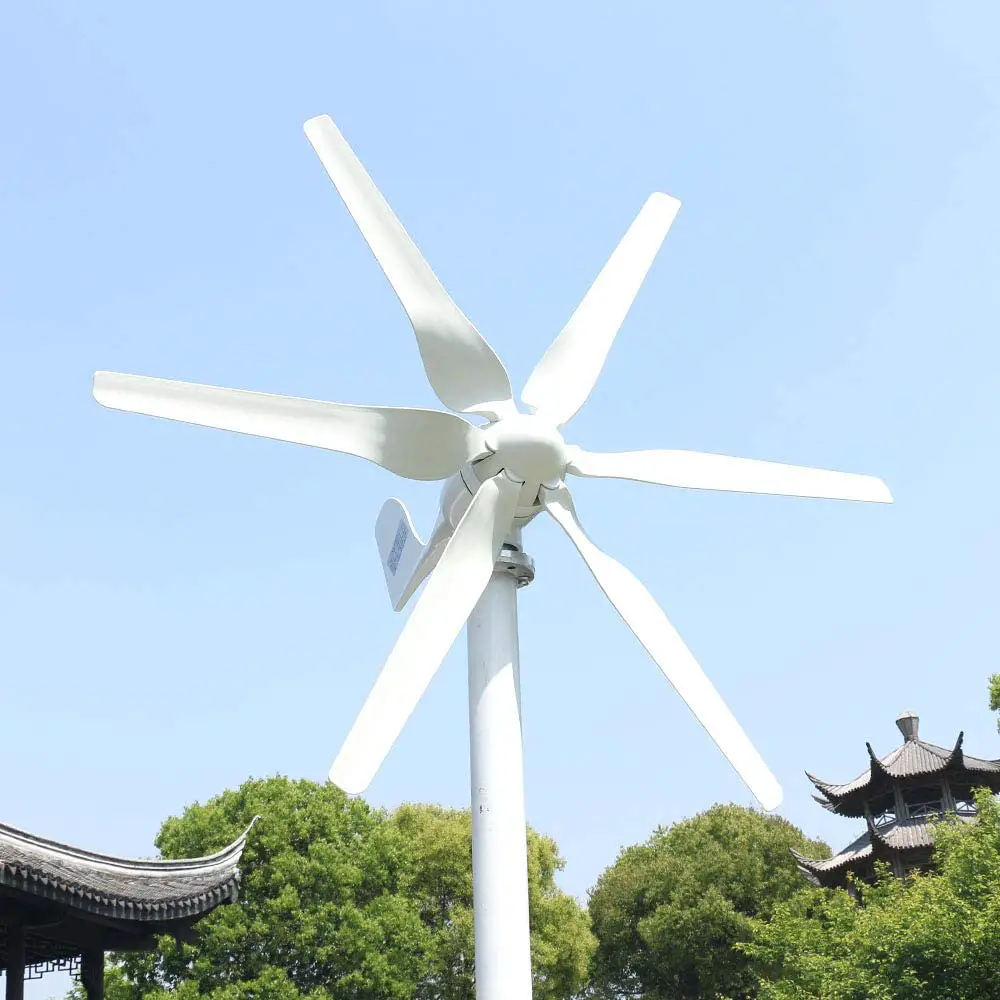 We consider the NINILADY Wind Turbine as one of the good options on the list.
First off, it features a slow start-up time, six blades that you can select for various wind speeds, and high wind energy usage.
It is simple to put together, with tube or flange connections as options.
The blades used a novel technique called precision injection molding, combined with an improved aerodynamic form and structure to increase wind energy use and yearly production.
The casting's body is composed of aluminum alloy and has two swivel bearings, allowing it to withstand more significant winds and operate more safely.
The unique permanent magnet AC generator with a customized stator efficiently reduces torque, and the well-matched wind wheel and generator were additional highlights. These features assure the system's overall functioning.
Also, it has a service life of more than 20 years per Ninilady, which is good to note.
Pros
High wind energy utilization
New art precision molding blades
It can survive stronger wind
Long service life
Cons
If you live in a very wet and windy location or want a turbine to place in or near a body of water or on a boat, the Nature Power 70501 500W Wind Turbine Power Generator is a great choice. It features three carbon fiber blades and a robust cast aluminum body. It is also made of weather-resistant materials to survive bad weather. 
This turbine can generate up to 500 watts of electricity in your garden and is a fantastic choice for places with lots of wind. We assumed you'd need some cash since this type is more expensive than other wind turbines. It is, nevertheless, elegant and quiet. 
This wind turbine can generate up to 500 watts of electricity. Use an inverter to power tiny TVs, phones, lights, radios, and power tools at your cottage, lodge, or work site when electricity is too costly or unavailable. It has a marine-grade finish that can endure severe weather and wind speeds. There is also a wind charge controller incorporated. 
Nature Power has a solid track record for performance and dependability, and it is both robust and lightweight, as reflected in this wind turbine.
Pros
Produces up to 500-Watt of power in your backyard
Weather-resistant construction
High-quality marine-grade coating
It includes a wind charge controller
Cons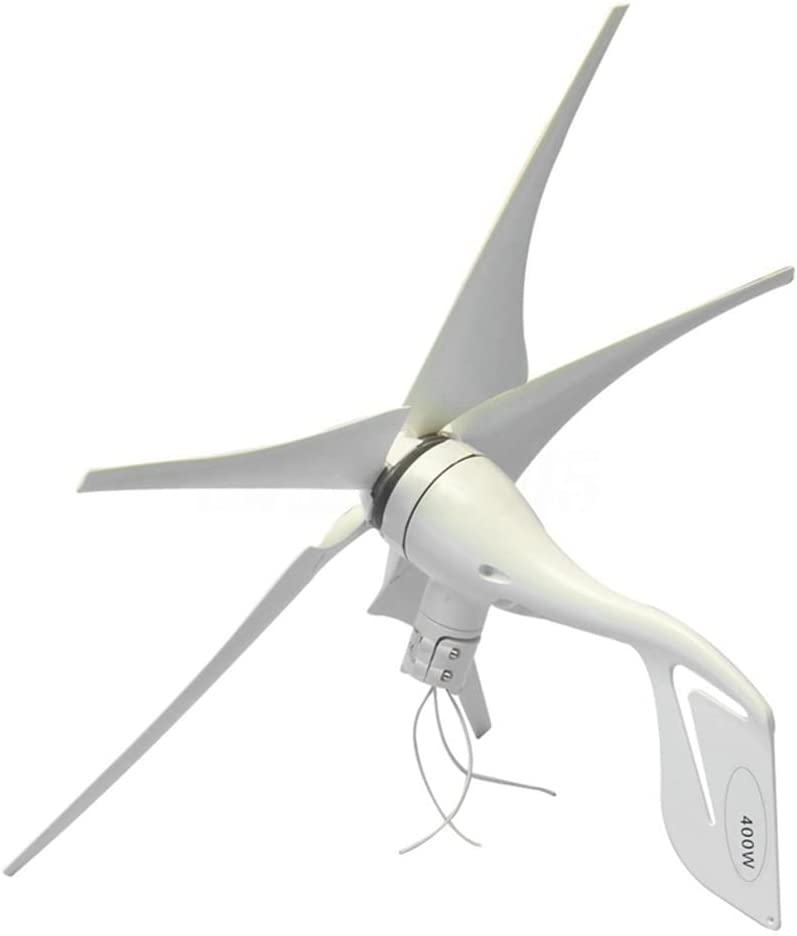 The MHJYD 600W Windmill is, in our opinion, one of the best ways to get started with a home wind turbine generator.
The turbine is sturdy, with decent construction and assembly.
Constructed of a high-quality aluminum alloy with stainless steel components, we liked that it is lightweight, tiny in size, and has a unique form compared to similar products.
Because the motor has a unique magnetic circuit design, it has a very low beginning torque and can effectively ensure breeze start capabilities.
The wind turbine design is according to aerodynamic principles. The surface is coated with a unique process, giving it first-class anti-corrosion properties in any hostile environment. High power efficiency, long life, corrosion resistance, easy start, waterproof, and other properties distinguish this type of wind turbine.
The wind wheel performed well throughout testing, running smoothly, consistently, and softly. The working temperature of a wind generator is 30 to 60 degrees; therefore, you may use it everywhere.
Pros
High power generation efficiency
Breeze start
Corrosion-resistant
Waterproof
Cons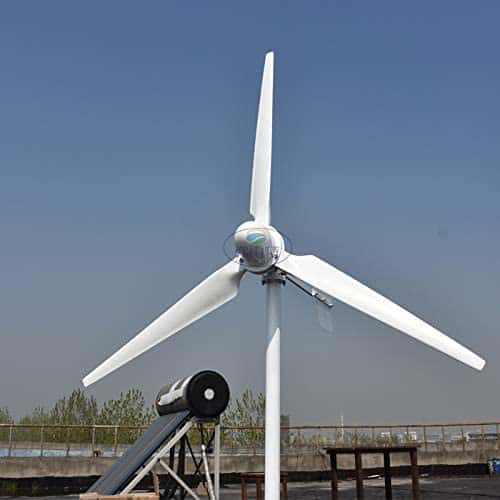 If you reside in an area with strong winds but no regular connection to a typical electric power system, wind energy might be a suitable option for you.
A FLTXNY wind turbine produces 3000 watts of electricity at 2.5 m/s wind speeds, and you may utilize a power converter, charge controller, and battery to store that power for later use. You can also use the energy gathered by the turbine to power lights, television, and telecommunications equipment, among other things.
Don't worry about a loud turbine ruining your house or farm: FLTXNY brand turbines are smooth and quiet, generating the electricity they need.
The FLTXNY Power Wind Turbine has a low start-up speed, three 140cm Nylon blades, and excellent wind energy usage.
We enjoy how simple it is to put it together, whether with or without a tube or flange connection.
Precision injection molding created the blades. They are designed with an optimum aerodynamic form and structure to maximize wind energy consumption and output.
It has an aluminum alloy body and two swivel bearings, allowing it to withstand more prominent winds and operate more safely.
It also contains a revolutionary permanent magnet ac generator with a customized stator that reduces torque and aligns the wind wheel and generator. These features assure the system's overall functioning.
The FLTXNY Power Wind Turbine might be the wind turbine for you if you seek a high-quality, powerful wind turbine for your home.
Pros
Low start-up speed
High-quality materials
Easy to install
Great performance
Cons
Things to Consider When Buying a Home Wind Turbine
There are a few things you should consider before buying and installing your home wind turbine. Below is a brief list of qualifications to help you decide which home wind turbine is the best option.
The amount of energy
Before purchasing a home wind turbine, it is imperative to determine how much energy your home requires. This is a determining factor in which residential wind turbine suits your power needs. 
Generally, you can install two types of home wind turbines at home. First are roof-mounted turbines that sit on top of your roof, just like solar panels. Roof-mounted home turbines are usually small wind turbines, making them less powerful than standalone turbines and generate 1-2kW.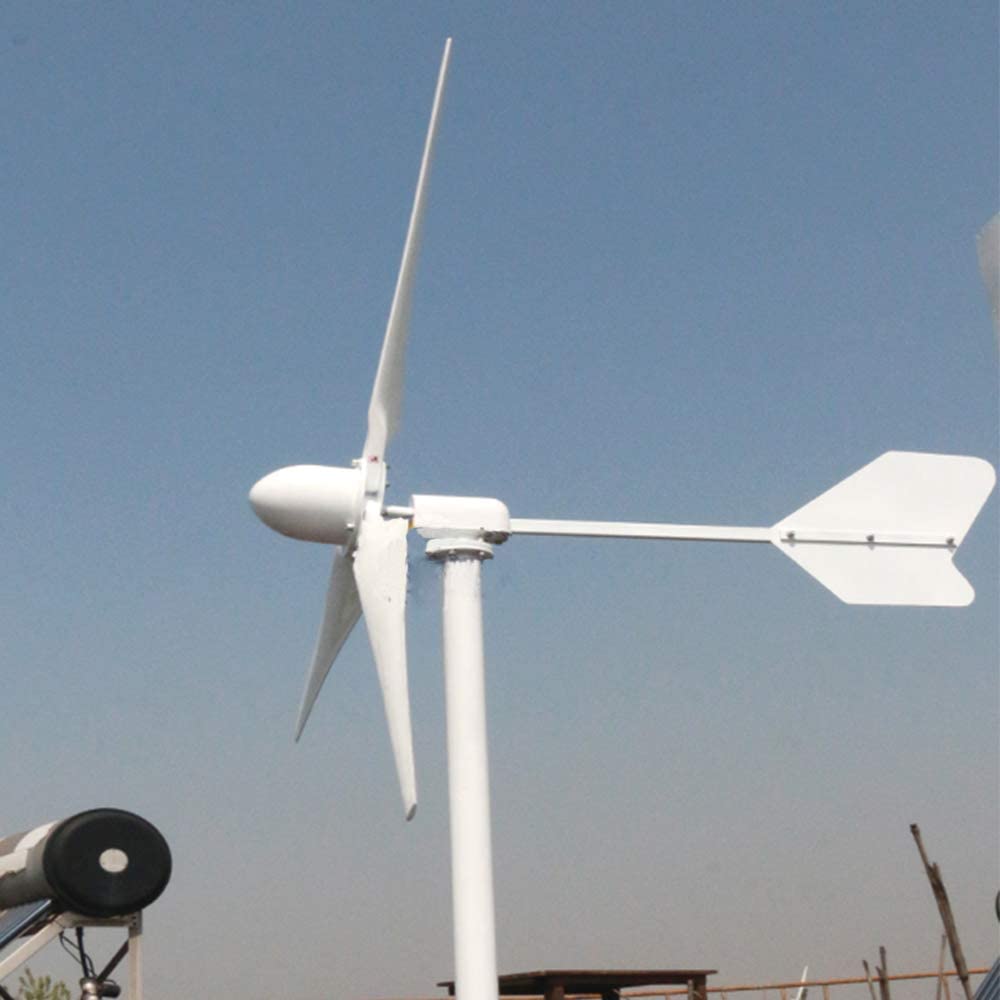 On the other hand, standalone or pole-mounted turbines are likely to create more energy. However, putting them in the right place is crucial to maximizing their use. Often, roof-mounted home turbines best work in massive, open spaces where nothing can slow down the wind.
Therefore, if you do not have spacious land around your home, standalone turbines might not be the best option. Besides, they are also more expensive considering their size. But if you have ample space at home and money for one, this type of home wind turbine provides a better chance of powering your entire home than roof-mounted turbines.
Moreover, most home wind turbines preferably require an average wind speed of five meters per second to be cost-effective. If you are not sure how fast the wind goes around your home, you can use devices such as an anemometer or wind gauge to give you precise data. By checking the wind speeds in your home, it is easier to determine the type and size of home wind turbine that best suits your residence. Since different home wind turbines have various capacities in generating power, you can decide which is best for you.
The amount of wind in your area
As mentioned, knowing the amount of wind speed in your area is crucial to maximizing the use of your home wind turbine. However, what happens if the wind is suddenly not strong enough for your residential wind turbine? Do you also wonder what happens if the wind unexpectedly stops blowing?
Home wind turbines only function when the wind blows. However, at the moment that the wind stops blowing, it will take a few hours before the turbine slows back down and stops. When there is little to no wind and the blades start to move too slowly, the turbine no longer produces electricity. Fortunately, electricity can still be provided by other forms of generation, including gas and hydropower.
The certification
There are plenty of home wind turbine options you can choose from, but not all of them are certified. Thus, it is crucial to check whether the Small Wind Certification Council approves the residential wind turbine you want to purchase. 
The Small Wind Certification Council is an organization that tests and assesses the quality and performance of small wind turbines, ensuring it complies with the performance and safety standards. When the product is SWCC certified, you can quickly distinguish its credibility from others, easily understand its labels, and establish pathways to qualify for incentives.
Current local zoning laws
Researching current local zoning laws is also essential to find any regulation that might hinder you from installing your home wind turbine. In some communities, installing turbines is wholly prohibited. On the other hand, other communities require it to be placed at a certain distance away from homes.
Installation and Maintenance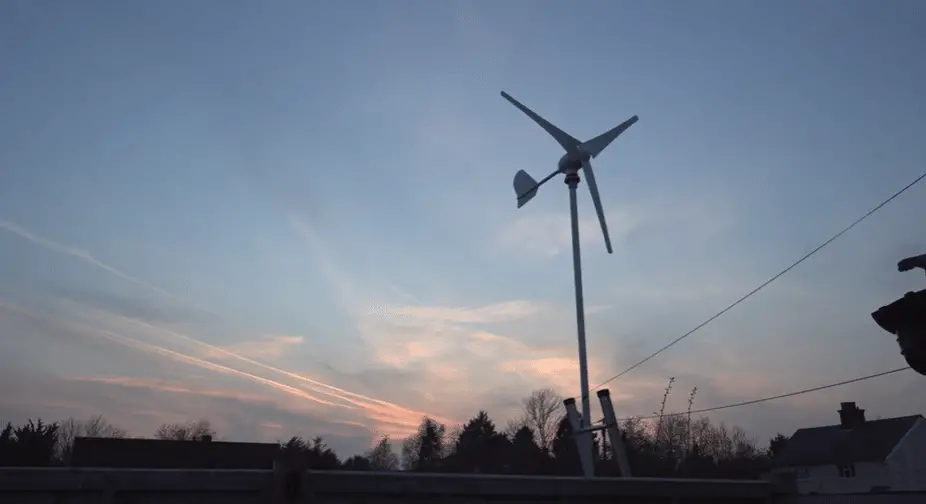 Depending on the home wind turbine you purchased, you can either install it on your own or hire a professional contractor to do it for you. Usually, the latter is a better option considering that there are other aspects you might need assistance with later on, such as permitting concerns and governmental incentive-related issues. 
But, before hiring an installer, it is crucial to ensure that the price includes hooking up the turbine to the electricity grid. Apart from that, it is also imperative for your contractor to conduct home energy audits. Doing so enables you to reduce wasted power.
Maintenance like adjustments, lubrication, repairs, and replacements can prevent unwanted turbine failures, whether a shutdown or other disastrous consequences. Constant monitoring and predictive maintenance are essential twice or thrice a year. 
Remember that fixing poorly maintained turbines can be challenging, so regular maintenance should not be skipped or neglected. Besides, when residential wind turbines are poorly maintained, they are likely to produce less or no power at all.