Shampoos and face cleansers get all the attention in the shower. However, since the skin is the largest organ, it's only right to pay more attention to the products we're using to cleanse it.
Think about body washes. While most of them do a good job in leaving the skin clean and fresh, a lot of them pose threats to your health you might not even be aware of. That's one good reason to switch to organic body washes.
Now, which body wash is the best? This article has compiled a list of the best organic body washes for 2022 that outperform traditional bathing products without the harmful chemicals.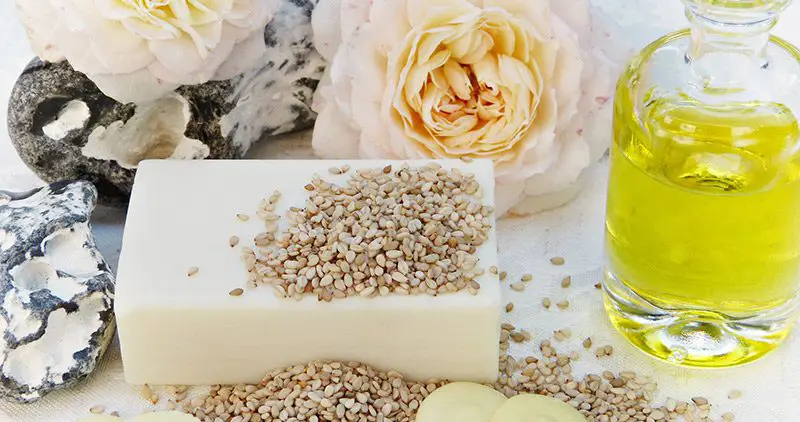 What Does Organic Body Wash Mean?
Organic body washes can be NSF, NATRUE, The Soil Association, and USDA certified. Like other organic skin care products, they are beneficial for sensitive skin since they are devoid of synthetic ingredients that might cause sensitivities (like fragrances, dyes, stabilizers, and preservatives).
They also do not contain the harsh sulfate SLS, which may aggravate dryness and cause irritation, making them a good alternative for individuals with dry skin.
Aside from their beautiful moisturizing benefits and the fresh, natural components, body washes offer many advantages over soaps.
With a body wash in a bottle that you can apply by hand, sponge, or pad, you have an easy-to-use approach. You may wash all over with only a tiny amount and get fantastic results.
Why Switch to Organic Body Wash
It is no secret that an increasing number of people are opting for organic soaps and body washes. Why is there a trend away from commercial products and more natural alternatives?
Here are some of the most common reasons why:
Skin-healing characteristics and effective skin treatment
The organic body wash is composed entirely of natural elements that are immediately helpful to your skin. You may use some of them to treat a wide range of skin conditions.
According to a study, organic liquid body washes are more convenient and hygienic than wash bars. They use gentler surfactants and more emollients, which may help to improve skin over time.
Natural Ingredients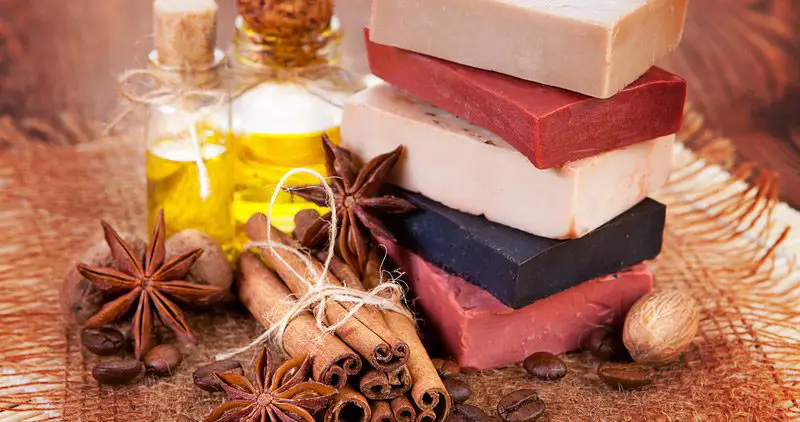 Lather is produced in soaps and body washes by chemical components such as sodium laureth sulfate and paraben.
However, their use is limited since they do nothing to improve the skin's biochemical and physiological makeup. Furthermore, they may cause skin conditions like eczema.
The good news is that there are a variety of SLS substitutes available on the market, as well as ones that you can make yourself if you know where to search.
Sodium Cocoyl Glycinate, Disodium/Sodium Cocoyl Glutamate, Decyl Glucoside, and Lauryl glucoside are safer alternatives to search.
Rich in antioxidants
When we expose ourselves to foreign substances and other hazardous components and variables like air and thermal pollution, our skin erodes and gets damaged.
Organic body washes contain essential oils such as eucalyptus, peppermint, sweet orange, and lavender that nourish the skin thoroughly. They are high in antioxidants which battle free radicals that harm cells, and reduce wrinkles or premature aging.
Things To Consider When Buying An Organic Body Wash
The health and safety of your body must be a priority. Follow these body care and skincare instructions before applying any chemicals or body wash to your skin.
1. What is your skin type?
Consider your skin type while choosing a body wash because everyone's skin is different. For example, if you have sensitive skin, you should use a body wash created exclusively for this skin type. The same applies if you have acne-prone skin.
Children's skin is susceptible to allergens; you should keep this in mind while purchasing body washes.
2. Does your body wash have antibacterial properties?
It is best to avoid antibacterial soaps containing triclosan at all costs. The FDA has banned Triclosan, a popular antibacterial ingredient used in some soaps.
It has been the subject of much debate because studies claim its usage causes changes in human hormones, making it highly carcinogenic.
3. Is there any fragrance in your body wash?
Cosmetic firms should disclose the fragrance components of their products. They sometimes use strange substances to make your favorite sweet-smelling 'perfume' soap. Look for a fragrant soap that uses essential oils.
4. Are there any sulfates or other compounds in it?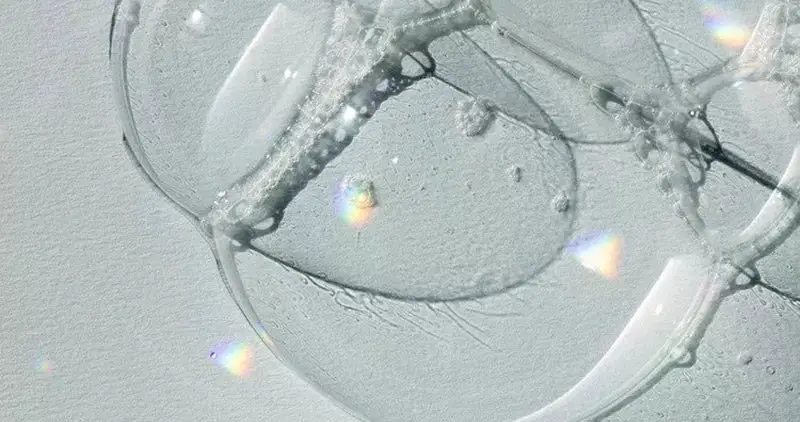 Essential soaps have detergents, and they contain vast amounts of sulfates to produce a thick creamy lather.
However, these cleansers may be so harsh that they strip the skin of its natural oils, causing irritation, dryness, acne, and an imbalanced pH.
5. Is your body wash free of animal testing?
Many companies continue to test their goods on animals. Even if you choose an all-natural product from a brand, you support using soap products on animals for testing since most natural brands are bigger businesses that employ animals, such as guinea pigs.
Vegan-certified products are friendlier and have a lower carbon impact.
The Best Organic Body Washes of 2022
Here are a few of our favorite organic body washes, whether you're looking for something simple that the entire family can use or a lavish treat that makes you feel like you're at the spa.
Dr. Bronner's – Organic Sugar Soap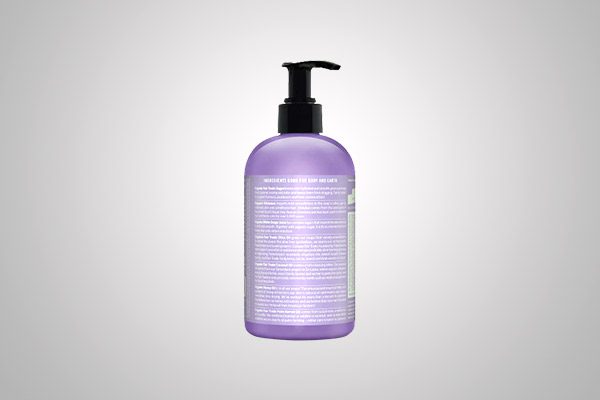 This best organic body wash makes me so happy! This soap smells incredible, much better than their original lavender castile soap; the lavender scent is richer and more nuanced.
The lather is lovely, and the consistency is quite creamy. The lather is even better when used in a foamy soap dispenser at a 1:5 ratio with water.
I came upon this soap while looking for something soft, non-drying, and natural. I'd never used sugar soap before, and I'd never even heard of it until I came across it on the shelves of my local natural food shop.
USDA-certified organic and Fair Trade components go into Dr. Bronner's Organic Sugar Soap. Fair Trade certificates imply that the workers are paid fairly and work in an ethical and safe environment (e.g., no child labor).
Dr. Bronner's organic body wash is made with all-natural botanical ingredients to nourish, moisturize, and smooth your skin.
It's no surprise that Dr. Bronner's is a well-known home and personal care brand. It comes in recyclable bottles and comes in five natural flavors.
Pros
USDA certified organic ingredients
Eco-friendly container
Contains no harsh chemicals
Vegan and cruelty-free body wash
All in one body wash
Cons
Pump breakage
Some users report a sticky feeling after washing
Avalon Organics Revitalizing Peppermint Bath & Shower Gel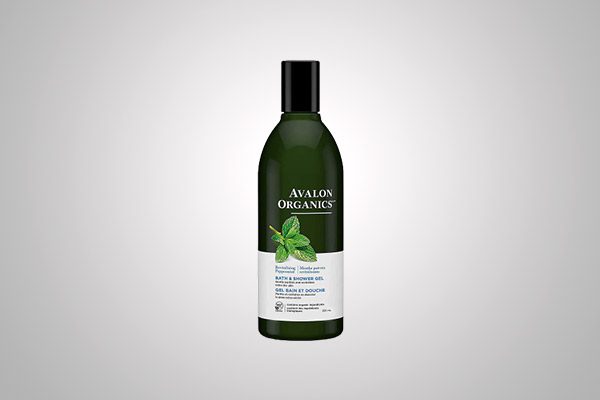 Avalon Organics is a winner! The lemon aroma is not overbearing and is delicate. It has a long-range of beneficial components and is gentle on the skin.
This gel is great if you want an organic shower gel but don't want a strong scent. I adore the aroma of lemons at any time of year, so I went hunting for something to use in the shower, and this product did not disappoint! It has a beautiful aroma, similar to that of fresh lemons.
The Avalon Organics Bath & Shower Gel is another obvious front runner as one of the top organic, and natural body washes available today.
It is entirely safe to use since it lacks SLS, parabens, perfumes, synthetic colors, phthalates, preservatives, and other harmful ingredients.
Thanks to its certified organic, plant-based solution formulated with botanical extracts, aloe, and essential oils, the Avalon Organics Bath & Shower Gel gently cleanses and energizes even dry skin.
Pros
Inexpensive
It comes in bottles made with recycled material
Certified organic and plant-based formula
Cons
Some users report it made their skin rashy and dry
True Botanicals Organic Nourishing Body Wash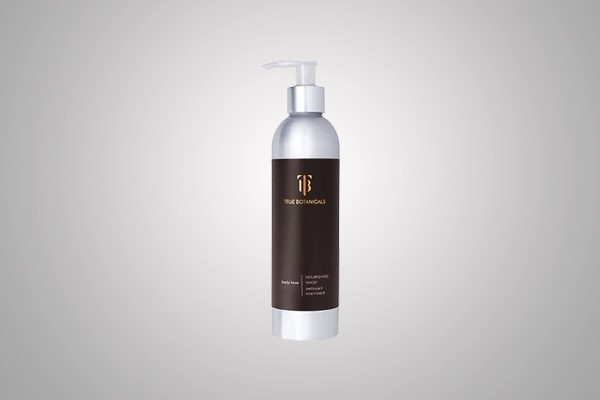 True Botanicals believe that you shouldn't have to choose between effective, luxurious, and safe skincare. The nourishing body wash contains green tea, white tea, aloe leaf, and olive fruit extract.
Best of all, it is suitable for all skin types so that you can buy plenty for the entire family. I like how it makes my skin feel with its appealing woods and citrus aroma. The aroma of freshness remains for a long time.
Pros
All-natural, plant-based ingredients
Offers a skincare quiz for users to figure out skin type and products that work the best
Cons
Pricier than competing skincare brands 
Be-One Organics Organic Tea Tree Body Wash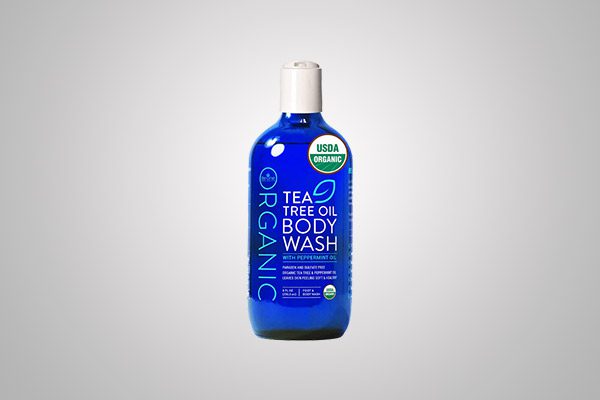 My skin has become spotty as a result of several health issues. I heard that using tea tree oil as a body wash may help.
My skin is beginning to look significantly healthier after just a few uses of this body wash! It is less spotty now, and it is more moisturized.
If you don't enjoy the fragrance of powerful peppermint oil, I don't think you will like this. It does have a high concentration of tea tree oil, which is why I chose to try this product.
The price is a little more than others, but it's excellent that it is organic, and the greater concentrations of organic oils will raise the price. Great company that also donates to good causes.
Be-One is one of the best organic body washes for men and women since it is USDA-certified. It is vegan and Leaping Bunny-certified cruelty-free.
It also contains no parabens, sulfates, GMOs, perfumes, or potentially dangerous substances.
It makes your skin silky smooth and leaves it feeling rejuvenated and richly hydrated after each wash.
Pros
Help prevents acne, fungal outbreak and skin irritations
USDA certified organic ingredients
Contains no harsh chemicals
Vegan and cruelty-free
Cons
Does not lather much
The mint smell sometimes overwhelms
Desert Essence Organics Body Wash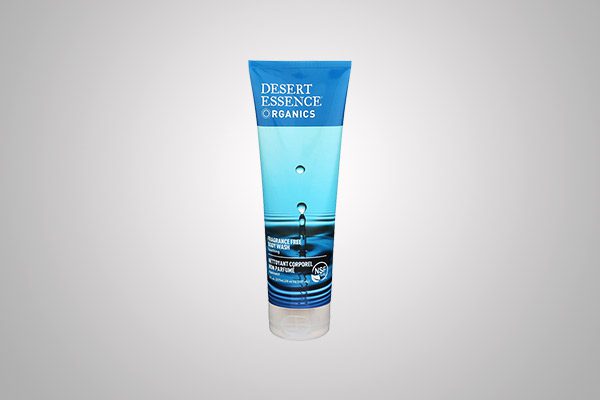 For years, I've been hunting for an excellent fragrance-free body cleanser, and I've finally discovered one. There is no scent to the Desert Essence product; it smells like nothing, unlike many fragrance-free items.
It is mild on the skin yet effective in eliminating gym odor. Most fragrance-free products are too light, and they don't give you the clean sensation you want.
The first two components in this cleanser are certified organic aloe vera and green tea; the former soothes sensitive skin, while the latter provides a potent dose of antioxidants.
Coconut-derived surfactants gently wash skin without stripping it of its natural oils. The product is gluten-free and devoid of synthetic scents and colors, all of which may irritate sensitive skin.
Aloe vera is a crucial component. The aloe plant's inner gel mucilage (the portion utilized in skincare products) is 99.5 percent water. My only request is to make it into a pump bottle for more practical and easy usage.
Pros
Mild yet effective for body odor
Ideal for sensitive skin
Gluten-free
Cons
No fragrance
Better with pump bottle
Natural Body Wash in Citrus & Sea Salt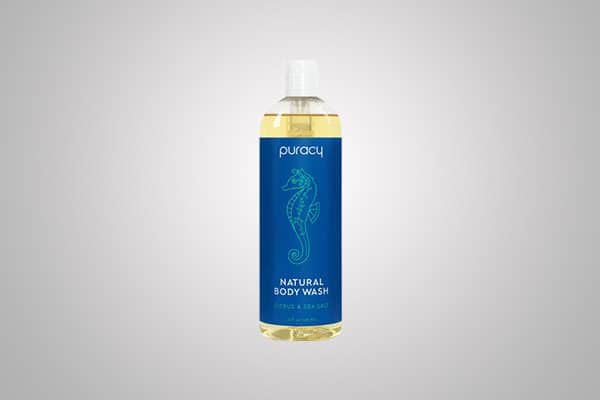 Puracy Natural Body Wash, Citrus, and Sea Salt is the perfect option if you seek body wash for the whole family, including your infant.
The components are plant-based, but they are also devoid of chemicals, perfumes, and colors. The body wash is also soft enough for dogs to use, cruelty-free.
I used to think I needed a soap with "additional moisturizers" or something fancy like that, but it wasn't doing the trick. I started looking on Amazon for the best-rated natural/organic body washes at the top of the list.
The reviews were excellent, and the number of individuals who said that this soap left their skin feeling soft, silky, and moisturized drew my attention. And it did not let me down.
Pros
Made with all-natural ingredients
Non-toxic and eco-friendly body wash
Puracy offers a zero-risk money-back guarantee
Cons
Some of the main ingredients are not certified organic
The Honest Company Perfectly Gentle Sweet Orange Vanilla Shampoo + Body Wash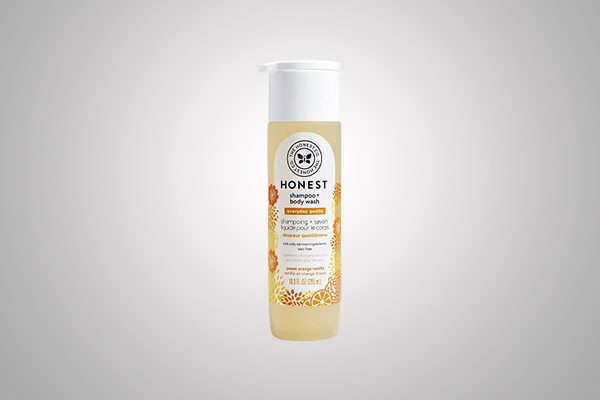 The Honest gentle body wash and shampoo set is free of irritating ingredients and contains natural components that hydrate and soothe the skin, such as sweet almond oil and coconut oil.
Do you suffer from skin problems like eczema, cradle cap, or dry skin? This hypoallergenic body wash and shampoo pair is free of harsh chemicals to protect your delicate skin.
During their baths, my nieces use this Honest shampoo. I had to get a bottle of the sweet orange vanilla since the scent is so unique.
I know it seems strange that I'd want to smell like my 20-month-old nieces, but believe me when I say it's fantastic! Not only does the shampoo smell great, but it also works well.
Adult, well-known shampoos are harsher on the body. I would suggest this product not only to your children but also to you!
Pros
Non-irritant
Made of natural ingredients
Hypoallergenic
Cons
A bit watery
Does not lather up very well
Burt's Bees Citrus & Ginger Body Wash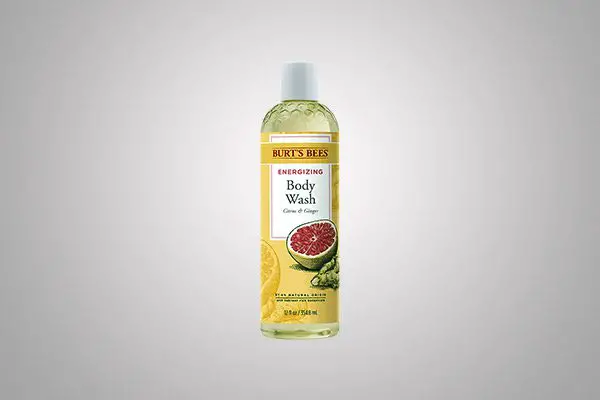 It took me a while to grasp that the formula wouldn't froth up very much, but that is what "sulfate-free" implies, and I felt fantastic knowing that I was not rubbing a bunch of chemicals into my skin.
Its perfume is light yet lingers long enough to brighten up my morning, and it leaves my skin feeling clean but not dry. In other words, it did the job well without any frills or gimmicks, and it is lovely without being overbearing.
Burt's Bees packaging safety seals are intact. I like the scent; however, the only one available in my region is grapefruit. This one dries out less, which is a problem with natural soaps.
Although the substance is thin, just a tiny amount is required to produce numerous scented bubbles or suds. So be cautious and avoid wasting it in the tub. It cleans and refreshes my skin. It is fantastic.
Pros
Mild yet effective
All natural
Great packaging
Cons
Wouldn't froth up very much
Thin consistency
Alba Botanica Very Emollient Bath & Shower Gel, French Lavender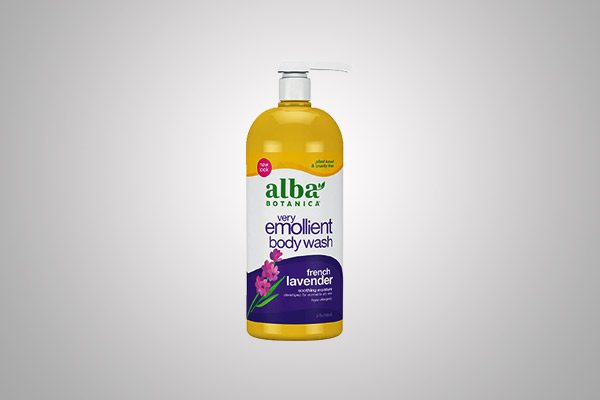 The incredibly relaxing lavender bath and shower gel from Alba Botanica cleans, nourishes, and calms your body with pure plant emollients.
It mixes aloe vera, botanical extracts, and aromatic herbs to leave your skin smooth to the touch and your body pleasantly refreshed. It is both moisturizing and hypoallergenic.
Alba Botanica Very Emollient French Lavender Gel washes the skin gently for a relaxing shower. Coconut oil enriches this creamy, lathering shower gel, leaving skin smooth and supple.
Lavender, aloe leaf juice, lemon balm, and chamomile are botanical extracts that soothe and nourish the skin.
The body wash has a beautiful consistency, is smooth, and bubbles up well. You can feel it hydrating your skin as you apply it, and I certainly sense a change after that.
Since using this, I've experienced considerably fewer dry skin concerns in general. It also doesn't make you feel filmy; rather, it rehydrates you. Not to mention how long the huge pump bottle lasts.
Pros
All natural ingredients
Moisturizing and hypoallergenic
Great consistency
Cons
Users note that the new formulation has inconsistent quality
Takes a lot to lather
Not much more moisturizing than other washes
YUNI Beauty No-Rinse Body Wash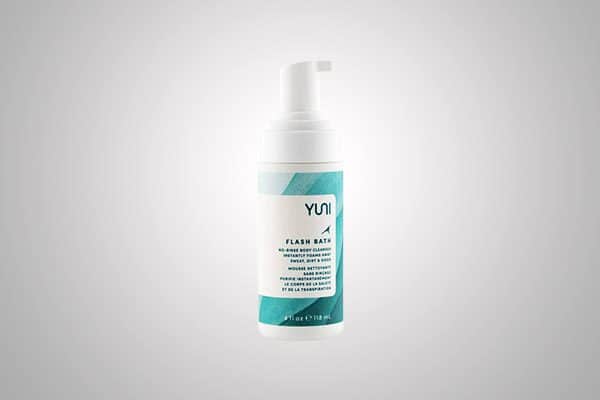 Yuni's Beauty is a no-rinse body cleanser that rapidly refreshes and foams away sweat, filth, and stink. With no need to rinse, a mix of Neem extract and Aloe Vera fades instantaneously.
The skin is smooth and silky. Skin is refreshed and purified without the need for water or a towel, and no residue is left behind.
Yuni Beauty refreshes while on the run, whether it's a hot day or a post-workout refresh. This fast-acting and straightforward rich mousse refreshes and cleanses without water and leaves no trace.
This body wash is a little pricey, but it is well worth it, especially when you are sweaty and don't have access to a shower. It doesn't take much to use, and it smells nice. It has a long shelf life, and I am pretty pleased.
Pros
Convenient and portable
Smells great
Long shelf life
Cons
Not so good for multiple applications
Some users find it sticky