I don't know many people who would willingly eat bugs, but it's no secret that many processed foods are crawling with them. You'll find them listed as ingredients, but it's not as simple as scanning the list for the word "bugs." You need to know what you are looking for.
Drink any fruit juice lately? If so, you might have consumed dye made from an insect called cochineal, which is also known as E120, C.I. 75470, carmine/carminic acid, or Crimson Lake. Sometimes it is even listed in ingredients as Natural Red 4. This is particularly disturbing to me because I've always assumed "natural" dyes came from berries and things of that nature. It never crossed my mind that someone was intentionally putting crushed bugs in my Ruby Red Grapefruit Juice by Minute Maid. This knowledge is new to me, but these bugs have been making us see red for hundreds of years. The Aztecs used cochineal extract to produce vibrant fabrics long before we began drinking them as "part of a complete breakfast."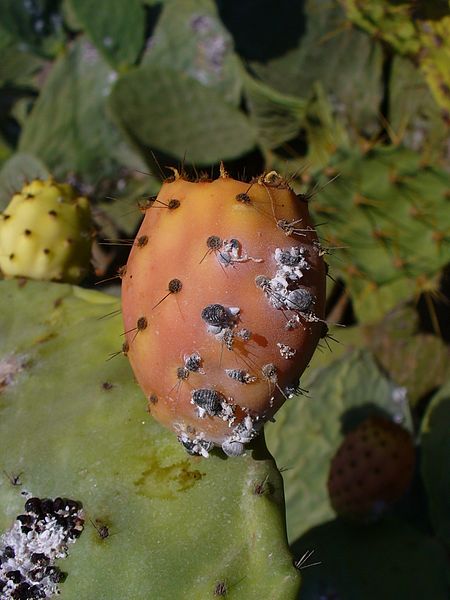 Carmine is also used as a food dye in ice cream, yogurt, candy, and as a dye in cosmetics like eye-shadow and lipstick. Carmine can cause severe allergic reactions and anaphylactic shock in some people — so there's good reason to pay attention to those ingredient labels.
When I learned how the cochineal or carmine is prepared, it was stunning to me that this ingredient is cheaper for companies to use than traditional natural dyes like beets, seeds, or berries. According to Wikipedia, to prepare carmine, the powdered scale insect bodies are boiled in ammonia or a sodium carbonate solution. It is then filtered and alum is added to precipitate aluminum salt. Stannous chloride, citric acid, Borax, or gelatin may be added to regulate the formation of the precipitate. (Fun Fact: Did you know substances containing Borax that are imported into the European Union are required to be labeled with the warnings "May damage fertility" and "May damage the unborn child"?)
Other methods of carmine preparation require the boiling of dried insects in water, extraction from engineered microbes, and the addition of egg white, fish glue, or gelatin.
Where do they come up with this stuff?