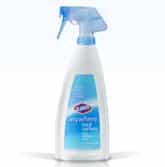 *Update – Eagle-eyed reader Christy read their press release on this product and in the second paragraph it actually states "From the toy blocks, highchair and pacifier to the dog bowl and toys, Clorox Anywhere Hard Surface daily sanitizing spray is powerful enough to give you peace of mind and gentle enough to use even when the kids are nearby." Pacifier? You are supposed to spray this on something your baby sucks on all day? Amazing. Back to our regularly scheduled program, and thanks Christy!* I am seeing more and more of these ads on television promoting the use of a new product from Clorox called "Anywhere Hard Surface Sanitizing Spray". Since they are showing families spraying it inside the fruit drawer in the fridge and coating the inside of their house with this stuff, I wanted to see what made it so "safe" to use anywhere and everywhere, as they were proclaiming. What did I find out?
It's still made with bleach.
Granted, it's a low amount, but the day that I start spraying my house with bleach, including the inside of my fridge, will be the day you should commit me. Why is this EVER a good idea? This new "safe" product has a pretty funny FAQ page on the Clorox site that basically keeps repeating the "non-porous surfaces only" mantra…but in case they didn't know, many fruits and vegetables (and other foods) are quite porous…and they are advocating spraying this product everywhere food is stored. They even say that you don't have to wipe the surfaces down after spraying!
Please please please do not fall for this marketing gimmick. The fact remains that this product is made from bleach, and you should not be using bleach anywhere your food is stored or used (Never mind anywhere else in your house). I wrote about the dangers of household bleach before and it really pains me to see more and more products being made with this incredibly toxic chemical in them.