There are few things in life that make us more hyper-aware of the safety of our home and environment than the imminent arrival of a new baby.
Pregnant mothers make decisions such as eliminating alcohol, reducing caffeine, opting for organic food. Then the purchases for the baby can include natural clothing, bedding, toys and furniture. Even finding natural remedies for common baby issues make it to the list. But one thing that doesn't always occur to new parents is the safety of the the nursery paint.
What is it about paint that should be a worry for new babies? Surprisingly the majority of paints available contain something known as volatile organic compounds (or VOCs), which can emit harmful chemicals to the immediate surroundings.
According to the Environmental Protection Agency (EPA) they can have a negative impact on indoor air quality.
Volatile organic compounds (VOCs) are emitted as gases from certain solids or liquids. VOCs include a variety of chemicals, some of which may have short- and long-term adverse health effects. Concentrations of many VOCs are consistently higher indoors (up to ten times higher) than outdoors. VOCs are emitted by a wide array of products numbering in the thousands.

Organic chemicals are widely used as ingredients in household products. Paints, varnishes and wax all contain organic solvents, as do many cleaning, disinfecting, cosmetic, degreasing and hobby products. Fuels are made up of organic chemicals. All of these products can release organic compounds while you are using them, and, to some degree, when they are stored.
There are a number of sources of VOCs in the home, but paint is a major contributor. This is not surprising considering that the walls and ceilings account for 70% of the interior of a house.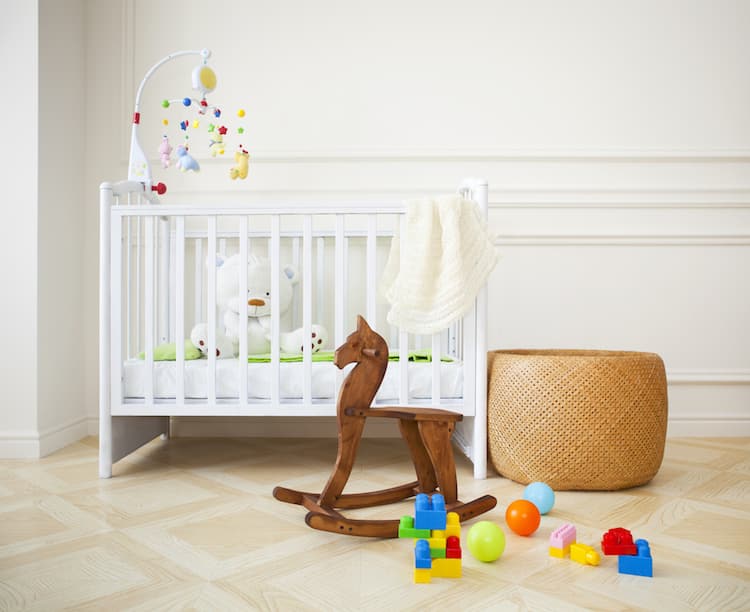 The real worry is that pain can continue to emit gases, even after it has dried. Estimates vary between six months and five years – but there is no absolute answer on this.
Health Problems Connected To VOCs
Scientific studies have found measurable negative effects from exposure to VOCs.
Eye, nose and throat irritation
headaches, loss of coordination and nausea
damage to liver, kidney and central nervous system
Some VOCs can cause cancer in animals, some are suspected or known to cause cancer in humans.
Particularly vulnerable are pregnant women, nursing women, infants and young children – hence the considerable concern for nursery paint choices.
How much VOC exposure is dangerous for an individual?
As expected, there is no set answer to this – each person is different, and so it is impossible to say how much is safe.
What Can You Do To Keep Your Family Safe?
Fortunately, there are options available to protect your family from exposure to harmful chemicals.
Choose water based, lead free, zero VOC paint
Paint the nursery at least two months before the arrival of the baby
Be careful when removing existing paint – especially if it contains lead
Read instructions before painting while pregnant
Check that low-VOC and zero-VOC options are not only referring to the paint base. Sometimes adding color adds VOCs to the paint.
So with all of this in mind, we have rounded up 10 of the best baby-safe products that you can choose from when decorating your nursery.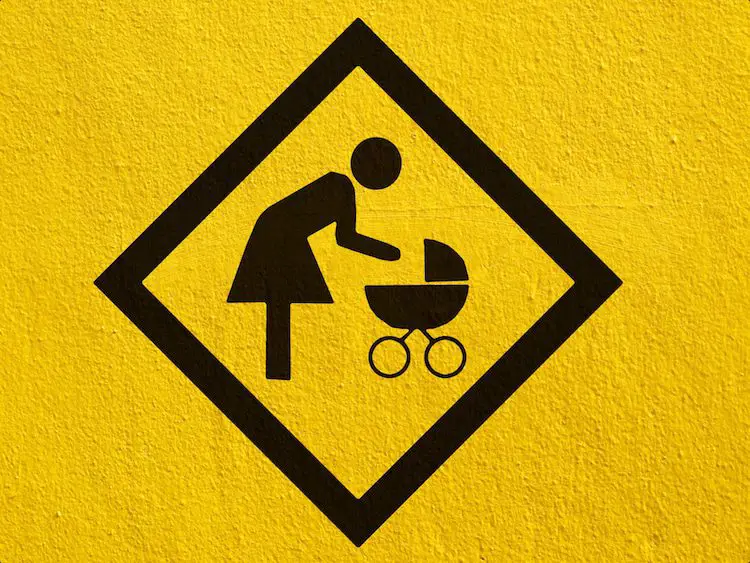 1. YOLO ColorHouse
The YOLO Color House takes customer safety and the environment very seriously, and restrict more than 1,000 chemical compounds from their paints. The zero-VOC formula means that these products are a good choice for your nursery.
Our products have NO VOCs, NO toxic fumes/HAPs-free, NO reproductive toxins, and No chemical solvents or other stinky stuff!

No toxic fumes means that Colorhouse paints do not contain any hazardous air pollutants. These toxic chemicals are pollutants that can cause serious health effects and have adverse impact on our environment.

Our paints are zero VOC and are absent of the common icky chemicals and toxic fumes found in conventional paints, such as mutagens, hazardous air pollutants, ozone depleting compounds, formaldehyde and phthalates. Our paints are a healthier option for the home, but if you have specific health concerns we always recommend speaking with your doctor.
2. MilkPaint
Milk Paint offers a product that is truly back to basics, with earth-based paints that you mix up from a powder. These products are naturally VOC free, and looking at the testimonial below, could be one of the safest paints on the planet. (Although we wouldn't recommend you try this at home!).
Here is your ultimate testimonial…. I was painting an old door in our home and had a yogurt container with the mixed blue paint on top of my 70 gallon fish aquarium. Well I am not sure how it happened, but the paint went into the tank (along with the brush). The aquarium turned a deep rich blue color, though I was extremely worried about the health of my fish. My wife thought that I should take them out, but from my experience with aquariums, they seem to clean themselves, so I left it. I was simply amazed! 24 hours after spilling the Milk Paint into my fish tank, the color was about gone and all the fish were healthy as ever. The blue eventually faded out completely and the fish flourished. Since then I have added about a dozen new fish to my tank. Not only am I more than happy with the results of the paint on the old door, but I am also amazed that the paint is so non-toxic that even a little neon tetra is unscathed after swimming in it. Thank you!" ~ Gregg, Vermont
3. Green Planet Paints
Green Plant Paints are formulated from plants and clay, making them a unique natural choice, free from VOCs and suitable for use in a nursery.
Green Planet Paints® is truly revolutionizing coatings naturally. Manufactured by Go Green World Products, LLC we offer a complete line of architectural plant and clay based paints, plant based stains and sealers/varnishes for home improvement projects. Our coating products as earth friendly to the environment, safe for use around adults, children, pets and even the chemically sensitive. All the lines are long lasting, highly sustainable, exceeds bio preferred standards and some are MPI Tested. Our products are as closest to nature as humanly possible for durable non-fading paints, stains and sealers/varnishes.
4. Bioshield Paint
Bioshield paints are water-based, solvent-free, asbestos-free, zero-VOC – and described as economical, breathable and washable.
What separates BioShield Healthy Living Paints from the rest of the pack is not only how beautiful they are to live with, but also how beautifully versatile they are to work with. The paints apply easily over any standard gypsum board, sheetrock, plaster, or masonry such as concrete and brick. It's also amazingly easy to apply them over previously painted surfaces (providing that the existing sheen level is flat). All of this is accomplished without the use of VOCs or solvents.
5. Valspar Paint
Valspar Paints contain 0 g/L VOC (as calculated within the margin of error by EPA Method 24). Which is certainly something to boast about!
Valspar® Ultra™ interior paint combines Paint and Primer with superior color quality and a durable, stain- and mildew-resistant finish. With a low odor, Zero VOC† formula, relax and get to living with Valspar Ultra interior paint.
6. Olympic Paints
Olympic Paints are another fantastic choice for your nursery, with the added benefit of a lifetime warranty.
Olympic® Premium Interior Paint combines beauty, durability and a lifetime warranty to deliver superior results. Our exclusive Zero VOC, low-odor formula is available in any color and has exceptional performance properties with guaranteed beautiful results year after year. Available in Flat Ceiling, Flat, Eggshell, Satin, Semi-Gloss and Kitchen & Bath Semi-Gloss.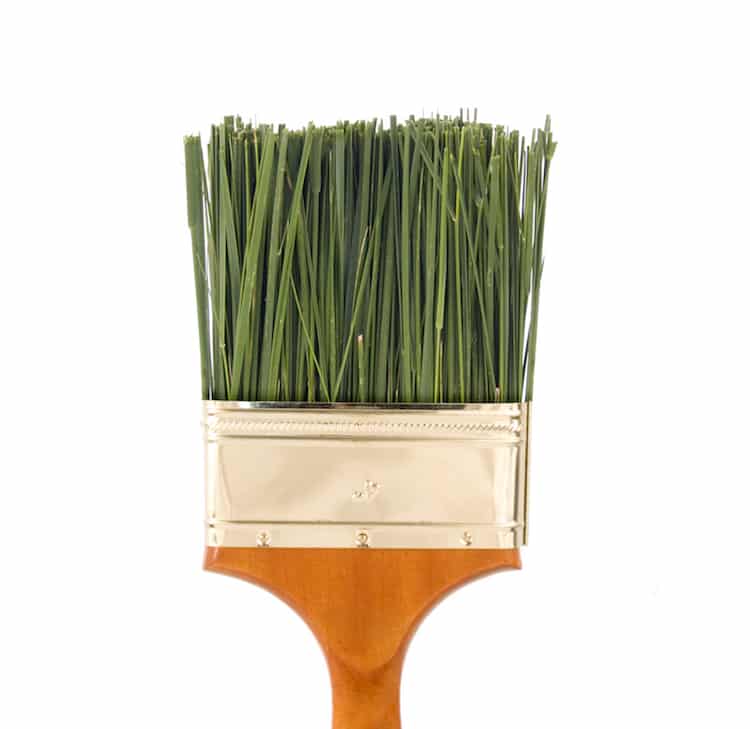 7. Sherwin Williams Paints
Sherwin Williams Paints are the choice of professionals which speaks of their quality. Their zero VOC policy makes these another great choice for your baby's room.
Professional painters have it all with ProMar® 200 Zero VOC Interior Latex Paint. A complete professional line that not only has zero VOCs, but is also available in five sheens and every color. All while delivering maximum productivity with outstanding durability and touch up.
8. Benjamin Moore Paint
Benjamin Moore Paints pride themselves on being one of the most environmentally friendly paints on offer – going beyond zero VOC!
Natura Waterborne Interior Paint continues Benjamin Moore's commitment to providing the most environmentally friendly paint. Natura goes beyond zero VOC to offer zero emissions, making it a safer paint for your family and the environment, all without compromise to performance or color selection. Natura is truly "Green Without Compromise®."
9. Mythic Paint
Another great VOC free paint brand is Mythic Paint, which describes itself as a breath of fresh air.
Mythic® paint is a non-toxic, ultra low odor paint that provides the durability and coverage you expect from a premium paint without the off-gassing VOC's and cancer-causing toxins that emit years after drying. Stronger, safer, smarter paint®.
10. American Pride Paints
American Pride Paints boast a product that do not contain lead, mercury, formaldehyde, formaldehyde precursors, crystalline silica or other known toxic materials or suspected carcinogens. They state that their zero VOC wall paints are truly zero. Check out some of their FAQs below.
What differentiates American Pride paints from other coatings that claim to be environmentally friendly and safe?

Our formulations are built from the ground up with an emphasis on performance and your personal safety while protecting our environment. We are the only company that offers Green Wise® certification on every product we manufacture. We are unlike other larger companies that offer a few green products while simultaneously fighting tougher VOC regulations and polluting our environment with conventional, higher solvent containing products.

I am chemically sensitive. Can I use your paint?

We have had individuals with severe chemical sensitivities use our paint successfully even when they had tried other "safe" paint brands and experienced a reaction. We are happy to supply you with MSDS and VOC information if that will help in your decision. If you are still unsure, we recommend consultation with your physician.

What are VOCs? Why are they used? Why are they regulated?

Most of the solvents used in the paint industry are classified as volatile organic compounds (VOCs). By definition, a VOC is any compound of carbon (excluding carbon monoxide, carbon dioxide, carbonic acid, metallic carbides or carbonates, and ammonium carbonate) which participates in atmospheric photochemical reactions. VOCs react with nitrous oxides in the air to create ground level ozone (smog). Because of the negative impact on human health and our environment, VOCs are regulated by the Environmental Protection Agency. Each year, VOC laws become more restrictive and traditional paint companies are forced to change their formulations.
These 10 companies are breaking-ground, offering fantastic alternatives to the traditional chemical laden brands of paints. They allow us to make informed decisions for our family, protecting our homes and the environment from exposure to VOCs and other toxins.
We recommend that you do your research before making buying decisions that affect young children in particular, and this should be a great resource to start from.
Do you know of any other brands that we haven't mentioned? Please share below, we would love to hear from you.