Looking for an all-natural grout cleaner with a strength that matches commercial cleaners isn't that hard. In fact, using items you have at home, you can actually create your own homemade grout cleaner. The process is easy and you won't even have to spend a lot of money.
A baking soda, hydrogen peroxide, and dish soap grout cleaning mixture can clear up most stains. But if you want a whitening grout cleaner, go for lemon juice plus cream of tartar mixture. For antibacterial characteristics, you can mix baking soda, castile soap, and essential oils.
To help you make your own homemade grout cleaner, check out the list below.
All-Around Homemade Grout Cleaner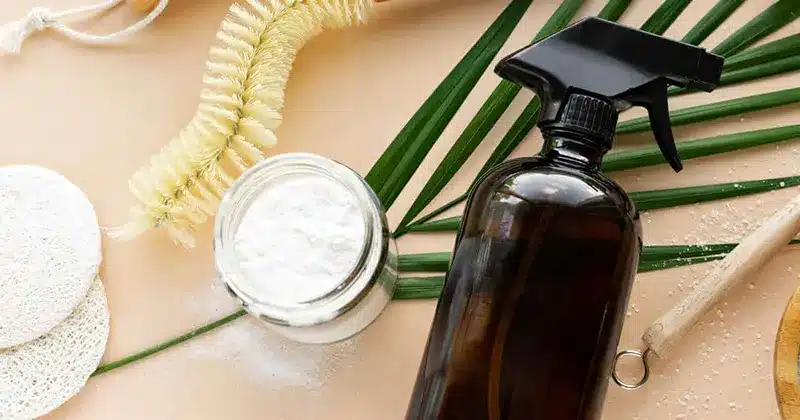 No matter where you look, the baking soda plus hydrogen peroxide mixture always comes first when searching for an effective homemade grout cleaner. And the reason? It's just that good!
This homemade grout cleaner can clear up the most common stains. It comes as an easy-to-rinse thick paste. Plus, it's a great tile cleaner for your kitchen or bathroom. This mixture also works well on ceramic tiles!
Here's what you'll need:
½ cup Baking Soda
¼ cup Hydrogen Peroxide
1 tsp Dish Soap
Hydrogen peroxide isn't dangerous, but contact with open wounds can really sting. So, consider putting on some protective gear during the process. No need for some heavy-duty stuff, just some protective gloves will do!
The steps:
Prepare your ingredients and a small, squeeze-top bottle.
Pour in dish soap, baking soda, and hydrogen peroxide.
Close the lid and shake well. You should get a thick paste consistency.
And done! You can now apply the mixture onto your shower walls or dirty grout. For the best results, let the paste sit for a few minutes before wiping off with a sponge or paper towel.
Spot Whitening Homemade Grout Cleaner
If you want to lighten stains, then you might want to go for the lemon juice and cream of tartar mixture. Although it needs a bit more elbow grease, it works wonders for tile grout.
The secret? The natural whitener, lemon juice. Lemon juice can clean grout naturally and is exceptionally good with surface stains and colored grout. Because of this, it's a great pick for spot whitening.
Here's what you'll need:
Lemon Juice
2 tsp Cream of Tartar
The Steps:
Add lemon juice and cream of tartar in a squeeze top bottle.
Mix well until you achieve a 'runny toothpaste' consistency.
As soon as you get the right consistency, then you can apply the mixture to the grout line and scrub it off with a grout brush. Ideally, the brush should be small and hard-bristled. Rinse off the mixture, pat dry, and you're good to go!
Antibacterial Homemade Grout Cleaner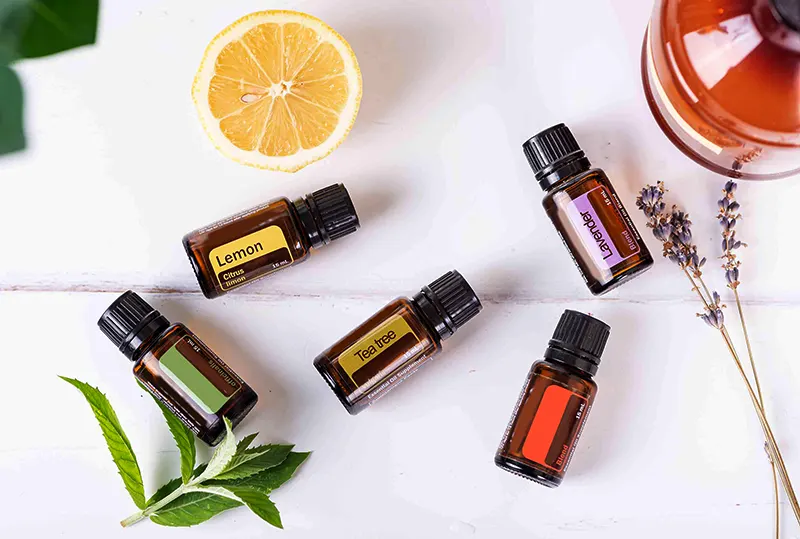 If you've got some essential oils to spare, then these can make for a great grout cleaner as well!
Essential oils have promising disinfectant properties that give the finishing blow to bacteria. Plus, it gives your grout cleaner a fresh aroma that just improves your home's atmosphere. Smell better, feel better!
Here's what you'll need:
½ cup Baking Soda
3 tbsp Castile Soap
10 drops of Tea Tree Oil
5 drops of Lemon Oil
5 drops of Lavender Oil
12oz glass jar w/ lid
The Steps:
Pour baking soda into the glass jar.
Add in the essential oils followed by castile soap.
Mix well and make sure to scrape off the soda in the corners of the jar. Use a scraper if needed.
Do this until you get a thin paste consistency. Seal the mixture.
Use a scrub brush to apply the mixture onto the grout. You can also use an old toothbrush as an alternative. Wait a few minutes before scrubbing again, this time with a damp brush. The mixture should foam up and remove the dirt from your floor tiles. Lastly, wipe off the foam with a damp cloth and rinse clean.
Tips to Effectively Clean Grout Lines With a Homemade Grout Cleaner
There are a lot of misconceptions when it comes to cleaning your grout. And a lot of times, you'll encounter some tips on the internet that will actually do more harm than good to your tiles.
For instance, you might see some homemade grout cleaner recipes that recommend readers to include chlorine bleach or white vinegar in the mixture. At first, it will sound reasonable since both are cleaning agents. But in reality, using these to clean grout can actually cause corrosion.
In other words, it will slowly destroy your bathroom floor and grout lines. As if that isn't enough, bleach is also toxic and bad for the environment. Not very appealing if you ask me. Instead of these, we say it's better to go for saltwater disinfectant instead!
Here are four useful tips when mixing up and using your own homemade grout cleaner.
Let the mixture sit for a few minutes if necessary
If you're using hydrogen peroxide, let the mixture stay for about 15 minutes before rinsing off. However, if you're using a paste mixture, scrub and rinse immediately to prevent discoloration.
Rinse with hot water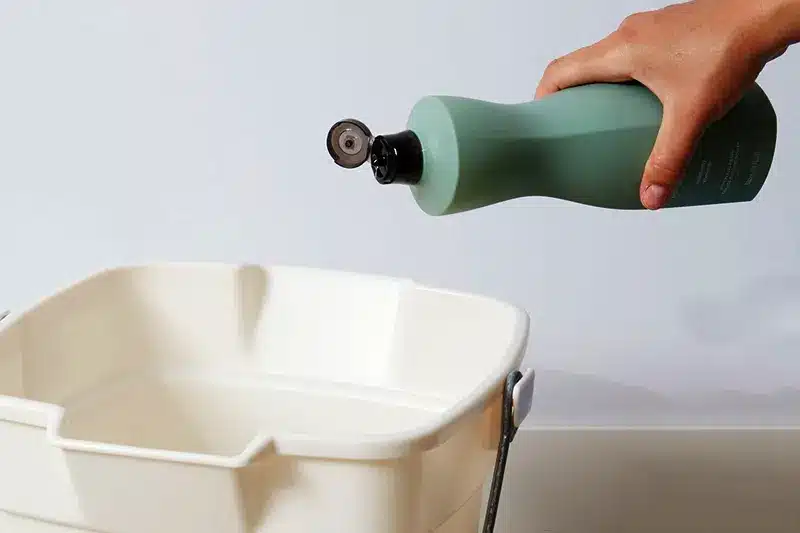 For the best results, use hot water when rinsing. This cleans off your surface entirely and kills off bacteria along the way.
Use a solution that fits your needs
Paste mixtures that need immediate rinsing are best for bathrooms and shower tiles. This way, you can easily switch on the shower and rinse.
However, for larger areas like the kitchen, then you might want to think twice about using paste mixture. In this case, we recommend using a steam cleaner first. Then, spot clean using the paste mixture and wipe off with a damp cloth.
Clean tile floors regularly
Prevention is always better than cure. Hence, it's best to clean regularly to keep your grout clean since this will also help in getting rid of the musky smell at home.
Vacuum your floors and tiles regularly to pick up excess dirt. Mop tile floors once a week with soap and water but don't overdo it! Detergent residue can attract dirt and form soap scum.
You'll also want to use a grout sealer once a year. A grout sealer adds protection to your tiles and reduces soap scum and dirt buildup!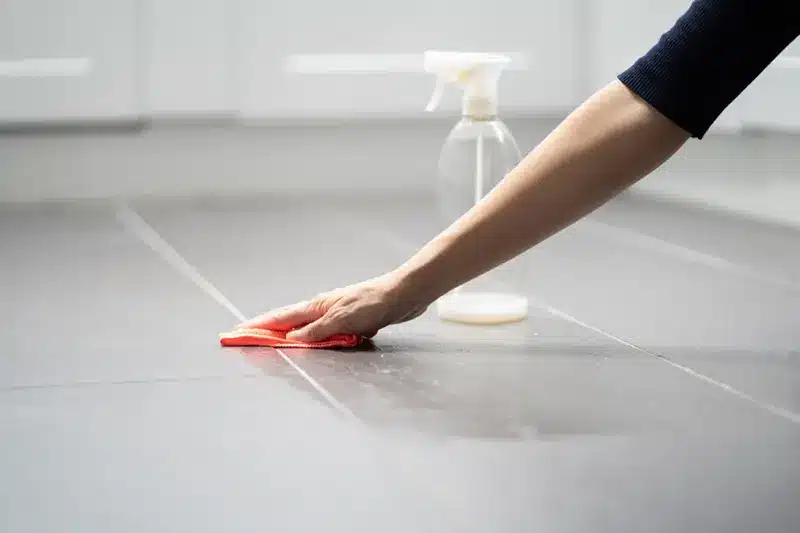 Conclusion
Cleaning grout has never been this easy! Whether you're looking for a cheaper or safer grout cleaning alternative, switching to a DIY grout cleaner hits three birds with one stone. It's non-toxic, cheap, and works wonders for your tiles.
With three recipes at hand, you should have more than enough options to help you with your needs. Hydrogen Peroxide mixture is for versatility, lemon juice mixture for whitening, and last but not the least, essential oil mixture for antibacterial effects plus fragrance!