Faux leather is a plastic material treated with wax or dye to have a leather-like texture and color. It is usually less expensive than its authentic version, also known as pleather. When cleaning this type of material, there are a lot of factors you should consider. 
Cleaning faux leather usually includes protecting, gently cleaning, and vacuuming. Choosing the right cleaning products for the material matters too. 
To further elaborate on the process of maintaining and keeping your faux leather new and shiny, read on.
Protect Your Faux Leather
Protecting the material beforehand is one of the finest ways to keep your pleather apparel, accessories, and furniture clean. Your faux leather items can continue to look brand new by following a few straightforward care instructions.
Use a leather care product that offers a protective layer to prevent stains. If stains are easier to remove at first, less of the harsher cleaners will be required. This prevents drying, which is a big no-no with faux leather.
The rule of thumb for cleaning faux leather is to always go for mild and gentle – whether you have gray faux leather bar stools, brown faux leather dining chairs, or black faux leather dining chairs.
Using harsh detergents will lead to drying. Giving the surfaces a regular once-over can help you stay on top of any general small marks that just accumulate with use. Warm water, some dishwashing liquid, and a soft towel are what we advise using.
How to Clean Faux Leather Couches and Furniture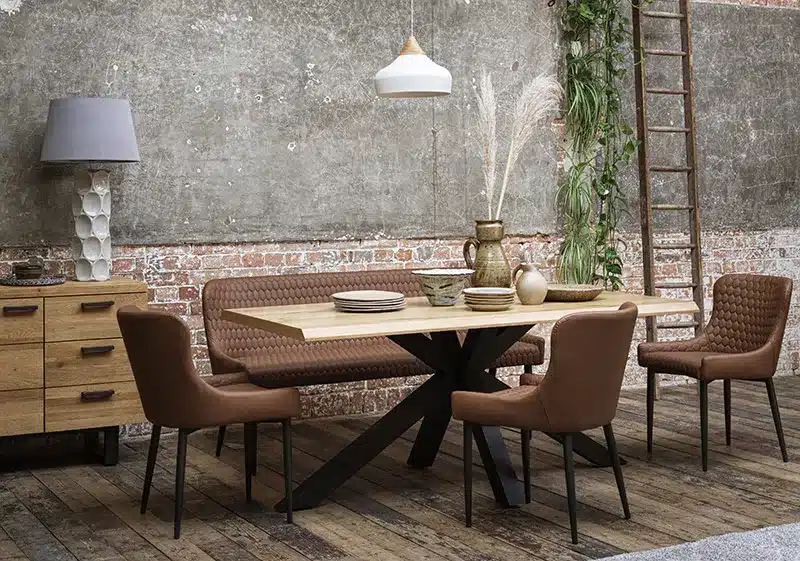 There is a lot more surface area to wash when cleaning a faux leather sofa, chairs, or any piece of faux leather furniture. 
Your faux leather furniture only needs a little weekly upkeep to stay looking brand new. Another benefit of using this material for individuals who have children or dogs is that stains may be removed virtually as easily.
Step 1: Weekly vacuuming 
Your faux leather furniture's finish can be scratched by dirt, dust, or other debris. Use your vacuum cleaner's gentle brush attachment to thoroughly clean it once a week.
Be sure to pull cushions and vacuum under them, too. Any seams or tufted areas should be gone over with the crevice attachment. Baking soda should be evenly distributed over your faux leather if you want to deodorize it. Then, wait a half-hour before cleaning.
Step 2: Wipe as needed
To clean faux leather, use warm water and mild dish soap. After cleaning, dry the area with a microfiber cloth or towel dampened only with water to avoid leaving a soapy residue. 
To avoid drying out faux leather, make sure the soap you use doesn't contain anti-bacterial or degreasing ingredients. For this, castile soap works wonderfully. 
Although faux leather surfaces won't be harmed by water, you must still dry it using a clean cloth to prevent water stains.
Step 3: Remove stains
To remove stains from faux leather – including faux white vinyl sofas and chairs – all you need is a little rubbing alcohol on a lint-free cloth.
However, keep in mind that color transfer stains, such as those caused by sitting on a pleather sofa in brand-new jeans, can result in permanent marks. If rubbing alcohol fails to get rid of a stain, apply some pure white vinegar on a towel and wipe the area.
To completely remove the stain, you might have to repeat this step multiple times. After it has been removed, clean the surface with a cloth that has been soaked with plain water, then pat it dry with a towel.
Step 4: Keep it moisturized
Faux leather will dry out and break if ignored. It still needs to be moisturized to ward off cracks even if you're okay about not shielding it from direct sunlight – as you must with all furniture.
Apply a conditioner made especially for vinyl or synthetic leather twice a year, or more frequently in dry conditions. If you'd rather, you can use coconut or olive oil on a soft cloth, but spot test it first in a discreet location because these oils will probably make your faux leather look darker.
How to Clean Faux Leather Jackets and Other Clothing
Cleaning a real leather jacket usually needs the help of a professional. The good news is that cleaning faux-leather apparel is relatively simple as the majority of items can be machine-washed. 
Make sure your coat, jeans, and other faux leather clothing can be washed in a washing machine. Anything marked "dry clean only" should not be put in the washer.
Here's how to properly wash faux leather jacket and clothing:
1. Completely flip the object inside out. 
2. Washing should be done in cold water on a gentle cycle. 
3. As directed, add some gentle laundry detergent. 
4. For optimal results, lay or hang your clothing to dry after removing it from the washer. If your tag offers the choice, you can also tumble dry on cool. 
5. You may try steaming the fabric or using steam on an iron to eliminate creases. Never use an iron on a faux leather material. Simply hover, and the steam will do the work.
How to Remove Stains from Faux Leather
Use distilled white vinegar as a substitute for other cleaning agents if you have stains that have settled or are difficult to remove. Before using these procedures to remove dirt from faux leather, perform a patch test first. 
1. Mix equal quantities of vinegar and water together. 
2. Use a clean towel to wipe the vinegar solution onto the stain. 
3. Repeat until the stain is removed, switching to a clean section of the cloth each time.
What to Keep in Mind When Cleaning Faux Leather
Always keep these 7 things in mind before you clean your faux leather products.
Mind the sunlight
Faux leathers might dry out in direct sunshine. Try rotating the chairs at your dining table once a month if it is in a sunny area so that the same ones are not constantly exposed to the midday sun. 
Possible transfer of color 
Light hues can pick up strong colors or indigo dye from garments like jeans. Be cautious to remove this stain as soon as you detect it because if you don't, it will permeate.
After use, a quick clean down with baby wipes should prevent this. It's the type of stain that takes some time to show itself, by which time it's usually too late. Regular inspections will also be beneficial.
Importance of testing first
Before applying anything to your imitation leather, test it on a discreet area to make sure there won't be any negative side effects. Try it on the visible sections after testing and letting it dry. 
Choosing cleaning products
It is best to ask yourself, "Would I put it on my skin or body?" before selecting a cleaning product. If not, it probably isn't gentle enough for your faux leather.
Never use bleach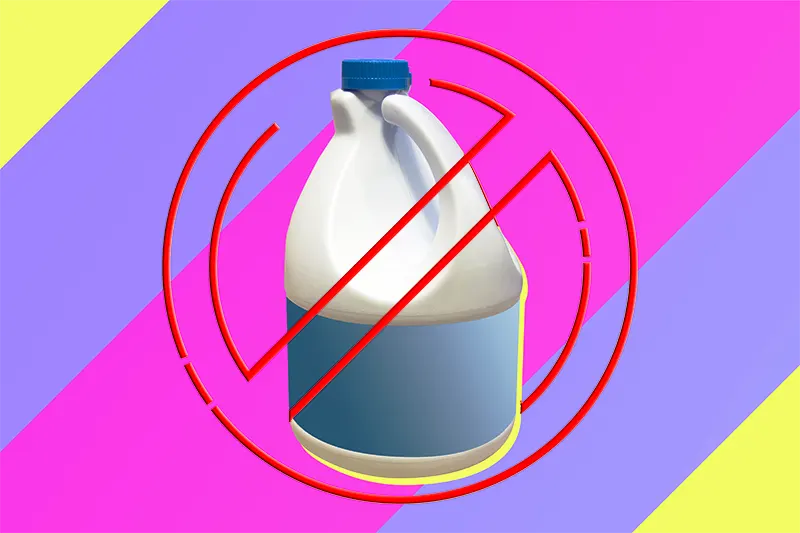 Never use bleach on stains of any kind. The most drying substance you can use on imitation leather is bleach, which can change the fabric's structure and make it more prone to subsequent marking.
Compared to bleach-damaged regions, little blemishes are likely less irritating and easier to deal with. Even if the stain is removed, the area is then more vulnerable to cracking, and the surface may be weakened, causing subsequent markings to actually sink in deeper.
Use soft cloth
Never attempt to massage, scrub, or use an abrasive cloth or sponge on the surface. All you need are some soft towels and lots of circular motions. The faux leather will crack if it is scrubbed instead of removing the tough stains. 
Clean after cleaning
No matter what you use to remove a stain, whether it successfully removes the stain or not, consistently give it a wipe with mild detergent after. Although the cleaners will get the job done, they shouldn't be left on the surface for too long.
Final Faux Leather Cleaning Tips
Pleather or fake leather can be a good alternative to genuine leather. It is animal-free and could also be simpler to maintain.
Make sure you adhere to all the care directions on the tag and use the appropriate cleaners for faux leather. While some clothing can be washed or cleaned at home, others might need to be taken to a dry cleaner.
Now that you know how to properly clean fake leather, your clothes, accessories, and furniture will feel and look better than ever.