Everyone needs a good pair of shades, whether to look your coolest or to protect those peepers from sun damage. But what kind you buy and where you buy them from can be the difference between having to replace them every few months or keeping them for years and years.
Most sunglasses are made (very) cheaply in China, India, and Bangladesh, but you do get what you pay for: shoddy materials and workmanship, crappy lenses that don't protect your eyes, and the resulting piles of discarded sunglasses in landfills everywhere. In addition, your purchase is probably contributing to horrific disasters like the most recent one in a Bangladesh garment factory, where over 1,100 workers died in a building collapse. Workers there made the equivalent of $38 per month so the rest of the world could buy cheaply made, disposable goods.
That needs to change. And thus, this series Buy Once, Buy for Life.
Now, I understand that a pair of sunglasses is probably not going to last you the rest of your life. But the point is that we must start buying quality made, durable goods that are designed to last a long time. Buying ones made here in America is even better, and because I am in the market for a new pair of sunglasses I went looking for brands making them here in the good ole' USA. This is what I found.
REI stocks Oakley brand sunglasses made in the USA. While I have not been able to confirm that all Oakley glasses sold everywhere are made in the US, the ones REI sells are.
Randolph Engineering sells quality sunglasses, range glasses, and clip-ons all made in America. Built mostly by hand to exacting standards, the company will repair or replace any broken solder joint for the lifetime of the frame (assuming normal use). It also offers free shipping on orders over $50.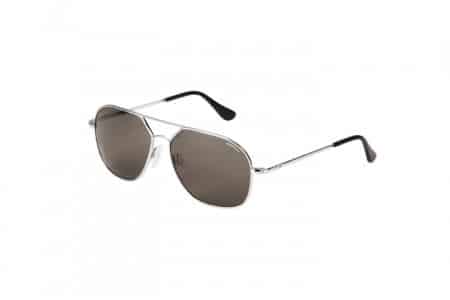 Based in Massachusetts, American Optical Eyewear has been making eyewear since 1826. Glasses can be customized with several different sizes, lens, and frame colors available, and come with a one year warranty.
Shuron Ltd. has been making glasses since 1865 and continues to this day. With tons of different frames available, chances are you can find one that fits you just right.
Gatorz brand sells all sorts of glasses for sporting and leisure activities. It offers a two year warranty for aluminum sunglasses and a one year warranty for plastic sunglasses, covering breakage and defects due to material and/or workmanship.
How about some sunglasses made out of wood? Capital Eyewear based in California handmakes some beautiful sunglasses that I imagine most anyone would be proud to own. Constructed of responsibly-sourced American Hardwoods, wood eyewear helps reduce the sea of junk plastic.
Warby Parker may not be made in the US, but from what I have heard they are quality pieces that come with an added bonus: every order sends a pair of eyeglasses to someone in need. Stylish frames and decent prices included.
The next time you need some, I hope you'll consider buying quality American made sunglasses. In the long run, it pays to pay a little more now so the things you own will last a while and not end up in a landfill just months after you buy them.