"In this age, which believes that there is a short cut to everything, the greatest lesson to be learned is that the most difficult way is, in the long run, the easiest." ~ Henry Miller
Last week I introduced a new feature here on The Good Human titled "Buy Once, Buy For Life" which will be about finding well-made, quality goods (mostly) crafted here in the United States.
Our throwaway society, full of disposable goods made out of crap materials in faraway lands, means that too often we spend our money on goods that last just a short amount of time before they are sent to the landfill. We then repeat the process over and over again, thinking we are saving money because each time we buy a new whatever it's cheaper than buying the "expensive" high-quality one.
Newsflash: It's much more inexpensive to buy the well-made product in the first place and have it last 10, 20 years or more. Buying the cheaper one every year or two (or every four months, which is how long my Bed|Stü boots lasted) ends up not only costing you more in dollars but it also leaves behind an environmental mess. All that cheap stuff has to be sourced, made, shipped around the world, bought in stores, and then be disposed of. Rinse and repeat.
You get my drift.
So that's why I am starting this feature here on the site. I will cover new stuff, recycled stuff, big name stuff, stuff from small independent shops, and all sorts of products from shoes to bags to household goods. If you have a suggestion or a product you would like me to take a look at, please do get in touch.
On to my new boots…
My experience with Bed|Stü left a bad taste in my mouth and thus I went looking for a good company to buy well-made boots from. I found several, but I ended up finally buying boots from Red Wing Shoes.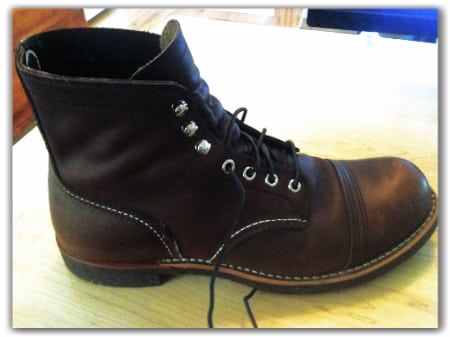 For over 100 years, Red Wing has been building quality boots and shoes here in America. Are they expensive? Yep – and they should be. They are solid, well-built boots Made in America that, according to my research, should last me at least 10-15 years with a resoling or two. Many 20 to 30 year-old pairs are for sale on eBay, still looking great. The boots come with a 12 month warranty but even after 12 months Red Wing's website says the company "may, at its option, issue a fair and reasonable credit that can be applied to the purchase of Red Wing branded footwear products."
Yes, even after the warranty ends the company still stands behind the product.
(Psst – Hey Bed|Stü, you could really learn something from them here.)
So, I paid $125 for my boots from Bed|Stü and they lasted 4 months. I paid double that for my Red Wings, which should last 10 years minimum. Which one is the better bargain in the long run? One pair of Red Wings for $250 or 30 pairs of Bed|Stüs for over $3,700?
It's simple math, really.
So the next time you need to buy boots, don't just look at price; look for quality, durability, and longevity. If they are Made in America that's even better. A slightly larger upfront investment will keep you from having to buy new ones every year (or every 4 months) while helping to reduce the amount of materials used for new boot construction and then thrown out at end of life.
Here is a list of several quality boot manufacturers and sellers (FYI – they sell some shoes, too, but I will be covering dress and casual shoes at a later date) that you should keep on file for the next time you are in the market for footwear:
Have any to add? Let us know in the comments. And remember – Buy Once, Buy For Life.