If you don't receive a mailbox full of junk mail from RedPlum every day, you are missing out. Okay, not really – but what you are missing out on is the chance to fill up your recycling bin every few days just from their mailings. Oh, and also the chance to ask yourself daily "how can I remove myself from redplum mailing list?"
RedPlum sends out coupons and assorted other junk mail on a near constant basis, making it the number one thing that my mailman has to lug around with him all day. The "deals" inside all that paperwork aren't anything of real value – unless you count printing up millions of tons of paper, mailing it around the country, and then recycling it all again unread – a real value. It seems that no matter what you do they get your mailing address and proceed to inundate you and your family with enough paper to keep warm with during winter.
Thankfully, you can ask to get off the list. All you have to do is go over to the Mailing Add-Remove page of their website, scroll down to the Add/Removal Form section, fill it out, and hit SUBMIT. They say it could take 5-6 weeks to become effective, so in that month and half waiting period you can expect to receive – due to my non-exact mathematically-challenged guess – about 39 more pounds of freshly cut down trees covered in useless coupons.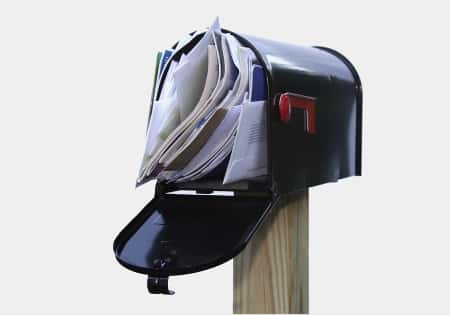 Near the front of my building there is a bin for everyone to drop their paper recycling in as they pull it out of their mailboxes. 99% of the time the only thing in the bin are these circulars from Red Plum, piled high each day for the landlord to move to the back. Let's stop the madness. If you do not read the junk mail coming to your house, do something about it to stop it; don't let it continue to arrive only to be pushed directly into the recycling stream. You can stop RedPlum with an investment of about 48 seconds of your time. More than 100 million trees are destroyed each year to produce junk mail.
Make it happen. Click through to the Mailing Add-Remove page and rid yourself of the Red Plum circulars.
Over-Stuffed Mail Box image from BigStock.