"Quality means doing it right when no one is looking." ~ Henry Ford
I own a lot of tools. Not enough to open my own garage, but enough so that I have bins full of various tools out in the storage closet and 3 toolboxes in the closet in the house. Where I live now I can't really use many of them, but there is no way I am getting rid of any of them either. The majority of them have been passed down from my father and grandfather, and I plan on passing them down to someone else once my time here on earth is up. They are all well-made, hard-working tools built to stand the test of time. I will use them forever.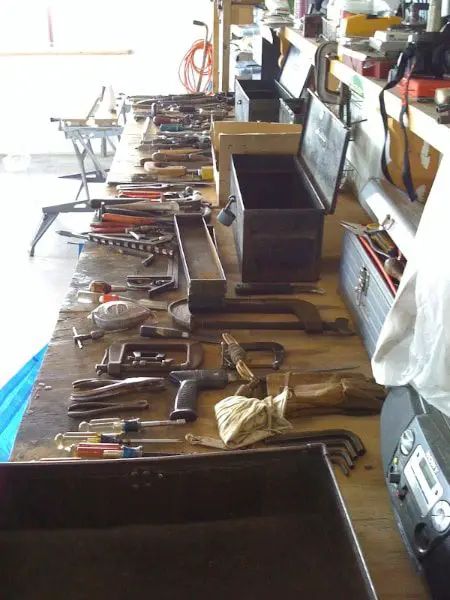 Unfortunately, most tools made today aren't made like that anymore. They are cheaply constructed in China out of inferior metals and woods, built to last a short while before needing replacement. That benefits neither your wallet or the planet. Sure, CVS, Big Lots and the $.99 store sell "tools" but they are not going to last – and you're going to have to buy them again.
While I am sure there are other well-made brands out there, I have come up with a good list to get you started next time you are in the market for hand or power tools. Keep in mind that you would be hard pressed to find a power tool which comes with a lifetime warranty, but that doesn't mean you should buy a cheap one that will last you only through one project. Do yourself a favor and invest in quality goods, as it saves you money and can help save the planet at the same time.
Craftsman – Craftsman used to be the de-facto tool manufacturer to buy from, but that's not necessarily the case anymore. At one point they offered a no-questions-asked return policy where you could bring in any broken Craftsman tool for free replacement, but there have been numerous reports that this policy is no longer in effect depending on the store. In fact, their warranty page has different warranties for different products, but the hand tools still state they have lifetime warranties. Their American-made products are well-made and should last you quite some time, but be careful – some goods are made in China now and are not as well made. The majority of tools in my toolboxes are Craftsman, for good reason. They are sold at Sears and Orchard Supply Hardware.
Husky Tools – Husky is the store brand of The Home Depot and has been in business since 1924. I read a lot of tool forums when researching this list, and most everyone had nothing but great things to say about Husky tools. If one of their tools ever fails, all you have to bring it back for a free replacement, no hassle. They are also reasonably priced for a product that should last seemingly forever.
Kobalt Tools – Kobalt is the store brand of Lowe's, deeming itself the "next generation of tough tools." They are reasonably priced, good looking tools that are available at all Lowe's stores, and all hand tools come with a lifetime warranty. Bring it back and it will be replaced.
Snap-on – When cost is not a limiting factor, Snap-on tools are certainly worth a look. Most hand tools have a lifetime warranty and will be replaced for free, no questions asked. Basically as long as you didn't destroy a tool through overuse, Snap-on will probably replace it for free.
Stanley Proto – Made in the USA and backed by a lifetime warranty. Note these are different than Stanley-brand tools.
Leatherman – Leatherman makes multi-purpose tools and I think everyone should own at least one. The tools are assembled in the USA by American workers, primarily from parts made in the US but also from Western Europe, Mexico, or Canada. Their tools are warrantied for 25 years and the company will repair or replace any product that doesn't provide dependable service for that period.
Irwin Tools – Irwin guarantees their tools to be free from defects for life, and should one arise at any point just bring it back and they will replace it.
Like I mentioned earlier, there are probably other tool brands out there that offer lifetime warranties on their products and are even still made here in the USA, but this is a good list to jump off from.
If you have a suggestion for a tool company we should check out, please do leave a note in the comment section. Also, if you have a category you would like investigated for a future post, I would love to hear about that too. And remember…
Buy Once, Buy For Life. Stop buying cheap crap.
See all the articles in the Buy Once, Buy For Life series.