"Without a standard there is no logical basis for making a decision or taking action." — Joseph Juran.
As a promised follow-up to the Buy Once, Buy For Life: Boots article that generated email and comment requests for a segment about women's shoes made in America, here it is: Buy Once, Buy For Life: Women's Shoes. And while buying a pair of shoes meant to the last the rest of our lives is probably impossible, in researching these companies I came across quite a few that still stand behind their products and proudly craft their goods out of quality materials right here in the USA.
Munro Shoes – Munro's three manufacturing facilities along with its distribution center are all located in Arkansas. The company makes dress shoes, sandals, hiking shoes, boots, and flats. They are available in brick and mortar stores such as Nordstrom's along with online at Zappos and Amazon.com.
Loveless Boots – Loveless Custom Boots and Shoes is a family owned business operated by Gary and Denise Loveless. They make boots, orthopedics, dress shoes, and custom made-to-order shoes in Oklahoma.
Johansen Shoes – Johansen Shoes have been Made in the USA since 1876 and are made by 175 employees in Virginia.
Sundance Leather – Each sheepskin and leather item is handmade in the USA and has been since 1971. The company is family-owned and operated. Slippers, shoes, and boots, along with hats, mittens, and accessories.
Okabashi – 250 employees make Okabashi shoes right here in the USA. In addition, the company uses a recyclable material called Microplast in construction and their Georgia plant uses a zero-waste production practice. Their guarantee warrants Okabashi-branded shoes and sandals against defects in materials and workmanship under normal use for a period of two (2) years. Clogs, flip-flops, cross-straps, and assorted other styles.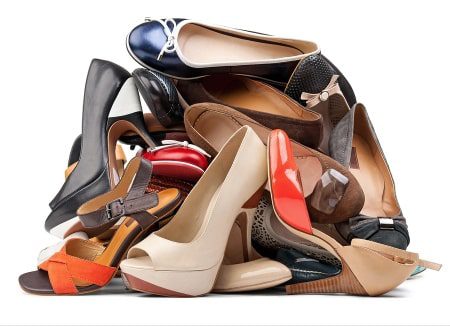 Anatech – All shoes are made to order in the US and come with a 6 month guarantee. Clogs and sandals.
Aurora Shoe Company – All of Aurora's shoes are made in-house and by hand in New York from American materials, guaranteed for 6 months. The company offers repair services on the shoes they sell, which encourages customers to keep the shoes they have rather than buy brand new ones.
American Apparel – American Apparel sells unisex tennis shoes made in their factory in downtown Los Angeles.
OKA b. – Made in the USA, recyclable, waterproof, and machine washable – what more could you ask for?
Thongs, slides, heels, flats all made in Georgia.
New Balance – Some, but not all, New Balance sneakers are made in the USA. You have to shop their Women's USA Collection if you want to be sure.
San Antonio Shoemakers – Handcrafted shoes of all shapes and sizes.
Fernand Footwear – Leather shoes and sandals handcrafted in Michigan out of materials made in the USA.
Easy Spirit – Some Easy Spirit shoes are made in America. It's hard to differentiate on their website, but check Shoe Buy for a list of just those made here.
If you are in the market for new shoes, I would recommend you check out some of the above companies and of course refer back to the Buy Once, Buy For Life: Boots segment if you are looking for boots. Buying quality products saves you money in the long run while simultaneously cutting down on broken products being sent to the landfill soon after they are purchased.
Interested in seeing what other kinds of products have been covered thus far? Click Here to check out the other Buy Once, Buy For Life articles in the series. Buy Once, Buy For Life. Stop buying cheap crap.