Dear EarthTalk: We have an invasion of phragmites in the wetlands bordering our neighborhood. I understand they are a non-native plant that, if left unchecked, will overrun the whole ecosystem. How does one remedy this situation in an eco-friendly way?
Fast-growing, fast-spreading phragmites (Phragmites australis), which most of us know as common reeds, can present a major problem in freshwater and tidal wetland habitats. This is especially so in eastern U.S. states along the Atlantic coast, but also increasingly across much of the Midwest and parts of the Pacific Northwest and southern Canada. While some sub-species of the plant may actually be native to our continent, it is non-native varieties that run rampant across North American wetlands today, presenting a formidable threat to biodiversity, crowding out other plants that wildlife depend upon for food and shelter.
"In the ecosystem it invades, its dense underground rhizome system actually raises the topography, eliminating the puddles and small pools of water so essential to fish, amphibians, turtles and waterfowl," reports Mike McGrath of Gardens Alive, a leading purveyor of natural garden and agricultural products. Phragmites are also allelopathic, he says, meaning that they secrete a compound which interferes with the growth of many other plants. Phragmites are also the bane of many a waterfront homeowner whose views are blocked by fast spreading, tough-to-eradicate reed communities growing between 12 and 15 feet high.
Plant biologists believe that non-native phragmites have gotten out of control in the U.S. because of their opportunistic nature coupled with the steady stream of freshly disturbed formerly natural terrain being made available to colonize. "When areas are drained for building, dredging takes place to save a beach, or other things are done to previously natural areas, it becomes more dominant than the non-aggressive native sub-species and other coastal plants," says McGrath. And that's why they call them weeds.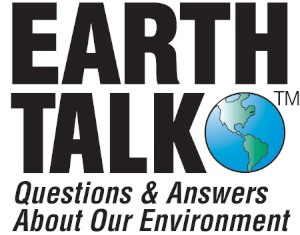 According to Washington State's Noxious Weed Control Board, getting rid of phragmites without resorting to hazardous chemicals (that will kill other plants and poison the surrounding environment instead of helping it) takes persistence, patience and proper timing: "If cut just before the end of July, most of the food reserves produced that season are removed with the aerial portion of the plant, reducing the plant's vigor." The board stresses that such a regime "may eliminate a colony if carried out annually for several years" and that "care must be taken to remove cut shoots to prevent re-growth."
"Repeated cutting of the green growth above ground will eventually exhaust the root system," McGrath chimes in. "If the plant is growing in water and you can cut it below the water line and keep the cut area submerged, the root system will suffocate within days…as the plant relies on its stems, living or dead, to convey oxygen down to the roots."
Yet another option is to graze it out. The New Jersey Division of Fish & Wildlife used sheep, goats and even cattle to control phragmites there, although to be successful the animals needed to graze over affected areas repeatedly, and others have not had as much success with eradication via grazing. Whatever method you choose, hunker down for the long haul and keep up the good fight. You are doing the right thing.
CONTACTS: Gardens Alive, www.gardensalive.com; Washington State Noxious Weed Control Board, www.nwcb.wa.gov; New Jersey Division of Fish & Wildlife, www.state.nj.us/dep/fgw/.
EarthTalk® is written and edited by Roddy Scheer and Doug Moss and is a registered trademark of E – The Environmental Magazine (www.emagazine.com). Send questions to: earthtalk@emagazine.com. Subscribe: www.emagazine.com/subscribe; Free Trial Issue: www.emagazine.com/trial.