A simple glass bottle can take up to a million years to biodegrade properly. Imagine what could happen if people continue to send their glass bottles to landfills. Fortunately, learning how to reuse glass bottles is fairly easy.
Regular glass bottles can be transformed into drinking glass containers, lamps, home decor, and holiday decorations. With a bit of creativity, you can also turn them into bird feeders and plant pots.
You can do your share of helping the environment by reusing your glass bottles and upcycling them. For project ideas on how to reuse glass bottles in fun and resourceful ways, check out the list below.
How To Clean Used Glass Properly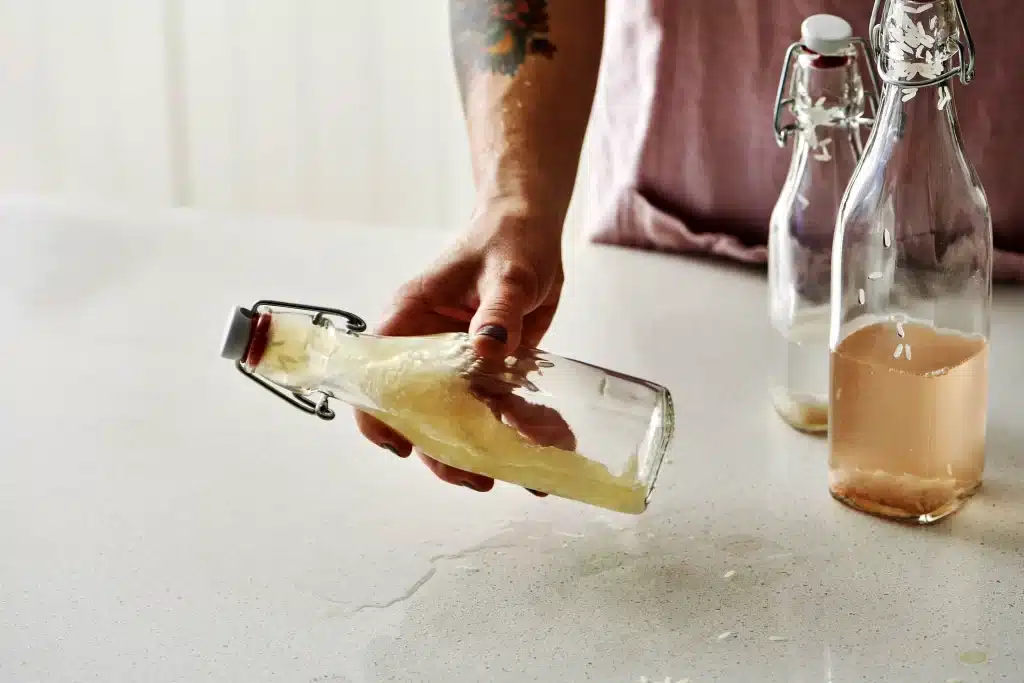 Before you start working on your recycling ideas, you need to make sure you're using clean glass bottles.
When upcycling glass bottles, you want them clean without labels. These labels are hard to remove since they leave a sticky residue. There are ways you can remove them and the easiest of which is to just soak the glass bottles in water for a couple of hours until they're completely removed.
If soaking in water doesn't do the work, you can soak the glass bottle in OxiClean solution for several hours or days). Rinse off the label with running water and scrape off after. It is also possible to use a bit of elbow grease on the labels to remove them.
Peeling off labels is always a better move. However, there are labels that may need to be scraped off. You can use a stainless steel scrub pad. Scrubbing may require a lot of patience, but seeing a clean and label-free glass bottle is rewarding and satisfying.
14 Upcycling Ideas for Used Glass Bottles
There are different ways to reuse glass bottles and their lids. For upcycling ideas, you may refer to the different creative ideas listed below.
1. Hanging Lights 
If you have a bar or kitchen island in your home, you can add hanging lights to make the area more appealing. Hanging lights are excellent accents to add to your interior. Just make sure to use similarly shaped bottles.
For this DIY project, you need to place a small light bulb inside each bottle. Let the bottles suspend in the ceiling and voila!
2. Liquid Soap Dispenser
Different bottles come in different shapes and sizes. You can choose a simple-shaped glass bottle for your DIY liquid soap dispenser. 
You can remove the glass label and customize it by placing a unique label which you can either make on your own or purchase in craft stores.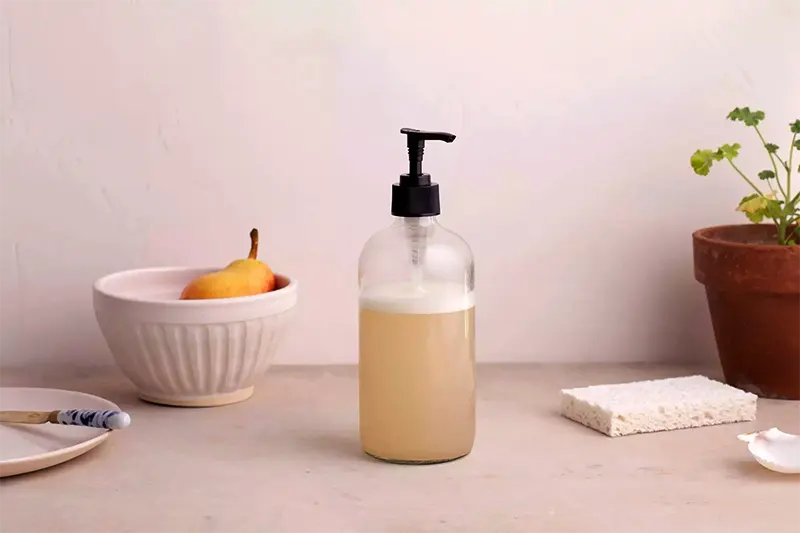 For a more fancy look, you can purchase a pump or reuse pumps from plastic bottles or plastic jars. You can get one from your old glass bottle soap dispenser. 
Once you are done with the project, you can use it as a gift to family or friends or even for you to use at home.
3. Painted Lamps
For a painted lamp project, all you need is a fancy-shaped glass bottle, the paint of your choice, and a lamp kit. As a recommendation, it is best to apply paint on the inside of the glass bottle to produce a glossy look.
To hide the electrical cord, you may bring your glass bottle to a professional who can drill a hole through it. If you want to try doing it, by all means, go for it! 
Then, you may top your painted lamp with your favorite lampshade or a recycled one.
4. Wine Bottle Wall
There are several great ideas you can do with wine bottles. One of which is to make a wine bottle wall. The project is a great way to make higher garden beds to add beauty to your garden.
In making a wine bottle wall, you must stack up the glass bottles, preferably of the same shape and length on their sides. You can fill the bottle wall and cement them together to stabilize the glass bottles in place.
5. Holiday Decorations
You can make a vase or a centerpiece for your holiday table using an empty bottle. To make it look unique, you may use interesting-shaped glass bottles or glass jars. 
For this project, all you need are some paint, Mod Podge, Epsom salt, and a hot glue gun. You may also need decorative pieces such as dried pine branches, craft plants, ribbons, glitters, candles, or other crafting materials you already have.
6. Storage Container
A kitchen will never be complete without reliable storage containers. And for such purposes, you can use old mason jars or old bottles that you have laying around your house. They're great for holding spices or preserving food.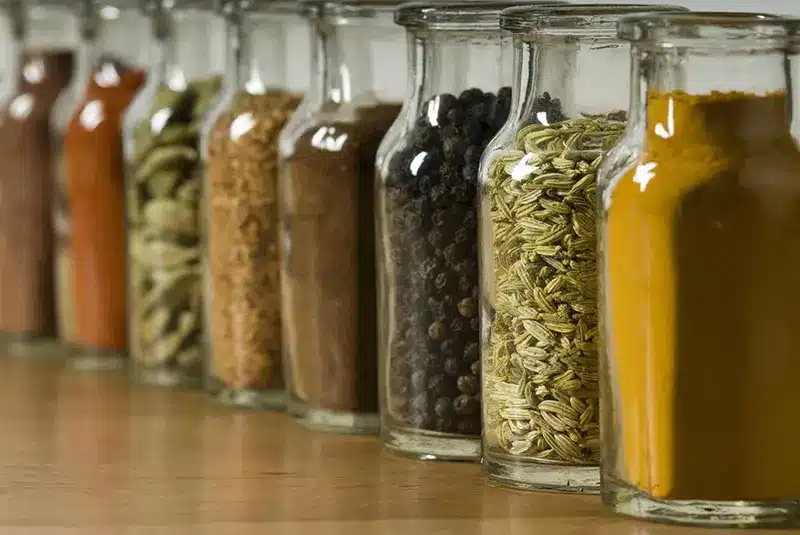 It would be best if you can use similar glass jars or glass bottles. This makes stacking easier compared to using plastic bottles which can be challenging to stack.
7. Stained Glass Panels
A stained glass panel is another excellent home decor that you can make with old glass bottles. 
To decorate a stained glass panel, all that's needed are various types of glass bottles bottoms. It is best if you can find glass bottoms of different patterns and colors to make your stained glass panel more appealing.
8. Bottle Bird Feeder
You can repurpose an empty wine bottle and turn it into a beautiful bird feeder. In making one, you'll need pieces of wood, screws, and wire rope. You will need to turn the bottles upside down to allow water to come out.
9. Self-Watering Plant Pot
If you have several wine bottles and glass jars, you can put these to good use in your garden. This innovative idea is great for beginning planters who have no skills in growing simple indoor plants or herbs.
You may need to bring your upcycled glass jars to a professional cutter to cut them in half. Although there are several methods you can try at home to cut your glass, it is best to hand this job to professionals, particularly if you're a beginner. 
In addition to your glass bottle, you will need pieces of screen and a thick string to hang it to your window.
10. Toiletry Organizers
Reusing glass jars is a great way to create stylish and budget-friendly toiletry organizers for your bathroom. You can reuse glass jars to keep your Q-tips, cotton balls, and makeup brushes. If you have small empty bottles, you can use them to store important items in your medicine cabinet or drawers.
11. Glass Candle Holder
Using small upcycled bottles, you can transform them into glass candle holders. You may add votive candles to create a cozy ambiance in the room. You have the option to coat the old bottle with paint to make it more interesting.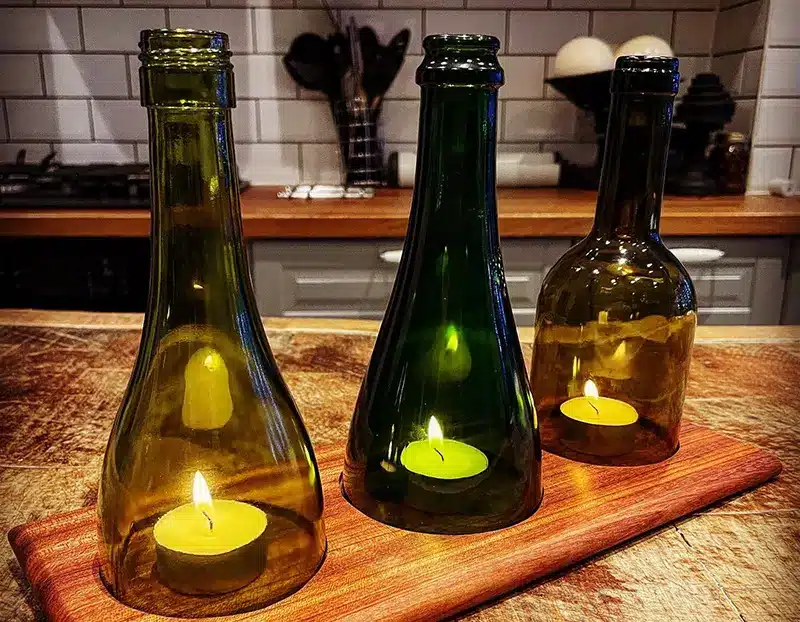 12. Glass Spray Bottles
You can reuse glass bottles by making them into cleaning product containers. Using glass spray bottles is very handy for doing household chores.
If you have an old plastic bottle at home with a spray nozzle, you may use this on your old glass bottle. Most of these spray nozzles can easily fit glass bottles. 
13. Bottle Trees
Another creative idea for reusing old glass bottles is to create an outdoor bottle tree. The great thing about this is that you can use different types and sizes of glass bottles.
All you need is a strong tree limb or any wooden frame of your making to attach your bottles. Traditionally, people paint their old bottles with blue paint, but you can color your tree with whatever color you may like. This project is perfect alongside your garden beds.
14. Fairy Lights Lantern
A fairy light lantern can make your garden or porch very attractive. You may use LED fairy lights which are cost-efficient. Solar LED lights can be a good option if you are living off-grid. 
You can make several lanterns and use them to createa chandelier that's perfect for your home's living area. 
Reusing Old Glass Bottles Is Great!
Reusing glass jars or old glass bottles is definitely a great idea. It gives you the chance to help the environment while saving money in the process.
If you are feeling more confident to start upcycling glass bottles, why not give it a try? You may find yourself loving these DIY projects.